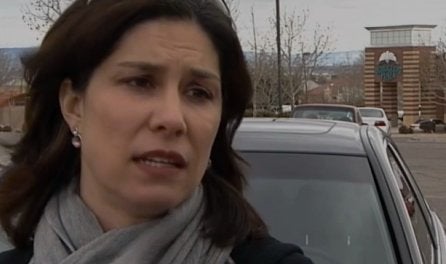 After a school bus driver suffered a seizure and lost control of the vehicle, Rhonda Carlsen hopped aboard the runaway bus and brought it to a stop on Feb. 13.
The New Mexico mother said her daughter noticed there was something wrong with the driver while they were waiting for the bus and shouted for help, KOAT 8 Albuquerque reports.
Carlsen ran alongside the moving vehicle and coaxed a student inside the bus to pull the lever that opened the door. Once on board, the woman was able to hit the brakes, bring the bus to a stop and attend to the driver.
"I'm just so thankful that it happened in our neighborhood 'cause it could have been a lot worse if it was on a busier street, if it happened when they got to school and kids were nearby," Carlsen told the station.
The children were unharmed, and the driver is now recovering at home after receiving medical care, CNN reports.
Two students helped bring the bus to the a stop after it collided with a guardrail, according to the Associated Press. Three students were hurt during the incident, but they were treated and soon released from the hospital.
Carlsen isn't the only heroic parent to make news in recent months.
Rhonda Zeringue and Daria Hebert administered CPR on referee Tommy Manor, while Sandee Ellender offered help.
The referee eventually received a stent in his artery and seemed adamant on a speedy recovery.
For more on Rhonda Carlsen's story, watch the full report in the video below.
Related