Early last week, North Carolina mom Naasira Muhammad started picketing her house on strike against her "disrespectful" teenage daughters, WFMY reports. After one of her girls keyed her brand new minivan, the single mother created a "Mom On Strike!" sign and started marching up and down the sidewalk in front of her house to protest her daughters' "out of control" behavior.
"My children have everything that they could possibly want and need, but yet still, they are disrespectful," Muhammad told the local news reporter. "They are rude. They think that I'm the meanest mom in the world. They think they can survive without me, so I said, you know what? That's fine. This mom is going on strike."
While Muhammad's protest is ongoing, she may draw some resolution ideas from past mom strikes. In 2012, mom-of-three Jessica Stilwell spent a week boycotting household chores to teach her kids a lesson about responsibility, gratitude, and pitching in. After the house devolved into a tornado of dirty dishes and clutter, Stilwell's kids apologized to her and developed a system to divide cleaning tasks. Back in the 1980s, a mother in Indiana put a sign in her yard reading "Mother on Strike Until Contract is Signed" until she reached a formal agreement with her children about housework and respect.
After Naasira Muhammad began her protest, her daughters' aunt persuaded them to make signs that read, "Thank you mom for providing for me, caring for me, and loving me." But the mom told WFMY she was still waiting for the girls to apologize to her, "without anybody coaching."
When ABC News stopped by her home on Friday, Muhammad was not there, but her "Mom On Strike" sign still sat in full view on the front porch. While it's unclear if the mom and daughters have reached a truce at this point, Muhammad told WFMY in an update that she plans to pursue family counseling as a way to work out their differences.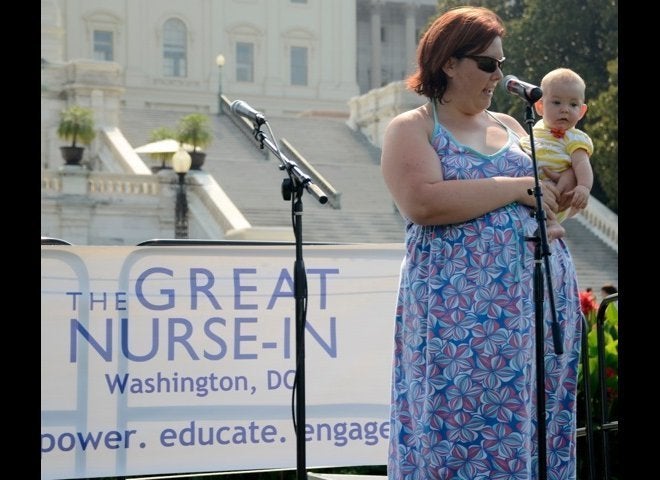 Photos From The Great Nurse-In
Popular in the Community