When a stranger shamed her 3-year-old son for wearing a princess dress, this U.K. mom struck back with a powerful Facebook post
In the caption, she wrote an open letter addressed "to the lady at the bus stop who felt the need to interrupt my conversation with my son."
"I am NOT sorry you didn't like how he was dressed nor am I sorry that you didn't like our discussion topic of who our favorite Disney Princess is (Snow White obviously)," Bazen wrote.
Discussing Zackary, the mom added, "He can be who he wants to be. Today he was a Disney princess, and YES I did send him to school like that."
"Why???" she continued. "Because that's what he wanted to wear, because he wanted to show his teachers and friends his Elsa dress, because he wanted to sing 'let it go' for show and tell, because he doesn't understand the gender stereotypes YOU think he should conform to, but most importantly because he is awesome!!"
Bazen explained that her son has many different interests. "He plays with cars and dolls, princesses and pirates," she wrote. "He rides his scooter or pushes his pram. He wears zombie face painting or lipstick and if he choose to wear a dress he can!!"
The mom concluded by telling the stranger to keep her "disapproving stares" and "poisonous words" to herself ("unless you want to tell him how great he looks," she added.)
Bazen was inspired to write the post after a stranger approached her at the bus stop and asked if she was "punishing" Zackary by making him wear a Queen Elsa dress, The Daily Mail reports. When the mom responded that his outfit was not a punishment but actually his choice, the woman offered some harsh words.
"She told me that we should be embarrassed and that boys shouldn't wear dresses. But if anything, she's the one who should be embarrassed," Bazen said, adding, "If I saw someone on the street in an outfit I didn't like or thought didn't suit them I wouldn't stop them and shame them. Why ruin someone's day?"
The mom's Facebook post in response to the incident has generated over 154,000 likes and 15,000 overwhelmingly positive comments. Some parents even shared photos of their own sons in Elsa costumes.
Here's to letting kids be kids!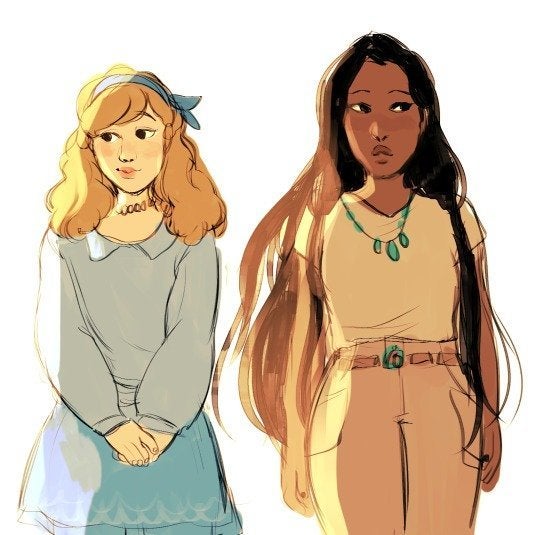 What Disney Princesses Would Look Like If They Were Actually Your Friends