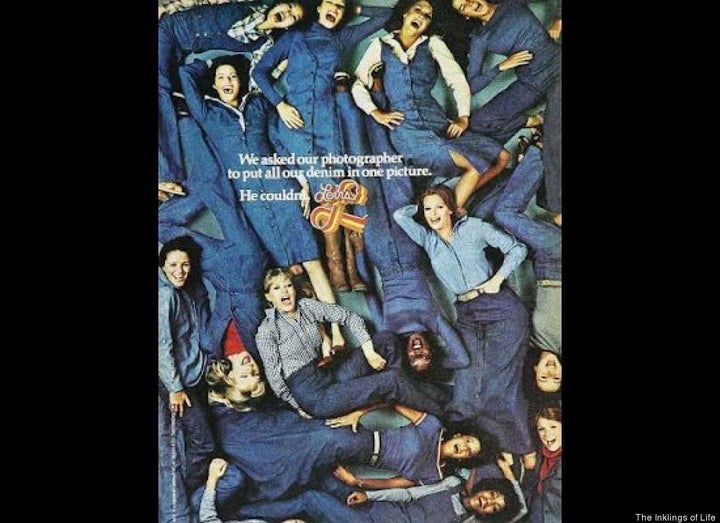 Style is like porn. You know it when you see it. But can't always explain it. Or watch it without giggling. No wait. That's just for porn.
And speaking of porn during this busy back-to-school season, all mothers should be thinking about the F-word and how to avoid it.
Frump is something many of us moms fight but to which many of us succumb. We give up. We just lay there and take it. We wear the same uninspired outfit over and over. Day after day. We watch those Pajama Jeans commercials and catch ourselves thinking, "you know, with the right shoes..." We say things like "comfortable enough to sleep in" and "wash-n-wear" to mask what's really happening.
Now that daughters have enough cute tights and dress/pants combinations to make Cyndi Lauper jealous and sons have enough jeans, t-shirts, underwear and socks to last through a nuclear Armageddon, let's talk about you. Us.
We, mothers, put so much time and energy into our kids that time for ourselves is often that last minute before running out the door when we pull our hair into a ponytail, slide on the same yoga pants and t-shirt that we wore to, well, yoga and a pair of weathered flip flops.
For help and advice, I turn to Tara Luizzi, owner of Tara Styles DC and a personal wardrobe consultant for both men and women. She wants all moms to remember three simple things during this year's back-to-school-season.
Tara's Tip #1 Know Thyself.
More precisely, know your style. What was your style pre-kids? What did you love wearing? What made you feel dead-sexy? And why aren't you wearing those things anymore? While Tara doesn't think that a woman loses her fashion sense along with her placenta, she does feel that "many moms just forget to take the time for themselves."
"Why should the kids look like a million bucks and you look like you got dressed in the dark," asks Tara, rhetorically. "I think you should dress as you always did before you had kids. There are so many ways to dress casually and still looks fabulous. Just give yourself five minutes before you leave the house to pull your look together."
And know your size. Tara suggests ruthlessly clearing out your closet of all items that don't fit. To her, there are two things integral to looking great. A. fit. And B. fit.
Tara's Tip #2 Accessorize! Dammit.
"I tell my clients to keep some scarves by their coats so they can throw them on when they leave the house," she explains. "A scarf can spruce up any outfit with little investment. Ask any European woman. She will tell you."
Accessorizing is cheap. And doesn't involve measurements. Just adding a necklace, the right bag or some lipstick (yes, she includes makeup as an accessory) says to the world, "Yes, I'm a mom. But I can look hot too." And when we women look our best it's like a Public Service Announcement encouraging other women to do the same. We are always looking at each other.
Tara's Tip #3 A Little Goes a Long Way
Tara's best advice is to build a wardrobe of well-made pieces that you love and that can be worn with each other. Don't get too trendy. And keep the jewelry on the body, not on the clothes. And for those PTA meetings or birthday parties, she warns against going too far with sequins, too much cleavage, and 3 inch heels, all of which may send the wrong message. Did I mention we women are always looking at each other?
"But what about an easy shift dress with a long cardigan and a pair of boots? That would be perfect for a PTA meeting," she adds. Her outfit almost makes me want to go to one. Almost.
Apart from these three tips, Tara has another great idea -- make a tradition with some fellow girl/mom friends of having breakfast or coffee and then shopping for a couple season staples.
"My mother and her friends did this every year," shares Tara. "All the neighborhood mom's would see all of us off to the bus for the first day of school and then jump in their cars to go out for a girl's breakfast and then do a little shopping. Even those who worked would take that day off. They did this for years!"
And shopping with even one good friend practically guarantees that you won't come home with the same style of pants that makes your ass look flat. Friends don't let friends buy that pair of pants.
And talking about the shopping company we keep, Tara also wisely advises to not shop for yourself and the kids at the same time.
"No good will ever come of that," she states emphatically.
For me, I have a simple trick. Sometimes I wear a bikini top under my shirt which creates an interesting neckline. It also makes me feel funky and reckless. "Maybe I'll just skip work and drive to the beach." Even if I don't, it's the thought that counts.

Now what about you? Mom or not, share your own quick tip on achieving effortless style. Because pretty helps.
Related
Popular in the Community