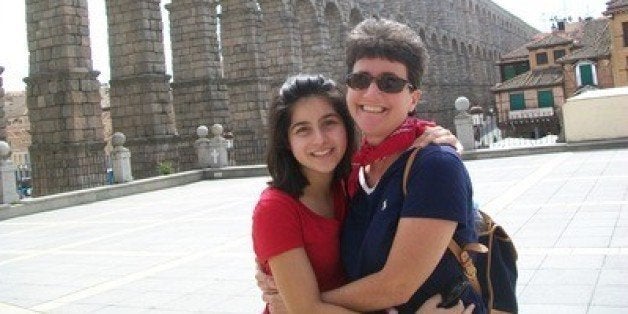 "I love you -- I love you more -- I love you the most." Although this Tangled line is cheesier than a loaded backed potato at Outback, my mother and I say this to each other all the time. My mother's and grandmother's birthdays are this week; in fact, they share the same birthday, September 25. And if that isn't crazy enough, it also happens to be my half birthday exactly. Wondering what to get your mother for her birthday can be a daunting task. Shoes? A new cooking pan? Nutella? Frankly, I could not figure out what to get her, so I decided to write out reasons why mothers need to be thanked more often by their distracted teenage children.
Chew on this: on a regular, humdrum day, my mother goes to work until 3 or 4 p.m., comes home, cooks dinner, cleans up the house, takes a walk around the neighborhood with me, and then finally gets to rest after doing the dishes at 9:00 p.m. When objectively thinking about it, her schedule is hectic, and I wonder how she doesn't wear out every day at about 6:00 p.m. I have trouble dragging myself to school, paying attention to classes filled with rowdy youths, and driving myself home to do even more homework. However, in hindsight, what I have to deal with is nothing compared my overworked and busy mother. So mom, I wanted to thank you for everything that you do because I appreciate it greatly. Even when I'm being testy or "fresh" with you, I still am grateful that you don't throw me out to the wolves to care for myself. My clothes are always clean and smell like hand sanitizer from Bath & Body Works, you are always willing to read and reread all the articles and posts that I shove at you, and you are always happy to see me, even when I'm behaving like an ungrateful, petulant monster.
I enjoy my mother's company very much. We aren't in the typical mother/teenage daughter relationship. I don't scream at her because no one liked my new Facebook post, I don't cry because some incompetent boy didn't make eye contact with me and I rarely lie to her about anything. Why would I need to? We talk about almost everything together; I am so lucky and happy to have someone like that in my life. Even though what I'm saying is probably strange and insignificant, I know she will at least lend me her eyes, as Mark Antony would say.
She has also been extremely supportive of my proclivity towards writing and art history. Instead of casting my love of art in negative terms (i.e. by saying art is useless and does nothing for society), my mother has actually grown to appreciate art and architecture. We go to gallery openings and museums together as well as plays and concerts. My mom and I had a great time exploring Ybor City by ourselves one afternoon; we perused the local museum, hit up the Saturday morning market, peered into the different "clubs" (i.e. the Cuban and Italian clubs), and even struck up a conversation with a Greek crepe maker who lived in Paris. To see a full account of our adventures in Ybor City, go here. I will never forget these memories because I enjoyed myself thoroughly on outings such as this one. I like to think that I have "cultured" her, but really, she and my father are the real reason I am such an art history aficionado today. By taking me to museums and different cities as a young child, I have her to thank for my current interests.
So to my mother and all the mothers who don't hear this nearly as much as they deserve, thank you, thank you, thank you. I appreciate everything you do, and I am truly amazed that you manage to hold together a family and career and still look fabulous doing it. Teenagers often think that this in the time in their lives when they should rebel against the authority and become angry beasts at their parents. However, I think it should be the opposite. With all the changes going on in our lives now, we need our mothers the most. Those little notes that you leave on the counter for me when you have to leave early for work, the laconic text messages that only say "be safe, I love you," and the way you hang up my raggedy hair towel after I leave it on my bed or chair? I love all of those things, and I love you too, mom. Happy birthday.
REAL LIFE. REAL NEWS. REAL VOICES.
Help us tell more of the stories that matter from voices that too often remain unheard.