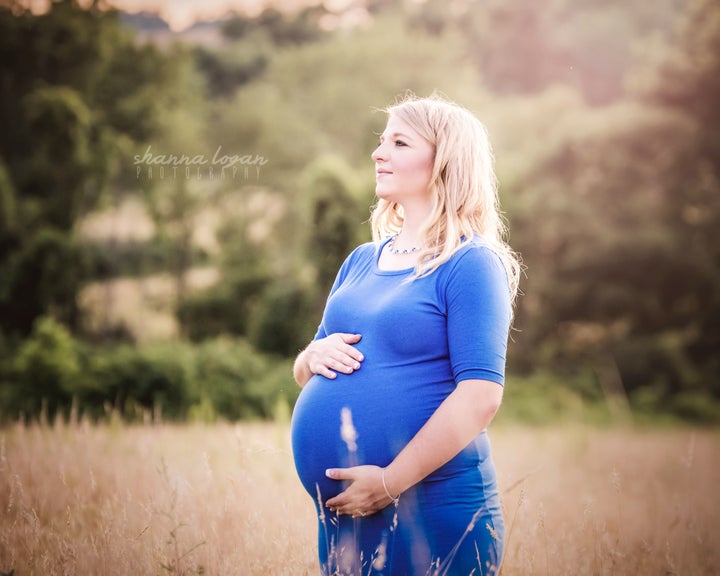 When Amanda and Jesse Snyder learned they were expecting their first child, they were overjoyed. Throughout the first months, Jesse didn't leave his wife's side.
"He was there for every appointment, he was there right next to me when I was so sick I couldn't leave the bathroom or my bed, and he did everything he could to show his love to me," Amanda told HuffPost.
On May 27, Jesse died in a tragic accident, leaving his pregnant wife to prepare for their unborn son's arrival without him. When the time came for her to take maternity photos, Amanda decided to include her late husband in whatever way she could.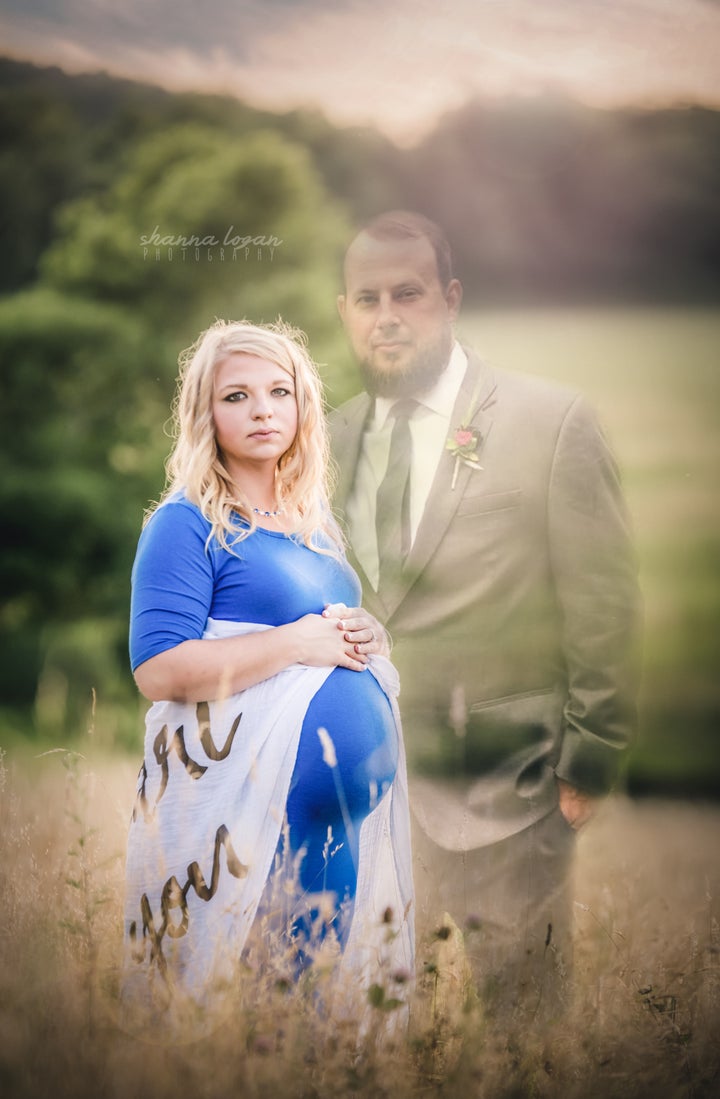 "I had lost so much, and all I was left with were memories and pictures to look back on. So I guess you'd say pictures mean the world to me," the mom told HuffPost. "I knew if I didn't get them taken I would regret it."
Photographer Shanna Logan used Photoshop magic to incorporate Jesse into the photos. The photo shoot took place on July 11 at Logan's family farm in Mt. Pleasant, Pennsylvania. Amanda wore a blue dress. She had picked out a matching shirt for Jesse, which she ended up using for his burial outfit.
During the session, the photographer asked Amanda to talk about Jesse and her unborn son, Jameson. "As she opened up, you could feel what she was going through: the pain, her loss, but then also her happiness for her new bundle of joy she was going to welcome soon into the world," Logan told HuffPost. The two women shared hugs and tears.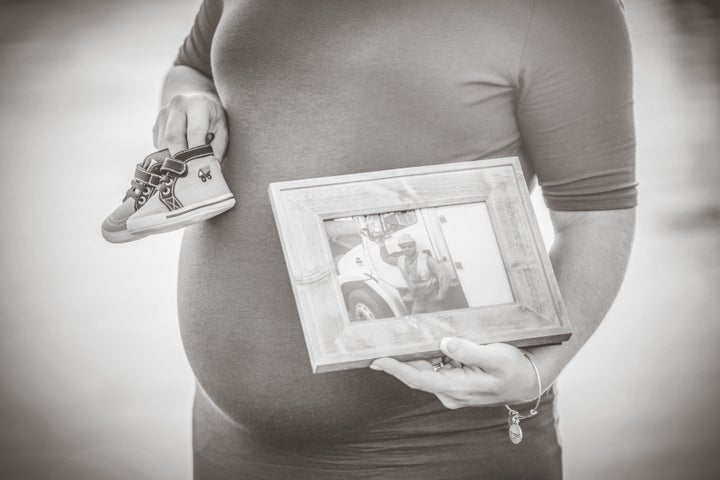 Though Logan had never Photoshopped a lost loved one into a picture, she'd seen other photographers do it. She used photos of Jesse from a few months before his death to bring Amanda's vision to life.
The expectant mother went into labor on August 2 and gave birth to Jameson at 6:37 p.m. She kept a photo of Jesse next to her throughout her labor, delivery and postpartum recovery.
Coincidentally, Logan called her and left a voicemail to say she'd finished the photos at 6:36 p.m. The next morning, while holding her newborn baby boy, Amanda got to look at the finished maternity photos. She was overwhelmed with emotion and began to cry.
"These pictures show the love I have for him and how much I miss my best friend and my soul mate," she said. "I may not have been able to have him by my side in the flesh, but I believe he was there in spirit, which is what these pictures represent to me."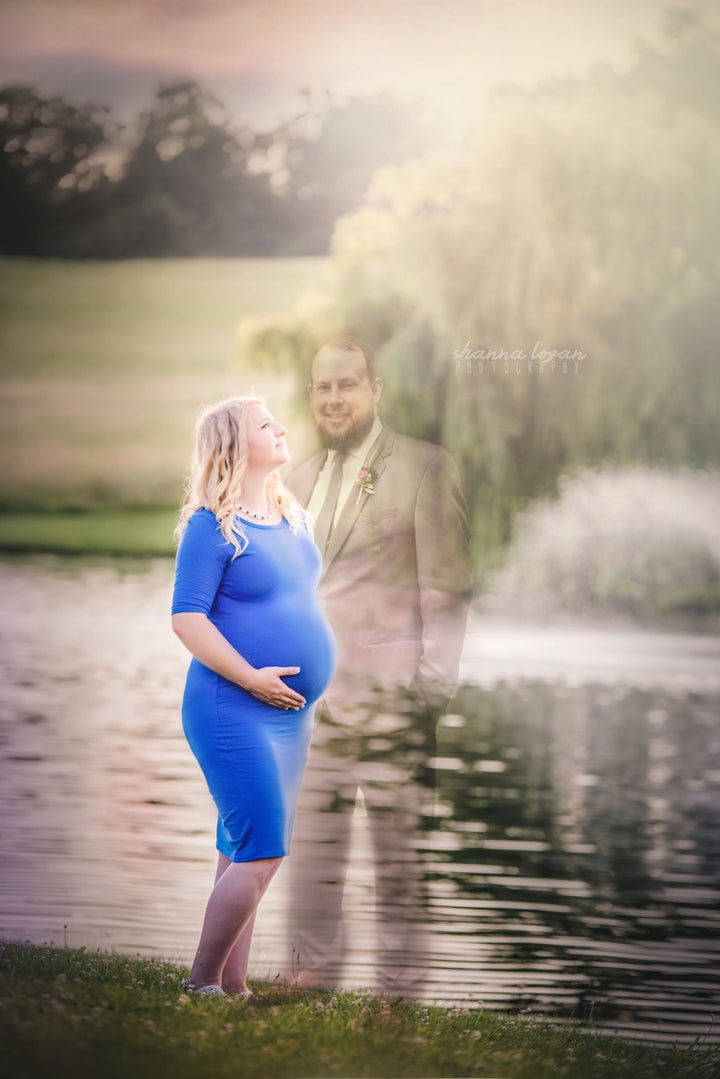 The photographer shared the maternity photos on Facebook, where they've reached nearly 10,000 likes.
Amanda said she did not expect her photos to go viral, but has been touched by the kind words she's received from strangers, especially other women who have lost their partners.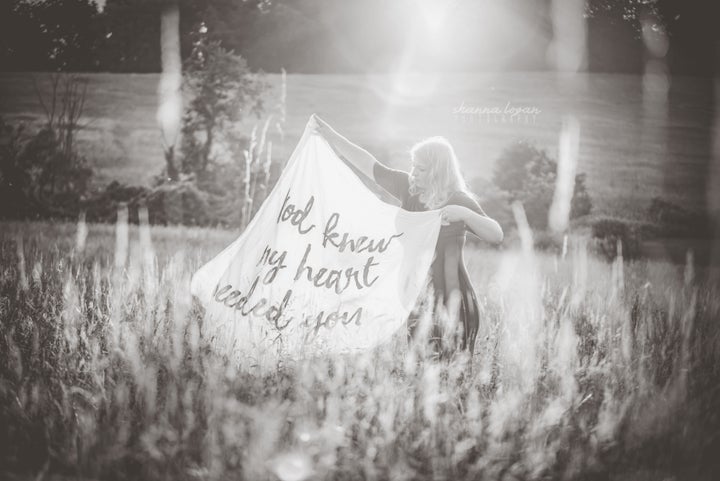 Though baby Jameson had some health issues at first and had to stay in the hospital for a few extra days, Amanda said he thrived under the supervision of great doctors and nurses ― and of course, his "guardian angel" dad.
"The hardest part was leaving the hospital and not having my husband be the one driving us home for the first time and knowing he wasn't going to be there to help me," she added, noting that her father and close friends have come together to support her.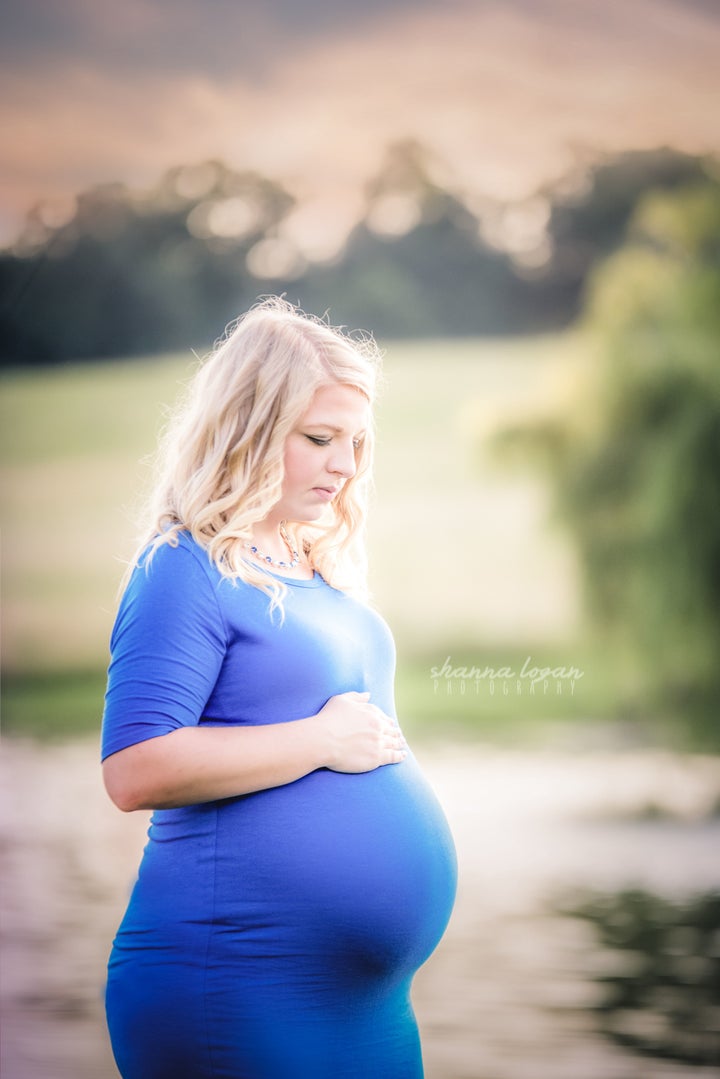 Amanda, who says she'll forever be "Jesse's girl," hopes Jameson will inherit some of his dad's wonderful qualities.
"My son is the most amazing gift Jesse could have left me with," said Amanda. "He has this grin that is exactly like his daddy's, so when I look down and see it, I see my husband."