When a Tennessee mom was prohibited from breastfeeding at a Dillard's department store, she responded by highlighting a blatant double standard.
On Monday, Wittney Hale posted a photo to the Dillard's Facebook page, along with a complaint about her experience at the store in Chattanooga, Tennessee that day. The photo shows Hale breastfeeding her baby next to a large ad for lingerie ― highlighting the notion in today's society that it's acceptable to see a woman's cleavage when it's for sexual purposes but not when she's feeding her child.
In the caption, the mom explained that she was shopping in the store earlier that day when her daughter became fussy. "I searched for a quiet secluded area to nurse my child," she said. "When I found a place I asked if it was okay for her to eat here. The employee at customer service nodded."
"I didn't use a cover up (I did that in the pic to prove the irony)," Hale noted. "I discreetly pulled my shirt down and her head covered me up." But then the same employee allegedly told her she could not "do that here" and directed the mom to the bathroom.
Hale said she was "completely shocked" by this response, as she'd been breastfeeding for 18 months and never experienced any unsolicited comments from strangers.
To avoid any misunderstanding, Hale made sure she heard the employee correctly, to which the woman responded by again directing her to the bathroom. The mom asked for the manager so that she could file a formal complaint.
On her way out of the store, Hale said she passed by the advertisement for bras in the photo and couldn't pass up the opportunity to point out the ridiculous double standard. "I mean seriously the lady's face is not even in this," she wrote, asking "Why is it acceptable for a giant picture of BOOBS to be on the wall but I can not feed my child?"
Hale signed her post, "Pissed off Mommy who will never be shopping at Dillards again."
The post reached over 3,000 likes and nearly 2,000 shares. The popular breastfeeding support page, Breastfeeding Mama Talk, also shared the mom's story and garnered almost 7,000 likes. In response to Hale's story, many fellow parents posted complaints in solidarity with her on the Dillard's Facebook page.
Their posts pointed out that it is against the law to bar a woman from breastfeeding in a place where she is otherwise allowed to be present and that this attitude toward nursing suggests a sexist double standard.
Following the viral response to her story, Hale appeared in a television news broadcast on WDEF in Chattanooga.
"I wasn't trying to form a rally," she said of the reactions. "I wasn't intending for people to be so negative ― all I wanted it to be was addressed."
During the segment, Hale also shared the manager's response to the incident when she inquired about filing a complaint. "She said she was very sorry and she told me that I could go to the fitting room," the mom recalled.
"The more I thought about it, the more upset I got," she added. "If people are offended by the act of breastfeeding and not by seeing an exposed woman, then it doesn't matter what I do to try to respect others ― they're going to have an issue with it."
Responding to inquiries about Hale's story, a representative for Dillard's submitted the following statement to The Huffington Post. The official Dillard's Facebook page also posted the same statement in the comments section for Hale's post and all subsequent posts on the topic:
"Dillard's strives to create a pleasing and comfortable shopping experience for all our guests at all times. Accordingly, we respect the right of mothers to nurse their children wherever they feel comfortable in doing so. Upon becoming aware of this situation, our store manager immediately reached out to our customer and apologized. Our associates have been reminded of our breastfeeding policy."
You can never have too many reminders.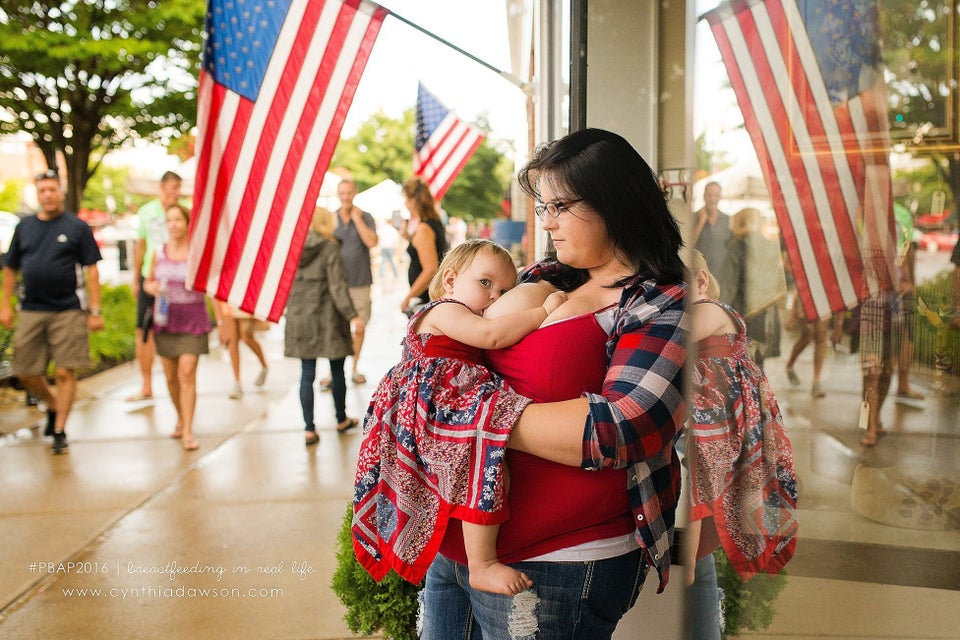 Candid Photos Of Moms Breastfeeding In Public