Rachelle Sanders had to make a difficult decision.
The mother of three, 35, was resting in Feather River Hospital in Paradise, California, after the birth of a healthy baby boy via C-section when panic arose.
The San Francisco Chronicle reports that around 7:30 a.m. on Nov. 8, a nurse rushed into Sanders' room and told her that she and her newborn, whom Sanders named Lincoln, had to leave — one of the deadly California wildfires was bearing down on the hospital and everyone had to evacuate.
Sanders, who was unable to run or walk due to her surgery, was placed in a wheelchair, with Lincoln in her lap.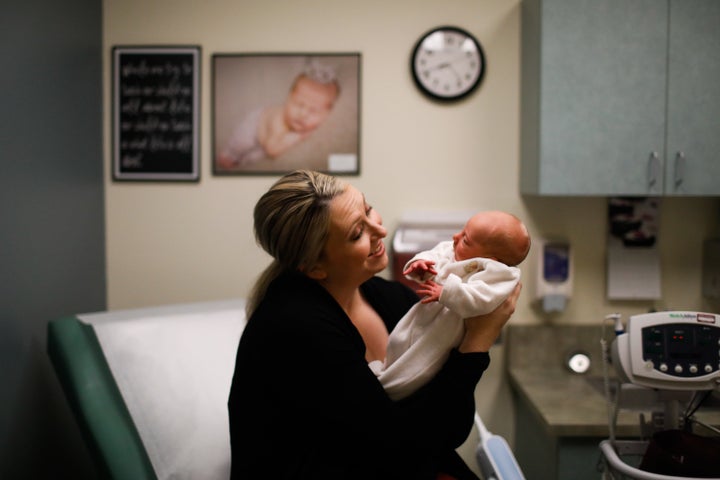 In a rush to get everyone out of the facility as flames flared nearby, staff began loading patients into their own cars to help with the evacuation. Sanders was placed in the white sedan of a hospital employee named David.
There was gridlock and people were abandoning their cars in the road in fear of being burned alive. The fire melted the sedan's plastic taillights.
"I thought I wasn't going to make it, for sure," Sanders told CNN. "I wasn't sure any of us were going to make it. It was very, very terrifying."
The flames got closer and Sanders, who was unable to wear a seatbelt due to her surgery and had her intravenous line still in and dangling from the rearview mirror, focused on her newborn's survival. So, she made a pact with David.
"If it comes down to it, if you have to run, take the baby," Sanders, in comments to the Chronicle, said she told David. "Leave me behind."
During their drive, they were forced to change route and turn around several times. At one point they even passed Sanders' home, which was completely destroyed. All that was left was its chimney.
Fortunately, Sanders, Lincoln and David — a man whose last name Sanders never learned — survived the deadly blaze. Her husband, Chris, and her two older children also escaped the flames unscathed.
The sedan was eventually rerouted back to the hospital Sanders had fled ― the facility was miraculously still standing. Sanders was eventually relocated to Enloe Medical Center in Chico, California.
After her harrowing experience, Sanders told CNN: "Never have I had a Thanksgiving come where I have had so little and felt more thankful and blessed."
Popular in the Community