Kelley Markland has been wearing leggings from a brand called LuLaRoe for about a year. She said they make her feel more confident. She learned in a hateful note that someone has a problem with that.
On Nov. 18, Markland received a letter in the mail with a message that read, "Women who weigh 300 pounds should not wear yoga pants!" Inside the envelope was also a cruel meme referencing Markland's leggings. The Florida mom shared the note on Facebook, pointing out how hateful the message was.
"Anyone who knows me, knows that I care deeper and stronger than many," she wrote. "I am a sensitive woman and I despise cruelty towards others. At 36 years old, I am STILL being made fun of. Whoever sent this, be an adult and tell me who you are. JUST TELL ME!!!"
Markland told The Huffington Post she doesn't know how the person who sent the letter found her mailing address. The mom of two said if she could be face-to-face with the sender she would want to know why they would do something so hurtful. But she would actually like to thank the person, too.
"This one incident has really helped me find strength that I didn't know I had," she said. "This incident gave me a voice and a message to share with all women."
Markland said the response to her post about the letter has been overwhelming and that she has learned that so many other women have experienced the same feelings she has had after reading the note. Since she posted the letter, women have posted photos of their leggings in a touching move of solidarity.
Liz Grimes of Love and Limes Photography also reached out to Markland to tell her she wanted to do a photo shoot with her. With help from a friend who works with LuLaRoe, Grimes also organized for some of the company's consultants to style Markland for the shoot. On her blog, Grimes wrote that Markland has "a heart of gold."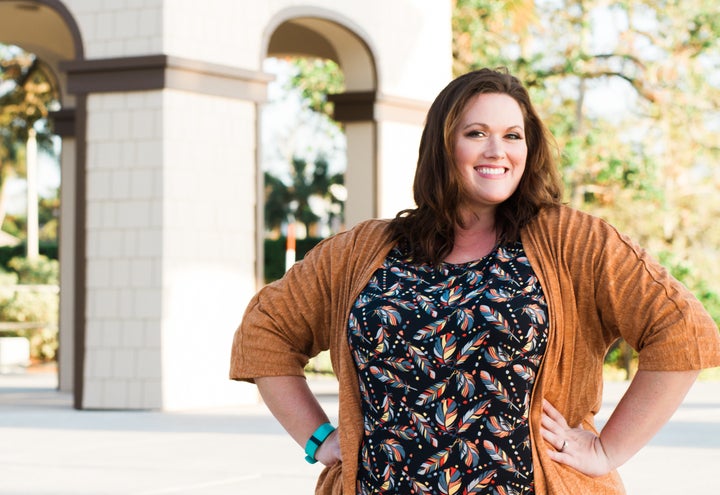 Aside from finding other women to talk to who have been through similar experiences, Markland has used the letter as a teaching moment for her kids. She has spoken to them about bullying before, but now they can see firsthand how harmful words can be.
"They get to see how I felt, how I responded and my actions," she told HuffPost. "I just want them to remember these moments so they can learn."
H/T Babble