A 15-year-old who, police said, brutalized, sexually assaulted and robbed a woman on a Chicago train was turned into police by his mom, after she recognized surveillance photos released by authorities.
Deshawn Isabelle is charged as an adult with robbery and sexual assault, according to Chicago ABC affiliate WLS-TV.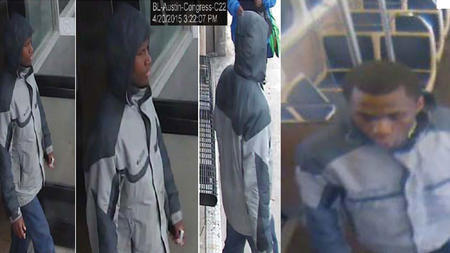 He was turned in on Wednesday by his mother. On Thursday, prosecutors detailed his alleged crimes, which took place on Monday afternoon inside a Chicago train car in which, police said, Isabelle and the victim were the only occupants.
In court Thursday, prosecutors said surveillance video from the CTA Blue Line train shows Isabelle grabbing the 41-year-old woman from behind, sexually assaulting her and robbing her around 3 p.m. Monday on a CTA Blue Line train near the Oak Park stop.
The teen then allegedly stuck his hands inside the victim's pants and sexually assaulted her.
After he stole $2,000 and an iPhone from the victim, prosecutors said, Isabelle left the train and the victim was able to alert authorities. The woman said the reason she had so much cash on her was because she was planning on wiring it to relatives.
When questioned by police, Isabelle allegedly confessed to the crime and said he spent the $2,000 on Air Jordan jumpsuits and candy.
Outside the courthouse, Isabelle's mom, whose name was not reported, declined comment when approached by a reporter at the Chicago Tribune.
But she did confront Assistant State's Attorney Joe DiBella, who spoke to reporters after Isabelle was ordered held on $1 million bond.
"Don't talk that (expletive) about my child," she said, according to the Tribune. "Quit talking all of that (expletive) on the (expletive) news."
The Huffington Post does not typically report the names of minors charged with crimes unless they are charged as adults.
Related
Popular in the Community