Just two weeks after learning she was pregnant, Amanda Bernier received a heartbreaking diagnosis: amyotrophic lateral sclerosis, or ALS.
After 24 weeks of close monitoring and another five months in the hospital ICU, the new mom delivered a healthy baby girl. Now paralyzed from the neck down and hooked up to a ventilator, the first-time mom is determined to continue defying the odds by breastfeeding her baby.
"Nobody knew if I would be able to," she begins. "My doctors could not find any case studies. Just like I knew that I would deliver a healthy full term baby, I knew that I would be able to breastfeed."
In the post, Bernier describes the wonderful support she received from hospital nurses and lactation consultants, who helped position the baby for nursing. Baby Peanut latched right away and the mom started producing more and more milk.
Before Bernier left the hospital, the nurses showed her family how to position and latch the baby, as the mom could only move her head on her own. "I can only imagine how awkward it was for my aunts to touch my breasts, but they did it out of love for my daughter and me," she writes in the Facebook post, adding:
As a first time mom and one that is paralyzed, I was very concerned that she would not know who I was. For the first month I felt like I was only a cow. I could not soothe her when she cried, change her diaper or clothes. My family that stayed with us did all of that. I only saw her for feedings. Over time I found ways to connect. I would play her Disney songs, play animal sound games and watch sign language videos together all on my eye tracker computer. She sits on the end of my bed and plays. Now I know that she knows who I am and that she loves me. She waves and points to me when she is near. She will look at me when someone says "wheres mommy?" The best thing is when she gives me her huge smile when seeing me after she wakes up and anytime she sees me.
Breastfeeding wasn't an easy task for Bernier. Like many other moms, she experienced cracked and painful nipples, milk blisters and calluses. Her milk production decreased after a change in caloric intake, and the baby often grabbed at the trach tube in her mom's neck. Bernier also delayed taking her pain medications to keep the breast milk healthy. "I can't take care of my daughter, but I can give her the gift of breast milk," she writes in the viral post. "I will continue on until my body no longer produces. "
When the baby started getting teeth and her biting put an end to their initial breastfeeding system, the mom also struggled and persevered with pumping. "A very important goal of mine was to freeze as much milk as I could so my daughter would still have breast milk when I was no longer here," she explains in the post. "So I began to start pumping right away." Ten months later, Bernier has a freezer full of milk, thanks to a fine-tuned pumping method and the assistance of friends and family. She said she hopes her story will inspire other moms who are struggling with breastfeeding.
Despite all the challenges she's faced and misfortune of her debilitating disease, Bernier maintains a positive outlook. "Having ALS is not how I pictured my life," she writes at the end of her Facebook post. "It breaks my heart that I cant be the mother that I wanted to be. It crushes my soul that she wont have her mother for much longer and she will grow up with out me. However everything happens for a reason so I am glad that I will be by her side as her angel."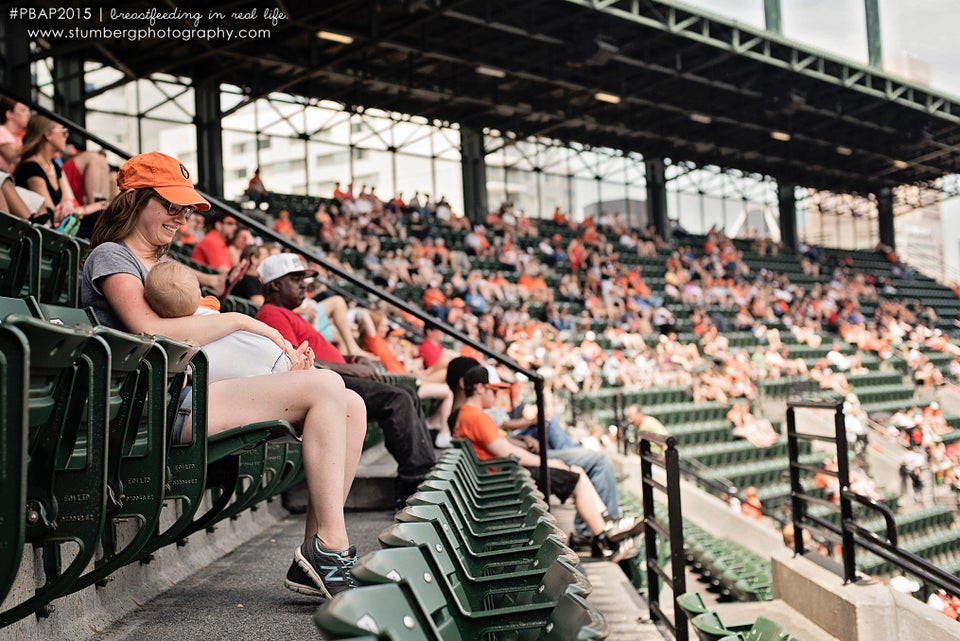 Candid Photos Of Moms Breastfeeding In Public