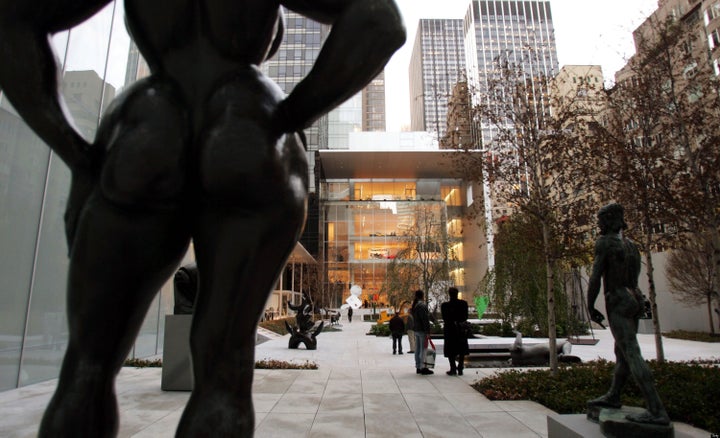 Yoga mat-toters, ranging from Upper West Side art aficionados to Williamsburg scenesters, packed into the Museum of Modern Art's second floor atrium at 8:30 Saturday morning for the most popular yoga class of the year.
Beneath artist Gabriel Orozco's "Mobile Matrix" -- a 35-foot long whale skeleton marked with concentric graphite patterns -- Virayoga founder Elena Brower led the eclectic group through a vigorous series of poses complete with downward dog, half-moon and pigeon.
"Walking up the stairs to this space is like waking into a church," said Brower, who had turned off the wireless microphone that would carry her voice through two large speakers directly behind her. "The scope of the room, with 60-foot ceilings and such a volume of people creates a powerful energy, a resonance and creativity."
MoMA has struggled to find objects that can hold their own in the atrium since the unsuccessful inaugural installation of Monet's waterlilies, which the New York Times reported were "dwarfed -- some would say crushed -- by the atrium's six-story height."
YoGA at MoMA flourished in the unwieldy space where Monet had been washed out.
Composer Garth Stevenson musically guided the room from one pose to the next, filling the museum with the low tones of his upright double bass. With eyes closed one could imagine that the entire 7,534-cubic-meter atrium along with the bones of Orozco's giant skeleton had been submerged under water and populated with a choir of whales.
"The whole reason art exists is to tap into higher meaning and I truly believe yoga adds to that," said the manager of MoMA's Junior Associates, Angela Goding, who listened in heels and black business attire while coordinating the museum's early opening that made the whole event possible.
Flavorpill co-founder Sascha Lewis had the idea of turning MoMA into the ultimate yoga gathering back in 2004 when Yoshio Taniguchi's renovations were unveiled. "The people I spoke to at MoMA said they loved the idea, but that it would never happen," he recalled.
The creator of events such as "Art After Dark" at the Guggenheim Museum, Lewis has a hardwired ability to combine music, movement and culture in unlikely locations. To be successful he has learned how to finesse institutions into getting creative with their space.
Lewis found his chance with MoMA in 2008 when artist Pipilotti Rist danced through the second-floor atrium and found her way into downward dog during the press conference for her video installation entitled "Pour Your Body Out (7354 Cubic Meters)." Lewis quickly secured Goding's help and together they convinced MoMA that yoga was an obvious extension of Rist's installation. So obvious, in fact, that another group of artists and yogis independently had the same idea and organized an impromptu "MoMA Yoga" that verged closer to a happening than a yoga class.
The first YoGA at MoMA was held on Super Bowl Sunday '09 in the womb-like atmosphere of Rist's wall-to-wall shag carpet and her floor-to-ceiling video installation. That summer the event sold out a second time and was held outside in the museum's sculpture garden.
For this, the third YoGA at MoMA in nearly a year, over 1,500 people emailed Flavorpill to request tickets, from whom only 300 were randomly selected. Besides inner peace, attendees received the unadvertised bonus of free entrance into the museum and tickets to the popular Tim Burton exhibition, which would sell out before 1:00 p.m. that afternoon.
Lewis is focusing on a way to make these yoga spectaculars accessible to a much larger community. He hinted that city officials have agreed to make Central Park available during the summer though he won't divulge the date. Just in time too, since Goding can't promise that the popularity of YoGA at MoMA will guarantee that the museum continues to host these event. "We're not a yoga studio," she warned.