You'll start writing that novel -- just as soon as you find the time. You'll go after that promotion -- you're just waiting for the right opportunity. You'll start showing up at get-togethers-- after you lose 10 pounds.
"All the wise and strong and successful women that I know, every single one of them shows up before she's ready," Melton says in the above video from Oprah.com's web series, #OWNSHOW.
Waiting, she explains, is doing yourself a disservice. "It's a little teeny closet where you can hide and not get to the work of your life," she says. "It's a little too safe there."
Here's another way to look at it. "A group of people standing around and talking about how they will get started when they're perfect is exactly the same as a group of elephants standing around and saying they'll get started when they're purple," Melton says. "Elephants gotta be grey, and people gotta be imperfect."
Rather than making excuses, Melton says to just get started. If that sounds scary, you're not alone. "The good news is, I interviewed a lot of people, and all of them admitted to me that they have absolutely no idea what they're doing," the Carry On, Warrior author says. "These are successful, amazing women. And I think that's because wise people know that you can really only do the next right thing, one thing at a time."
Melton recently had her own reminder of this when she decided to Google herself -- something she doesn't recommend, by the way -- and read some nasty things about herself. "I called my sister on the phone, because that's what I do, and I was saying 'Oh, they're saying that I'm an alcoholic and that I'm a bulimic. And they're saying that my family fell apart and they're saying I'm overly dramatic,'" Melton says she sobbed into the phone.
Melton says her sister paused, then said, "'OK, but isn't that all true?'"
After hanging up on her sister, Melton had a realization. An open book, Melton has shared the ups and downs of life -- including her past struggles with bulimia and addiction -- with her readers.
"All of that is true," Melton says. "I don't have anything figured out, and you know what? I'm showing up anyway, and amazing things are happening. And that's what people do who change the world, they just show up before they're ready."
Also in the video, Melton opens up about the first, pivotal moment she decided to show up before she was ready. "I found out I was pregnant on Mother's Day, 12 years ago," she says. "And I'd been a drunk and a bulimic for 20 years, so it wasn't like, happy news," she admits. "But I recognized it as this invitation from life to just show up."
Along with receiving her "little man," Melton vowed to stay sober and went on to become an award-winning blogger and New York Times bestselling author. It was the best thing that has ever happened to her, she says.
"It keeps turning out that I'm enough, every single time," Melton says.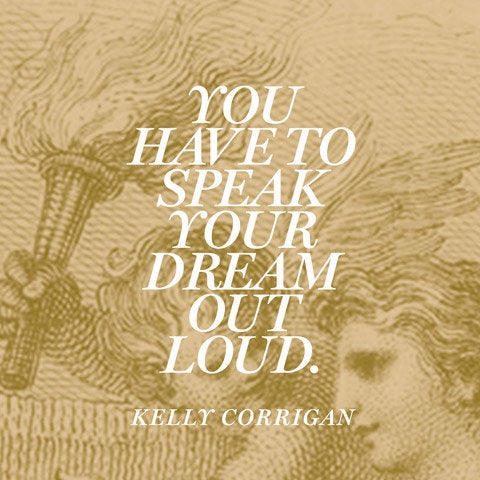 9 Quotes to Kick-Start Real Change