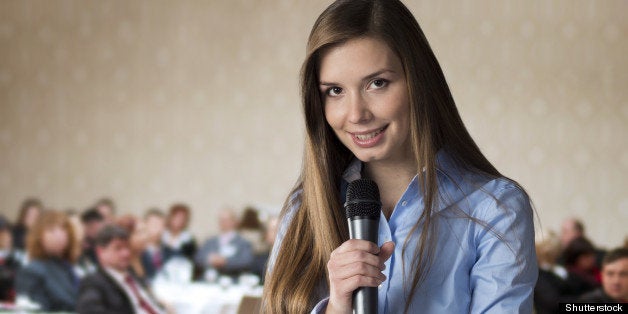 The Mom 2.0 Summit, which I just attended, got a lot of snark from the Wall St Journal. On some level, I could understand the snark when seen from an outsider's point of view. Blogger conferences are indeed full of people vying for product endorsement deals. So is "American Idol" and the Super Bowl. It's the American way. Every time I anticipate one of these conferences, I dread the commercialism and feel anxiety over expectations I can't meet. But every time I head home from one, my heart sings, thinking about the amazing women I've just met. I feel my karma in life steer in the right direction just by connecting with women who choose to share their voices through social media. As a woman, it's not an easy thing to share your voice at all. Many people could learn a lot from women online.
The subhead of the WSJ article sums up the Journal's viewpoint: "Conferences Appeal to Women With a Guilt-Free, Child-Free Reason to Leave Home." And guess what! According to the Journal, "these moms tend to be very active online. Brands like Whirlpool and Dove sponsor these conference events to get in front of them." That is true.
In 2007, I agreed with the Wall St Journal's take. As a longtime but hardly famous blogger, I felt some grief for losing the old days of blogging, when small groups of women who used blogs to express themselves gathered to share advice and meet kindred spirits. Back in the good old days, I was a political and social cause blogger, so I never got the fantastic swag or trips my more kid-focused friends got. But my soul was full, because I met the most inspiring community of women who had chosen a different path. These women were unafraid to piss people off, to claim their authentic selves, and to use their vast platforms to change the world. They were my heroes, and they helped me to find my own dream, start my own business, and find my voice. And then all of a sudden, the blogging industry became just that: full of mega sponsors, trade show-style booths, and many, many thousands of bloggers vying for deals and swag. I felt sad and left behind. No marketers wanted to talk to me, the feminist political/workplace flexibility blogger.
Fast forward to 2013. Returning from Mom2.0, so snarkified in the Wall St. Journal, I have to say, my heart is full of joy. I think I was wrong in my grief, or perhaps, the community has evolved to embrace working with brands and finding purpose in our writing. The original, inspiring women are still there, and they're more inspiring than ever. New women have found blogging -- many have fled traditional media to do so -- and are valuable members of our community. Whether it's working to help women who are readers find inspiration, or working to literally save children's loves, women bloggers mean business. And if they want to get paid along the way, good for them!
There were indeed many panels about finding brand sponsorship. But the two moments that literally held the room were a celebration of true impact: celebrations of the global vaccines campaign Shot@Life, and the stories of how women grew into their true selves. I will never forget the amazing Elan Morgan. She reminded me to assert myself. She and Sheryl Sandberg would probably like each other, except that conferences Sheryl Sandberg talks at are real business, and women blogger conferences are apparently not.
Critics who decry "trips for mom" are completely missing the point. Everyone in this world should have an opportunity to spend time with inspiring people who help you live your best possible life. And even better, if you can get paid for your time, it's a total win. It's only because mothers' time and dreams are less valued in our society that our motivations for the trip would even be criticized.
I now have a new community of bloggers of all stripes who choose to use their platforms for good. I can't wait to see what we can do together.