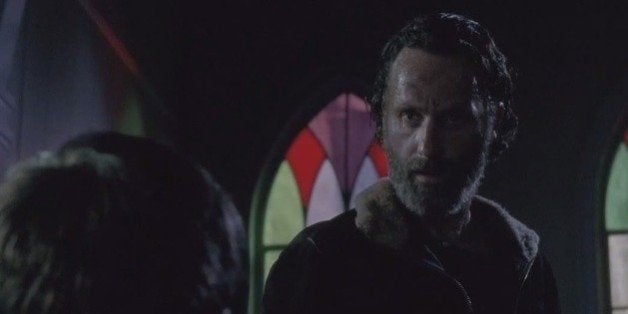 "Walking Dead" spoilers below!
Sunday's "Walking Dead" episode, "Four Walls and a Roof," was all about the survivors getting some payback. As the Terminus cannibals munch on his leg, Bob completely shocks them by showing he was bitten by walkers. He's returned to Rick and the others, and the survivors plan an attack on the Terminus crew.
Rick takes a group out to catch the Termites by surprise, and, just when they leave, the cannibals sneak into the church. Then, when you think all is lost, Rick's people ambush them, and the Terminus threat is finally eliminated. Unfortunately, this is also the end of the road for Bob; however, for being bitten by a walker and having his leg eaten by cannibals, he really hung in there a long time.
Here are the must-see moments from "Four Walls and a Roof." (Warning: Graphic content ahead)
1. Bob revealing he's tainted meat ...

Image: FanSided
2. ... then really getting into it.

Image: thenormanreedusblog
3. Father Gabriel admits he locked his congregation outside.

Image: AMC/YouTube
4. Terminus creeping in ...

Image: thewalkingdeadsource
5. ... then getting a big surprise.

Image: AMC/YouTube
6. Rick keeping his promise to Gareth.
7. The slaughter at the church.
8. Tyreese being all like, "Damn."
9. Abraham thinks apologizing means underlining someone's name.

Image: deanmon

10. Saying goodbye to Bob.

Image: russianhookers-and-cheapgin

"The Walking Dead" airs Sunday at 9:00 p.m. ET on AMC.

REAL LIFE. REAL NEWS. REAL VOICES.
Help us tell more of the stories that matter from voices that too often remain unheard.
BEFORE YOU GO