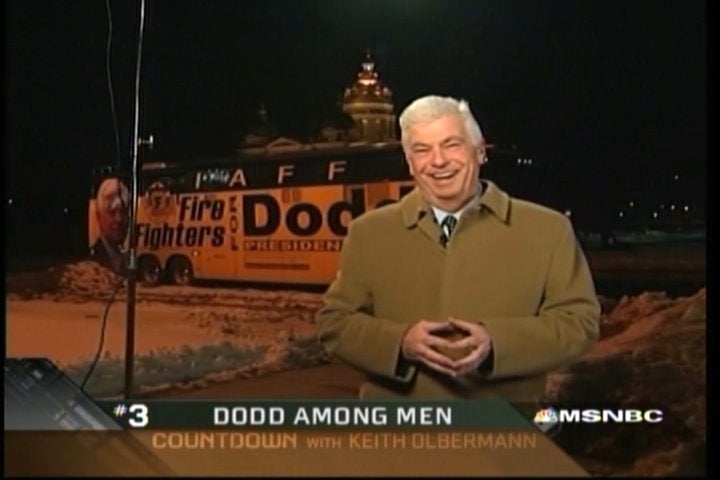 As the political season reaches its Iowa caucus climax, momentum is building for Sen. Chris Dodd to parlay his presidential campaign into a bid to challenge Sen. Harry Reid, D-NV, for Majority Leader.
Almost all of the support for this effort now comes from the netroots, much of which favors such a move. But talk of Dodd making a run at the post has slowly crept into the corners of Capitol Hill as well. And in light of the Connecticut Democrat's successful filibuster threat this week over granting immunity to telecommunications firms that conducted warrantless surveillance, some in the progressive community see the framework for a potential shakeup.
"Dodd is an effective legislator, he is practiced and experienced and is articulate," said Joan Claybrook, president of the nonprofit group, Public Citizen. "He also knows how to make the process work. I think Harry Reid has an entirely different style and likes to work things out behind the scenes. He's had to be a negotiator and people don't like that sometimes. They want to see someone take a stand and win, but that is hard in this Congress and with these issues."
Claybrook, it should be noted, made no endorsement. And Dodd's campaign and close advisers insist that he is not focused on anything other than the presidential race.
"Senator Dodd and his campaign supporters, staff and family are 100 percent focused on the Iowa caucus and winning this nomination," Dodd's spokesperson Colleen Flanagan told the Huffington Post.
And yet, after Dodd forced reconsideration of the surveillance legislation - by arguing for eight hours and threatening to go longer - he left many prominent bloggers yearning for more.
"I like Harry Reid enough, but it's clear that we live in a climate in which the type of leadership we need is better provided by Chris Dodd," Markos Moulitsas of DailyKos told the Huffington Post. "Republicans have been laughing at us all term, refusing to compromise because they know the inevitable capitulation on any given issue is always just a couple of days away. Those Republicans need to be re-taught how to negotiate, and step one is to have a Democratic caucus that will tighten the screws when necessary. Yesterday, that person wasn't our leader, it was Chris Dodd."
Similar sentiment has been exhibited at other prominent progressive blogs like FireDogLake.
Still, a major obstacle for a Majority Leader Dodd remains: Senate Democrats are, by and large, happy with the work of Reid. Many note the difficulties in working with a one-vote majority and say he has done the best with the hand he was dealt. In the wake of an April 2007 Washington Post column that was highly critical of Reid's leadership on Iraq, every single member of the Senate Democratic Caucus signed a letter to the paper, challenging its assertions.
"If it were to happen, the pressure would have to come from the outside," said an aide to a prominent senator, not from Dodd's office. "I haven't heard of anyone being upset with Reid. There has been, in fact, an awful lot of support."
Claybrook said of Dodd, "On some issues he's fantastic and on other issues not as much. I'm fond of him and have known him for many years but I also have great respect for Harry Reid."
The process of choosing a new Majority Leader in the Senate is not a difficult parliamentary procedure. Every two years, when a new Congress is sworn in, leadership holds an election. The sitting leader has the traditional advantages of incumbency -- he or she can dole out committee assignments and set the voting agenda to appease fellow members. As such, intra-party leadership struggles do not frequently take place. In 1970, Sen. Ted Kennedy, coming off only one term as Majority Whip, lost his reelection to Sen. Robert Byrd.
Dodd has run for a top-ranking post before. In 1994, as a 14-year Senate veteran, he took on then-Sen. Tom Daschle, D-SD, for Minority Leader and lost. This, observers say, will likely weigh in his mind should he choose to mount another challenge.
"Dodd has tried for leadership positions before and he has lost races," Jennifer Duffy, Senior Editor at the Cook Political Report, told the Huffington Post. "He is not going to just jump into this. I don't think he will announce anything like that without counting noses first. And when he does, he might find that the votes aren't there."
Of course, if Dodd were to try once more for the Democrat's top Senate job it would mean that his aspirations for the White House had met an unsuccessful end. Currently, his poll position in Iowa and New Hampshire leaves substantial room for improvement. But his name has been floated around as possible cabinet member. And his campaign insists that, even in the wake of the FISA victory, they have only the oval office on their minds.
"This [FISA victory] speaks to the kind of leadership he would have as president," said Flanagan.
Popular in the Community