Merle Haggard released "Mama Tried," that twangy country song about defying the expectations of Mama, in 1968. 45 years later and the song still resonates with southern gents and rebels alike. Take Micah Learned and Theo Eliezer -- two creatives out of New Orleans hoping to release a magazine that melds the lad mags of the past with the high brow art and literary journals of today. The title? "Momma Tried."
"Momma Tried" is a print-only, nudie mag that combines the thoughtful construction of an installation piece, with the academic curation of a journal. The estimated 144-page publication contains the work and contributions of 51 people, including written, art and photography submissions from across the world as well as editorial collaborations straight out of New Orleans. However, "Momma Tried" can only come to fruition if Learned and Eliezer reach their $10,000 goal on Kickstarter. As of March 29, they have just over $7,000 with six days to go.
Learned and Eliezer said they are trying to create something that doesn't quite exist in the print world. Currently, there is a wall between the art and nude magazine realms that "Momma Tried" is trying to break down. The nudie part of the magazine is an aspect they said is integral to the human experience, like art and literature. The hunger to engage seuxality should be satiated along with the hunger to consume art and literature.
"The sexual aspect is a part of most everybody's lives, with few exceptions," Eliezer said. "We are making a magazine that appeals to people who don't necessarily consider themselves to be a part of a literary, academic or art culture. So, we're able to attract a readership that might be interested in something new or something somewhat stimulating, then let them be engaged by the content beyond the nudity."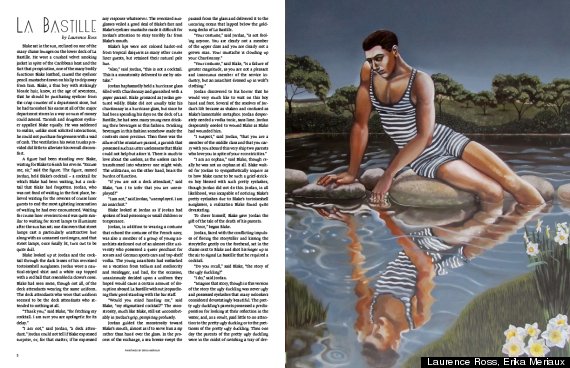 Though the magazine includes nude imagery, they were quick to make the distinction between their project and pornography, clarifying "Momma Tried" is non-heteronormative. They aim to present sexuality in a decompartamentalzied way, opening the readership to all genders, sexual orientations and persuasions.
"What we're creating isn't pornography unless it's by the most restricted, most victorian standards," Eliezer said. "We're literally presenting nude people within a conceptual context. So, it's beautiful and sexy, its engaging and there is an aspect of confidence to it. People with diverse backgrounds or ethnicity or body types will perceive it in a very open, dignified, beautiful, conceptual way."
Learned added that presenting nude art isn't their goal either, because like pornography, the medium often masks the identity and sexuality of the subject.
"Pornogaphy, not across the broard, but very often is an objectifying, object-creating medium," he said. "And then there are art nudes, which sort of create an object but in a very different sense."
Eliezer added, "So we're neither objectifying people nor obscuring them. We're trying to find this middle ground that is much more of a reflection of who we feel we really are, and who our collaborators are."
Through this inclusivity, they said "Momma Tried" is more approachable. Art and literature can be accessible and unpretentious, regardless of someone's personal involvement in the arts.
"We want to keep it grounded and in a playful place," Learned said. "We don't want to beat people over the head with our ideas. We want people to open it up and just see the magazine for what it is."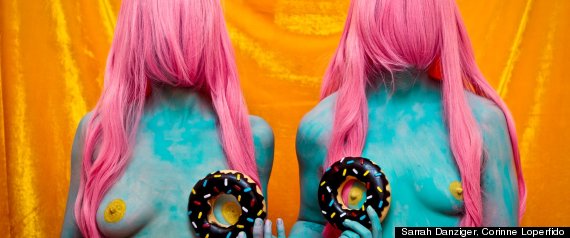 Though "Momma Tried" is a magazine, they said the idea is to create something closer to a book -- a publication without advertisements that someone can pore over, then not toss in the recycling bin.
"This magazine exists for us as a conceptual art piece as a whole," Eliezer said. "We wanted to create an actual work that can be collected by people, that can be treasured and eventually become this kind of sentimental object after many years have passed."
To maintain this sentimental integrity, the magazine will be print-only, a decision they said was made early on as an opportunity to revive the medium.
"It seemed like this [was a] new sort of rights for reclamation and appropriation of a format that we could run with and pursue in exciting ways," Eliezer said. "If nobody's paying attention to print, that means artists can reclaim it and really make it something new. Or create commentary with it as something that is a lot less commercially viable and more creatively viable."
One particular part of the interview stands out, when Learned recited a line from the Haggard song, "Mama tried to raise me better but her pleading I denied. That leaves only me to blame 'cause mama tried."
"It's not like you failed, but if you are identifying with whatever you're doing, you're not there until you figure out how to be that," he said.
Eliezer added, "And figuring out how to be a person that really lives in the truth of who you individually are."
After talking to Eliezer and Learned, the lyrics make complete sense. They are a radical duo trying to make a statement. They are creating something that goes against the grain of normalcy, but has the potential to be regarded as more than a nudie mag or a literary journal. Maybe mama did try to raise them better, but "Momma Tried" is close to becoming a reality because they simply didn't want to be.
Popular in the Community