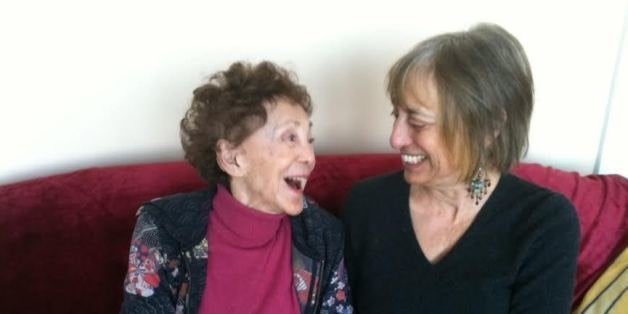 My husband is very supportive. My three grown sons feel some mixture of pride, amusement, and embarrassment about my latest book Just Say Yes: A Marijuana Memoir, which has been featured in popular publications and websites. My friends are happy for me in my new role as a marijuana advocate.
But my mom does not approve.

You would think at my age it wouldn't matter. After all, I'm collecting Social Security myself. Barcroft TV, a UK outfit, made a short documentary about me with the demeaning title, "Potty Pensioner Puffs A Joint A Day For Fifty Years."
Still, I want my 92-year-old mother to encourage me in my candor about cannabis.
After all, we have so much in common. She's always been a free spirit, a bohemian, a woman of the senses. Like me, she's a writer, and her subject of choice is the French author Colette, who celebrates touch, taste, smell (senses marijuana enhances). Like me, my mother has been passionate about various causes, in her case noise pollution and historic preservation. Why can't she have more sympathy for cannabis legalization?
Her dry assessment of my book? "I liked it more than I intended."
In all fairness, she's given pot a try. I got her high once or twice, with great difficulty, for she has trouble with the smoking process. She coughs a lot and seems to believe that tilting her head back, rather than inhaling, will bring smoke into her lungs. Once high, she is merry and talkative--pretty much the same way she's usually merry and talkative.
A few years ago, while traveling together in Hawaii, my oldest son gave my mother a marijuana cookie. Then they drove around the island in their rented convertible. From my son's account:
As we're driving the sun is setting, and I've got Thievery Corporation on the stereo. My very cool grandmother, who has never liked ANY electronic music, turns to me and goes: "This music is soooooooo good!" I cracked up. Pretty soon she's telling me "I get it, I really get it! I know why everyone likes marijuana!" It wasn't long before she was asking for some water, and then more or less fell asleep.

But while my mother enjoyed these experiences, she doesn't approve of regular use. She's not sure marijuana should be legalized, because she doesn't like the idea of children getting stoned. I explode, "Nobody likes that idea! But there will be strict age limits." She looks dubious.

She herself is a "high on life" kind of person, although she's too sophisticated to put it like that. She doesn't have the need to enhance, or escape from, reality. She gets no particular pleasure from alcohol, either: what's the point when life is so exciting and hilarious just as it is?
"Not everyone has that outlook, mom. Not everyone is as lucky as you."

A week after that conversation, something wonderful happened. My mom read an article in the New Yorker which said that blacks and whites use weed at comparable rates but in state prisons, there are significant racial disparities in "low level drug offenders -- possession of marijuana or drug paraphernalia." In New York state, a black person is 4.5 times as likely as a white person to be arrested for weed.

And for a few days my mother's attitude changed. I even got an email saying she was proud of me for fighting injustice. Then Pope Francis became her new crush, because of his environmental encyclical, and my mother slipped back into her usual disdain for cannabis.
Last summer, I gave a reading at Canio's Bookstore in Sag Harbor, where she lives. Shortly into the Q & A, my mother stood up, clambered onto the stage, and pronounced, "I just want you all to know that I do not endorse my daughter's ideas!"
I have been to many readings, but I've never seen the like! Perhaps I should introduce her to my new vaporizer.
This article originally appeared on MERRYJANE.com, which is dedicated to elevating the discussion of cannabis culture.
Related
Popular in the Community