Have you ever wanted to be part of a club and found that there just wasn't a place for people like you?
For Jennifer Weedon, Stephanie Faith Scott and Valise Tate, that's what propelled them off the couch and into action. You see, they were moms, but the more time they spent looking at "mommy bloggers," the more they just couldn't find any voice that sounded like them. So rather than be disenfranchised moms, they decided to turn their unique voices into a Web TV channel called MomCave. Think "mancave," but for moms.

As Weedon recently explained it to a room full of Web video pros in New York, "we know that with the proliferation of mommy blogs and Pinterest-fever, moms can often feel that they're coming up short. Being a mom is hard. We use comedy to deal with the struggles and celebrate the victories."
The idea of MomCave TV is simple - pushing the envelope around what kinds of women and moms are invited to share the challenges and even hardships of being a mom. Says MomCave, "Finding mom friends is HARD. Sometimes it feels like high school all over again!"
Weedon and her partners have invested time, money and effort- and even some money into the enterprise: "We have put some money into and recently won a grant from the town of Dover, Vermont in association with the Independent TV & Film Fest. But the greatest investments so far are in time and effort. Of course, working on MomCave is fit in little spurts all throughout the day, in between breastfeeding, temper tantrums, and kid corralling. As we made relationships with brands and grew our audience, we have started thinking of MomCave as a startup business and treating it as such."
So now women have a network of snarky comedies for moms.
A quick look at their shows and you'll see how unique their voice is in the often PC world of mommy bloggers:
Slummy Mummy -"We thought we could have it all. Now we just want to poop alone."
Slacker Mom - "Too tired to care."
Double Leche -"Awkward & Funny Moments in Breastfeeding"
MomCave LIVE-"It's like Wayne's World for Moms!" -Brooklyn Mama
Blabbermom- Real moms. Real stories. Real laughs.
Today MomCave is the work of three moms (and a dad!) who want to make authentic programming for parents. They're pushing back on the all too perfect women posting on YouTube and Pinterest.
As they explained it at the NY Video Meetup, "We wanted to create shows about something we could really relate to, and that is the difficult and humorous moments of parenting. Because, in our opinion, those moms that seem to have it all together must be lying."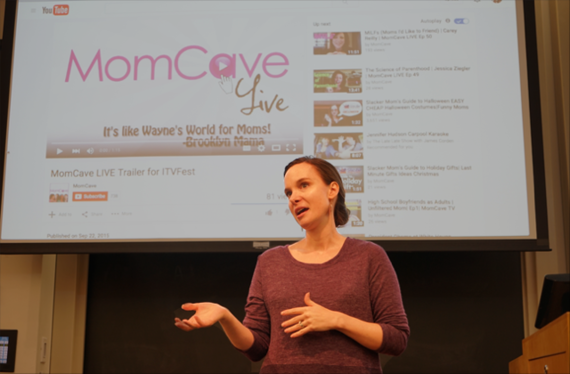 So, rather than stand on the sidelines, Weedon and her partners jumped in. It's been an amazing learning experience, she said. "If you don't know how to do something, start," says Weedon. "I waited a long time to produce my own work. Where will the money come from? How will I find crew and support staff? And what about the technical stuff? But once I dove in, I quickly met like-minded creative people all who have been instrumental in what MomCave has achieved so far. And some things you learn out of necessity. Editing was a huge expense, so I taught myself to edit. It's become one of my favorite hobbies. I would never have guessed."
And it seems like MomCave is finding an audience. Just one month after launch, they've had 14,000 views between YouTube and DailyMotion.
And the marketing efforts are just getting started. Says Weedon: "We launched with the videos on YouTube and started holding screenings for mom and mom bloggers in the New York City area. Now, you can find the shows on iTunes, Daily Motion, Funny or Die, Blog Talk Radio, and Google Play. We quickly realized our natural symbiosis with the "Mommy Bloggers" and that MomCave needed to be a website... a destination.. not just a YouTube channel. We continue to screen at events for NYC moms and have been in film festivals all over the country."
MomCave isn't a full-fledged business yet. They don't pay salaries and the revenue is still pretty small. But brands are taking notice, asking the moms to sample and even promote new products. So far, they've been careful not to "sell out" their endorsements - they want the audience they're building to trust them and know that they're not simply in it for the money.
And the MomCave team has a message for other women thinking about getting entrepreneurial in the content space."Don't let fear stop you. I used to have this mindset that successful people were somehow smarter or more "adult-y" than me" says Weedon. "But as I got to know people at the top of their fields, in many different industries, I was continually surprised by how "normal" they were. Yes, they may have been extraordinary in this one aspect of their lives, but overall, they were just trying to figure things out as they went along. It's just that they weren't afraid to take that journey."
Related
Popular in the Community