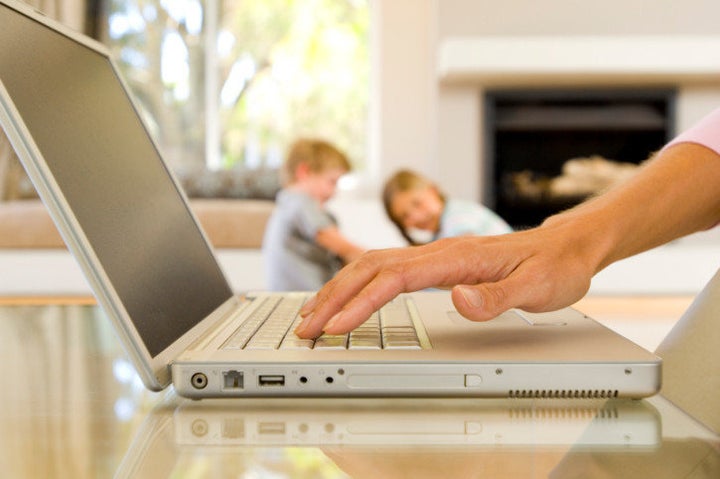 So far, 2011 hasn't been a good year to be a woman in America. Your health is under attack from Congress, your wages are in jeopardy and you're still not at the power table.
Unless, apparently, you're a mommy blogger. This week's New York Times Magazine featured yet another profile of Dooce, the super mommy blogger who makes over a million dollars a year detailing her ordeals with baby/dog poop "and countless other banalities of one mother's eclectic life that, for some reason, hundreds of thousands of strangers tune in, regularly, to read."
Dooce is a gifted writer and a true original. She is inspiring to many women (myself included) because she figured out how to use her gifts to provide for her family and work from home. She's also inspired an industry that does much to preserve traditional gender roles in that most cutting edge of settings, social media. I call it the gendered web. Honest, creative writing about home and family is a gift to us all, as it has been since Jane Austen's day. And it's made the difference for millions of women's lives through ad subsidies and sometimes even fame.
But taken as a whole, the current state of mom blogging plays into the most traditional gender roles. It's now a potentially lucrative way for women to earn money and wield power -- from home. There are thousands of websites and conferences devoted to helping mothers earn money by blogging about domestic life. What an amazing thing in a work world that offers working mothers little flexibility and time. As mom blogging grows as an industry fueled by ad dollars, I actually think it's taking us back to the days when a woman's worth was measured by the cleanliness of her kitchen floor. I've tried my hand at product blogging. It didn't work too well, I but I keep waiting for that free Wii, new camera, or trip somewhere great, like my friends who are bigtime mom bloggers get all the time. Some women I've met on the mom blogging beat are blatant about breaking into the medium to make money.
I don't fault us. It's so hard to be a middle class working mother in this country that writing about consumer packaged goods in your yoga pants beats a day in the office, hands down.
Years ago, Betty Friedan cited a "feminine mystique" that advertisers worked hard to perpetuate. The rest of her book may be dated, but read Friedan's chapters on advertising and women and it feels 100 percent current. Women's primary power is as consumers, and as long as we keep buying, and encouraging our friends to buy, we're considered powerful. Our modern feminine mystique is a little more expansive but no less commercially driven; now, women are expected to work, workout, look sexy and maintain a lovely home. The power consumer is the engine that drives moms online, because online revenue is advertising-driven, and advertisers want to reach the "Chief Household Officer": mom. Every time I read a piece on million-dollar mommy bloggers, I think of this.
Indeed, Maria Bailey, who claims she literally "wrote the book on marketing to moms," offered a tele-seminar recently to wannabe mom bloggers. And she encouraged moms to host blogs and market to their friends online because wouldn't it be a shame to connect with a fellow mom online and lose the opportunity to sell her something? Is that the best we can do with our collective voices?
At a recent TED talk, Dr. Johanna Blakely predicted that the social media revolution means "the end" of gender stereotypes online. She says this is because advertisers, who for years have used gender-, age- and income-based demographics to cluster and place their ads, will shift to targeting users by interest. So, Blakley says, tribes of enthusiasts who like "Buffy the Vampire Slayer" will be more appealing to advertisers than the highly coveted demographic of women 25 to 45. If this happened, I believe we'd see the dissolution of the gendered web. Until that happens, I'm not so sure.
The Internet is breaking down along more traditionally gendered lines than ever. It could be that women cluster together online because it's safer -- Facebook users are about 60 percent female and it could just be to avoid insane Foursquare apps like "Where the ladies at?" in favor of more trusted friends and networks. At least when women write about issues close to home online, they run less of a risk of being stalked or humiliated, something all too many friends of mine who've spoken out publicly are subject to.
Many women I know want to give up their day jobs and become successful social media entrepreneurs -- and why not? It's a wonderful way to match flexible work with a creative and dynamic field. And while plenty of women bloggers write with intelligence and wit about everything from the economic crisis to foreign policy, they get rewarded (with advertiser money or media coverage) when they do stick closer to home. I don't see that changing as social media becomes more ubiquitous; I see it being reinforced. But the truth is, most women who dream of becoming financially successful women bloggers will do so only if they stick to covering the most traditional of female subjects: mothering and home. Other subjects just don't pay.

Support HuffPost
A No-B.S. Guide To Life
Related
Popular in the Community