Soleil Moon Frye may be remembered by millions for her role as TV's iconic Punky Brewster, in the 80s, but since then, she's reinvented herself. She's has added host of OWN, author, web entrepreneur and designer to her ever-growing resume. But her most important role is as a wife and mother of three.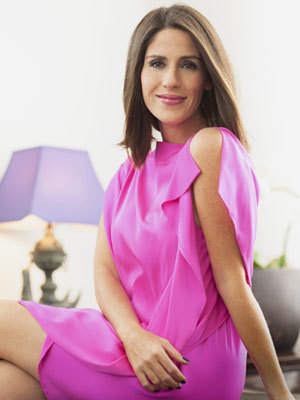 Soleil has been a leading pioneer in a new community of celebrities turned modern Momtreprenuers, who are expanding their brands to include family focused business empires.
She's co-founder of the popular blog moonfrye.com and she launched a mobile app "Moonfrye." She chronicled her "perfectly imperfect" adventures in parenting in her first book, Happy Chaos. In her second book, Let's Get This Party Started, features affordable and stress-free ways to create kid friendly get-togethers. Soleil has found a respectful balance between creativity, family and fame. A week before her third child son Lyric was born she shared some of her favorite mommy confessions with me.
What was your "OMG, I'm a parent" moment?
After having Poet, we got into the car and thought, okay we've had the car seat in the car for some time, but now we have a baby in it! We quickly realized there is no parenting manual or handbook -- it was just really intense and incredible. I loved those early weeks.
How does your partner's parenting style differ from yours?
Poet and Jagger are Daddy's Girls, they have him wrapped around their fingers -- he can do no wrong. I'm the more strict parent, but we really support and respect each other's style of parenting, that is definitely important.
Most surprising thing about parenthood?
No one ever told me that I would learn so much from my kids and that your heart could love so much and have no boundaries.
What do you miss most since having kids?
It's often hard to remember your life before kids because they fill it up with so much love and craziness. I don't have a lot of time for myself but I wouldn't have it any other way. I function best in the happy chaos of it all.
Tell me one of your "mommy confessions."
We have a pantry of "special treats" that I pretend is for the kids, but secretly it's one of my favorite spots in the house.

Last judgment you made about another mom/dad?
It's not really a judgment, more of an observation -- my girlfriend was over at our house the other day, we stepped out to the yard to chat for a few minutes and she was constantly monitoring her child inside, who was with other adults and my kids. I gave her a hard time and told her "It's gonna be fine."
Parenting habit you swore you would never do but totally do now?
Oh I never thought I would be a strict parent -- at all, I was such a laid back free spirit, but find myself setting boundaries with my kids, like telling them no devices in the house.
What morsel of advice would you offer your friends who don't have kids yet?
People always told me when you have kids, enjoy every moment, because it goes by so fast -- I never really felt that during the first few years, but when Poet turned five, it really hit me -- it was my Mac truck moment. It really sneaks up on you.
Favorite local spots to go with your kids?
We enjoy going to our neighborhood farmers markets and to the Venice Boardwalk. We love Geocaching, which is a treasure hunting game where you use a GPS to hide and seek containers with other participants in the activity.
Who's a mom you admire and why?
My mom of course! She did an incredible job of raising us as a single mother. She always took great care of us and nourished us in every way. She is my superhero. She constantly inspires me.
And when did you know you wanted to start your own business?
I always had an entrepreneur spirit, when I was younger I tried everything -- I was always experimenting with different forms of creativity. My kids really inspired my business, it was the perfect merge of my all of my previous experiences -- acting, writing, and directing.
I wanted to try doing something I never did before, different things and phases in my life trigger different kinds of creativity.
How did you decide to start your retail shop Little Seed?
My business partner and I were moms that had lots of questions about the environment around us and wanted to create a safe haven for families. I think it is natural to have fears when starting a business. It's important to remember to stay strong and believe in yourself. When you get knocked down stand up and keep going.
What's the best business advice you were given running a business, but ignored?
Be open and try to let go of knowing and being perfect at everything.
On your night table:
Water, a nursery rhyme book I was reading with my girls last night, a buddha.
Always in your bag: Lip gloss! I'm obsessed with kids flavored lip balms -- I steal Poet's. I always have something for the kids in my bag too, markers, crayons and little snacks.
You can only grab one magazine before a flight: One of the French interior design magazines.
Click here to download the Moonfrye App. "Let's Get This Party Started: DIY Celebrations for You and Your Kids to Create Together" is on stands. Home Made Simple airs Saturdays on OWN