To achieve harmony in bad taste is the height of elegance." Jean Genet
When I told Robert Melee to choose whatever "Mommy" video he wanted to include in Mama's Boy, a group exhibition I curated for White Columns in 2003, I knew he'd pick the most provocative example. High Life, 2002, opens with a scene of his mom, Rose, clad only in stockings, drag make-up, and a cheap wig, running down a dark street. Shot through a car window, the classical music that accompanies her night time jog underscores the work's absurdist tone.
Soon, the video cuts to a real-time documentation of Rose guzzling a 40-ounce bottle of Miller High Life. Amidst offstage giggles and minute adjustments to the bare bones set in which she sits, Melee impatiently prompts "Mommy" to finish her beer. Rose obediently struggles to chug it down, and in the work's denouement, pisses it all back into the bottle. Crouched awkwardly over the toilet, she grimaces and wipes away streaks of errant make-up, inviting us to bear witness to her abject feat.
Naturally, Melee's campy twist on the hackneyed trope of the dutiful son led some to mistake its derelict humor for exploitation, disregarding - or unaware of - the strong connection between he and his mother. But for anyone looking closely, and more significantly, across the many works they've made together since the mid-1990s, the intimate negotiations that underscore their collaborative productions is undeniable, and the therapeutic value of such endeavors quite real.
Melee alludes to the latter in a recent interview for Vice magazine where he shares how Rose regularly asked for forgiveness during the protracted makeup and costume sessions that preceded each shoot. Rose, who wrestled with the demons of a very dark past, did her best, if nonetheless failing in conventional ways, to be a responsible mom. And through his work, the artist has found forgiveness as he and Rose were able to forge a deeper bond based on a shared love of dress-up, fantasy, and play. High Life, in fact, is one of the last videos they made together, marking in a way a symbolic threshold whereby whatever penance was sought was cathartically released -- right along with the piss.
In satirizing the dark and complex relations that lurk beneath most pantomimes of familial bliss, Melee's home movies of Rose take on a deliberately tragicomic form. So too, like the sculptural and installation works in which they were initially ensconced - baroque, acid-hued environments featuring faux marbleized walls and consoles; paint- striped shower curtains; abstract bottle cap paintings; figural statues thickly layered in skeins of dripped paint - they queer notions of domesticity by blurring the line between high art and kitsch. The artist has even created a term for this is, Baloneyism, referencing the aesthetics of suburban dysfunction as well as the ability to transform the common and ordinary into "a strange glamour and ridiculous beauty".
Melee's recent exhibition, A Dozen Roses, 2014, at New York's Higher Pictures, reveals this well in a series of still photographs of Rose shot in tandem with the videos (and most titled after them). One can see the same abject humor that animates the videos in these images, and how it gives way over time to a more ethereal Rose.
Facelift, 1997, for example, like its eponymous video, reveals an early period of collaboration when hyperbolic drag-inspired caricatures prevailed. In it, we see Melee and Rose framed by a bright yellow ground, the former straddling the latter as he presses a piece of plexiglass against her face. In contrast to the bedraggled Rose in the video, who wears a violet nightgown and dark tangled wig, here she dons a gold dress. As in the video, the plexiglass edges disappear into a kaleidoscope of make-up smears and reflections of light.
Winter Solstice, 2002, on the other hand, is a black-and-white photograph (again based on an eponymous video) in which a mystical Rose appears, however tongue-in-cheek. Posed in a snowy forest, her naked body echoing the barren trees around her, she evokes Kabuki-style ghosts and Celtic banshees now rather than drunken drag queens. Melee's theater of the absurd, if still intact, conjures instead a stark and witchy mood that undercuts the raucous hilarity of previous works.
As with all of Melee's work, the exhibition's outre, baroque visions of mother and son love embody a Baudelairean lyricism, one that finds beauty in the grotesque and the obscene. Having long wanted to sit down with the artist to discuss these qualities in relation to the controversial reception of his Mommy series, A Dozen Roses provided the perfect opportunity. Its my hope that the following interview will shed light both on the collaborative, intimate context out of which the work emerged, and its brilliantly fearless nature.
JH: Was there any criteria for selecting the photographs in the exhibition beyond a representation, chronologically, of your mother's presence in your work from 1993-2004?
RM: Never having a solo photography exhibition, I thought it would be a good idea to do a project with a photo gallery. I was thrilled when Higher Pictures agreed. I wanted this show to have the feel of a museum exhibition - painted gray walls, frame/scale all the same, etc. Selecting the images was a tricky process. There are over 400 images to choose from. The gallery wanted to do an iconic show, with no narrative - kind of like a top 10. Once I agreed, and came up with the title, A Dozen Roses, the selection process became less challenging.
JH: All the movies with Rose have a tragicomic quality that some consider exploitive given that they often render her as a kind of out of control drag queen, inebriated and unstable -- someone who performs childlike, and unwittingly for the camera. Having seen them all, I know that what transpires is a negotiation and collaboration between the two of you, one that mitigates the dysfunction you grew up with, and despite appearances, expresses genuine love. Can you talk about the genesis of the work, and the visual nature of her characterization (typically naked, bewigged, over made-up)?
RM: My work has always been about investigating the home- its aesthetics, social status, and psyche. iIn my first installation, Baloneyism, there were slip covered and painted household objects: refrigerator doors, common furniture, a shag carpet with 20 gallons of paint poured on to it, a garbage bag lined ceiling, imitation wood paneled walls, and a generic framed family photo album. In the album- also plastic slip covered - was a single image of me repeated about 25 times. It was this piece that inspired me to vacate my studio and shoot photos and video for 2 yrs.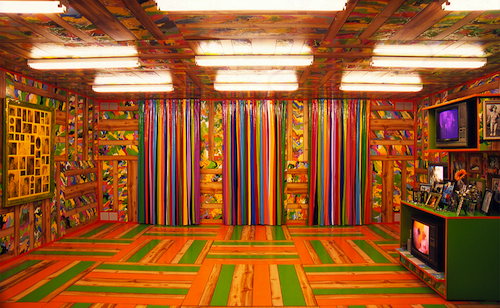 Robert Melee, Currents 31, 2003, installation shot, Milwaukee Art Museum. Courtesy Andrew Kreps Gallery.
These were my "snap shot" and "home movies" featuring friends and family; my mother. It was my intention to use these images in sculpture and installations as I was never interested in journalism ala Nan Goldin or Richard Billingham. Through memory, references to Hollywood and the history of portraiture, the images of my mother become characterizations of her. Growing up, I remember her endless amounts of restless energy, she was not afraid of make up, mini shirts, or alcohol. This work isn't really a collaboration, though. Yes, my mother was responsible for gestures, but we never sat around and brainstormed. Interestingly, once I applied the make up and costume- her personality would change, she became more confident and flamboyant, but she never came up with an idea of what to shoot. I would always show her the results and no matter how graphic and/or disturbing- she would say " they're gonna love this or this one will sell" like an art director and that was it, the shoot was never discussed again. Mother/model, not model mother - haha.
JH: I suppose what I mean by the photographs being a negotiation is that they seemed to function as a means of processing childhood memories, notions of home and family, through this shared experience of working together. And presumably, it enabled you to direct a relationship you previously had no agency over. In this sense, I see them as a reconciliation with the past and a way to utilize this composite image of Rose, such that she transcends her role as mother, and becomes a character that symbolizes pathos. Would you agree? And can you address this emotional question and how art has enabled you to process the past?
RM: I took these photos/videos because I could. I think the role of the mother is to give birth, after that this role becomes extremely individual and complicated. People often say, "Oh my mother would never do that"... well, my mother did.
Yes, there is sadness in the photos, but I symbolized pathos with bottle caps, stoves, and entertainment units. I like to think of my work as a marriage of contrasts- fiction/ nonfiction, beauty/grotesque, nostalgia/critique, hi/low, pathos/humor etc. I want to provoke questions- never answers.
When I was at SVA in the 80's, I made geometric, stripe paintings that were very labor intensive. Coats and coats of paint on a single stripe. I was interested in creating a manic, anxious visual energy. I questioned these works. Why was I doing this? Where does this emotion come from? I decided it came from experience; from childhood, the home. This elementary realization changed my practice. I was no longer interested in the 2D limitations of painting on canvas with a brush. My striped canvases look as if I poured paint, anyway, so I started actually pouring, and the results were like the romantic practice of marbleizing, but a poor version, more imitation - like plastic household surfaces ala formica. That led to my creating installations with poured enamel paint on banal objects, furniture and eventually my mother.
JH: Speaking of the way what seems casual or ad hoc in your work is often calculated and refined, can you talk more about how this connective tissue in your process has evolved in tandem with the Mommy videos?
RM: After my first installation with plastic slip covered house hold objects, and having strange dress-up photo shoots since high school, it was only logical to make "home movies" + "snapshots" for the next installation. I don't like to give these shoots too much prior thought though, and there is a lot of chance occurrence, but generally I come up with a classic, celebrated, home movie event - like a birthday party or a walk in the snow. Then I push it as far as I and my model will go. Intimacy is important, so I almost always work alone during these shoots. I enjoy doing everything: selecting costumes, props, location, applying make-up + wigs, etc.
JH: Do you think you'll ever publish a book of the Rose photographs?
RM: I have put together a compressive, chronological collection for these images, with a working title, Unavailability, for the monograph. My brother wrote an amazing essay for it, which we titled, A Brother's Mother. Its ready to print, we shall see....
Related
Popular in the Community