A heartwarming photo of a mother fox and her baby in Nova Scotia has taken first place in an international wildlife photography competition.
And it's easy to see why. His photo, titled "Momma and Baby Red Fox," shows a mother nuzzling her pup.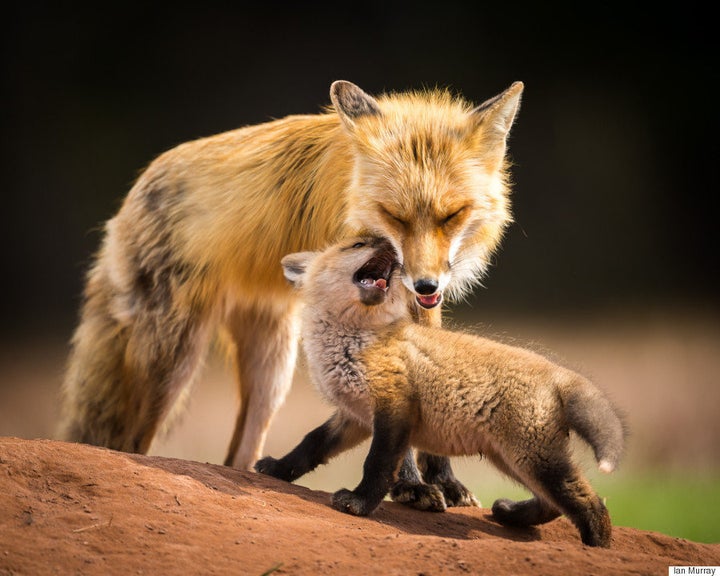 "I'm super pleased ... and proud and happy that an image from Canada could win first prize in a major photo competition," Murray told The Huffington Post Canada on Tuesday.
Murray, who's been taking pictures of foxes on his neighbor's property for about "three or four years," said he spent the spring and summer watching the mom coax her babies out of their dens — one under a tree, and one in a field.
Sometimes, Murray said he spent as long as two hours just sitting and watching the animals.
"She goes to the mouth of the den, gives a grunting sound out of her throat," he said. "And when she goes to the mouth of the den and says that, all of [the pups] pop out."
Murray snapped his award-winning photo in May. He said he kept watching the foxes until September, by which time there were only one or two pups left. The others likely wandered off to fend for themselves.
The photographer added that the mother and her babies were often quite friendly, and Murray said he tried to shoo them away while he was working.
"I don't want them to get used to people," he said. "They're wild animals, and you want them to remain wild animals."
Murray's photo will appear in National Wildlife magazine's December 2015/January 2016 issue.
It will also be published on the National Wildlife Federation's "Photo Zone" page.
Calling all HuffPost superfans!
Sign up for membership to become a founding member and help shape HuffPost's next chapter