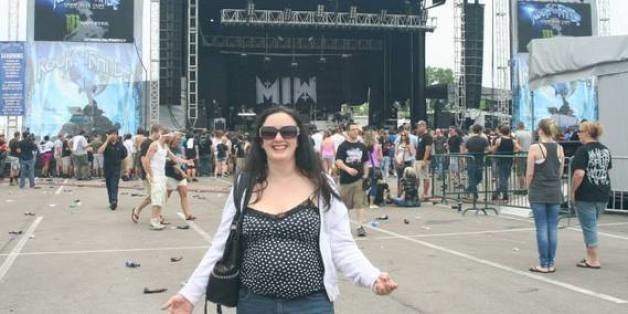 Ever since I was a kid, I have loved going to concerts. I have been truly blessed to see some great musicians live: Pearl Bailey, B.B. King, Bobby "Blue" Bland, Joni Mitchell.
When I became a mom, I didn't go to concerts for a long time. I wanted to be "proper," whatever that means. So I threw out skimpy clothes and my rock-n-roll social life. Wasn't I supposed to give up a social life when I became a parent?
A few years passed and I realized that it wasn't in my nature to not go to concerts. I met my current boyfriend because I bought concert tickets from him. Six years later, we're still spending time together by going to shows. My boyfriend always wants to go up front, but I hesitate.
Why do I hesitate? I stay behind because I want to stay clear of the mosh pit. It scares me. All of the people pushing and shoving. All of the people not paying attention to where their elbows are going. Don't get me wrong; I love watching the mosh pit from far, far away. The chances of getting a broken nose are fairly small if you're standing in the back or behind a column. The view isn't as good, but you can come out of the venue with all of your teeth.
Two years ago, I started a blog. Sometime after that I learned how to get press passes and interviews with bands. My oldest daughter loves music and thinks it's pretty cool. We talk about the concerts that I've been to and concerts that she hopes to see someday. We haven't always agreed on who we think is a decent band, but it's been nice to talk to my daughter about something that we both love: music.
I've been in the photo pit, but I still have not been in a mosh pit. I always think that I'm too old, too short, too something.
What am I teaching my daughters by not facing my fear? This year, I'm going to get in the pit. I'm going to do it to show my girls that age is a number, but music is timeless. I want them to know that girls can rock like everyone else. Also, that moms are people that can rock out too.
The mosh pit provides some life lessons. Life is hard. People will try to push you around. We have to decide if we're going to push back or keep getting pushed around. If we're lucky, someone will be there to give us a hand up when we fall down. My boyfriend has already promised to pick me up if I fall in the mosh pit. He's a keeper.
So I'm going to show my kids that being scared is no way to live. I'm going to get in that mosh pit and face my fear. It could be rewarding or I could come out on a stretcher. Either way, I choose to not be afraid.
Related