It was Mother's Day and my husband handed me a homemade certificate for a spa treatment. I feigned a "thank you." Both he and I knew that I would never use it. I never had in the past. Not for any big reason, but just because it became something more that I needed to coordinate in the family's calendar. Calling spas, researching prices and making the appointment, all for a service that I'm not totally familiar with and don't always appreciate the value in. So the gesture, while appreciated, always became just that... a gesture.
"Wait, wait," he offered, "the other choice that you have is for me take a week's vacation from work and handle all of the day-to-day kid activities, while you... just take a break".
He had me at the word break. It had been a long stretch of diligence, and I was feeling bogged down by stints of taking care of the kids alone while he traveled for work and volunteer commitments at the kids' school. Motherhood is my greatest privilege, yet it was starting to feel like something I was soldiering through.
For the first time in several years I was coming out of the cycle of being pregnant, trying to get pregnant, nursing and/or sleepless. My youngest child was now 2 and I felt like I was able to start standing up straight again, literally and figuratively. Soon, I would no longer be hunched over a stroller, a nursing baby or a wobbly child learning to walk. I could feel just a tad bit of freedom beckoning around the corner. Deep breaths and rolled back shoulders would follow soon.
I knew all of this space was coming, but was also acutely aware of savoring and clinging tightly to every precious moment with my young children. Nevertheless, I was beginning to feel a bit lost in it all. At times I couldn't keep myself focused on a thought and seemed to forget things easily. Sleepless nights and a mind spinning with child-related activities were clashing against the persistent chatter of three young children and making me feel like my brain was processing everything just a beat slower than the rest of the world.
This gift and offer was perfectly timed. Without taking even a moment to ponder the decision, I handed back the homemade spa certificate and said I'd be happy to have him watch the kids for a week. My husband has earned more vacation time than we have funds, or babysitters, to use it. Finding sitters is always a stress without family in town and with a child with severe food allergies. Even with grandparents able to look after our kids, it's bit of a risk and poses the logistical snags of traveling them to us or vice versa.
So I welcomed the idea of leaving the kids in the trustworthy hands of my co-parent, life partner and their father. But what was even more appealing about the idea was that my husband would get a small glimpse into our daily life. It's a daily life that he knows, but doesn't feel in all of its messiness and strain. He is a hands-on and involved dad, but he works long hours and travels often. While this is appreciated, it also shields him from the day-to-day grind of car pools and extra curricular activities. The sports gear, the snacks, the homework, the PTO dynamics, the backseat demands... its all par for a course which I'm grateful to be a player on. But it's all stuff that I was happy to hand over for a few days while he experienced the joy and chaos of it all.
Where would I go? What would I do? It didn't matter. I'd be on a break. As much as I cherish time with my long distance friends I knew that what I craved right now is the space to sharpen myself, clear my head and get to that place of being able to take deep breaths again.
Prior to having kids I enjoyed the times when I made work trips by myself. Being in the airport solo and exploring new places on my own was empowering and refreshing. It's part of the same reason that I enjoy jogging because these times give me the chance to be alone with my thoughts. I am fueled in equal parts by friends, neighbors, loved ones... and myself. With the constant presence of young children always in my ear, what I needed was to be alone. What I needed was a sabbatical!
The word sabbatical takes root in Biblical times and the commandment to rest and keep holy the seventh day. More recently it is used to describe a break in regular responsibilities that many companies offer their employees after several years of committed service so the employee can rest, travel, do research, or whatever they choose.
That was it! I would take a Mommy Sabbatical. After nine years of dedicated service, I could use a break from my regular responsibilities and take some time away to recharge and refresh.
Immediately I knew how this would work. I'd take my sabbatical in late September. Summer was right around the corner and already choreographed with weddings, block parties, swim meets and everything else that makes summer so fun. Waiting until September would allow time for my husband to plan his work calendar accordingly. Additionally, most of the craziness of those initial back-to-school activities would be past and a month in, we'd have our fall schedule fine tuned and running relatively smoothly. Late September is a little window of calm after the hype of late August, but before the busy days leading into Halloween, Thanksgiving and the winter holidays. I knew that I was leaving some volunteer commitments behind, but I also knew that I've given a lot of my time to others and not much to myself.
On the weekend prior to my departure, I asked many of you on my Facebook page if I should make it easier for my husband while I was away and lay out neat little piles with the swim/soccer/school gear or let him sweat it out and deal with trying to unearth it all in our piles of laundry. Some of you said I should make him figure it out so he'd have a true feel for how the week flows and appreciate what I do. Others of you said I should organize it all for him since he was giving me such a gift (and to minimize the phone calls when he can't find something).
I took both responses and did something in between. I made piles and lists to help him know the rhythm of who goes where when and what to take, but I also left plenty of room for he and the kids to create their own pattern and memories together. I offered a few laughable but true tidbits like:
Depart at least 20 minutes before every activity, even if its only two minutes away... somehow you'll need the extra 18 minutes.
Upon departure go through a check list of three key things: Epi-pens? Potty? Shoes on the right feet? (Please note I can never nail the last two.)
Five minutes is a really tight turnaround to get from one school to the other. Be strategic about which train track crossing you choose and bring your A-game!
You won't have time to take a shower or properly use the restroom until Wednesday afternoon. Plan accordingly.
In the middle of Tuesday night activities you'll shake your head and say to yourself, "This sucks!" And it will... but then it won't.
So I took my Mommy Sabbatical and drove five hours away from home to a family cottage on Lake Erie. It wasn't an extra financial expense to us and certainly not glamorous. But just the drive alone with my music and my decisions was lovely. I took the long way, and stopped at random spots that interested me without worry of whether the car's pause would wake a sleeping toddler or elicit complaints from others. Upon my arrival, it was just me and my thoughts. I took bike rides and wrote, and wrote and took bike rides. And it was a glorious quiet, and a glorious wonderful.
Once in a while I ventured out to find inspiring places to write, and came up with these spots. A winery, a light house, and the beach all served as a backdrop for me to soul search and dig up old stories.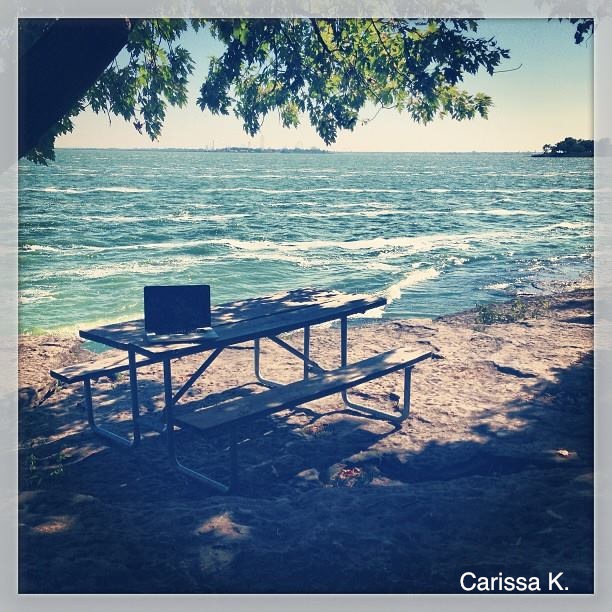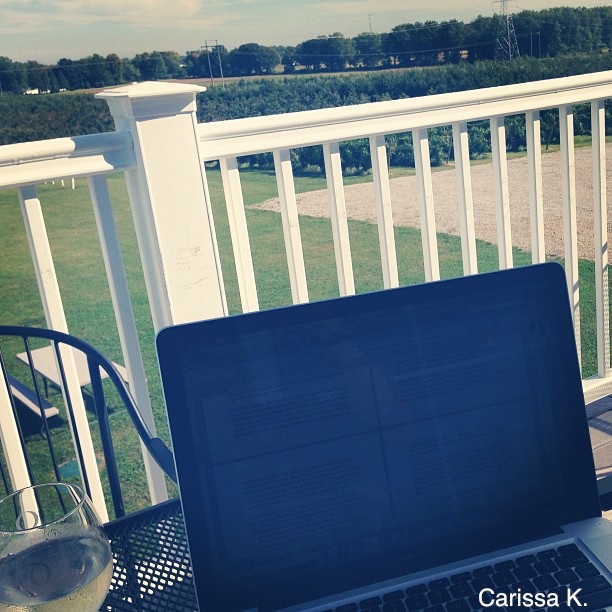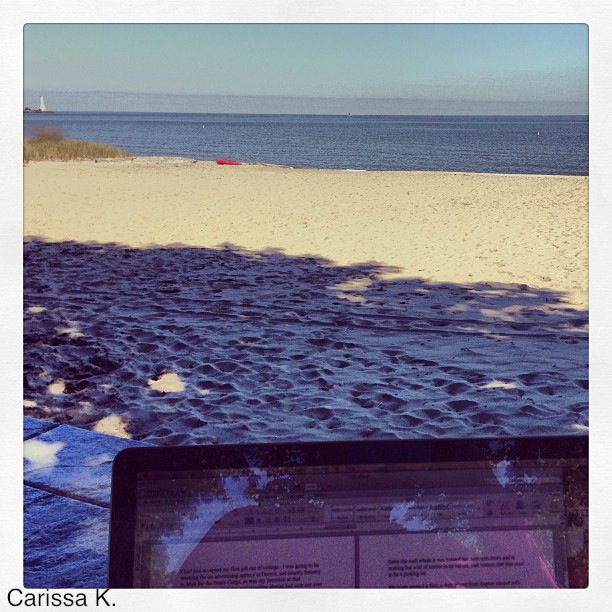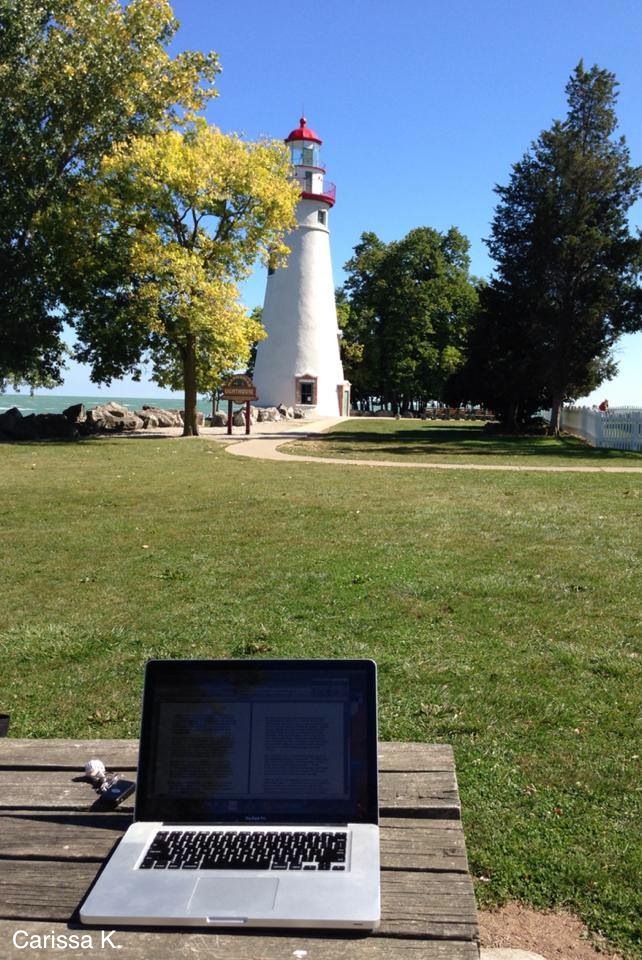 I binged on old episodes of HBO shows, read trash magazines and had late afternoon snacks consisting of chicken salad, green salad and frosted cookies that served as both lunch and dinner. I put myself on a Diet Coke detox and kept hydrated with water.
Occasionally I'd get a text or phone call from my husband asking where a certain item was or what time they needed to be someplace. A few mommy friends reached out to tell me that he was doing just fine, they'd seen him arrive on time at school with everyone dressed and their hair combed.
There was this text from him that clearly earned one of our daughters, Lucy, the best souvenir and first place standing in the Favorite Child Race, at least for today (just kidding, of course!... kinda).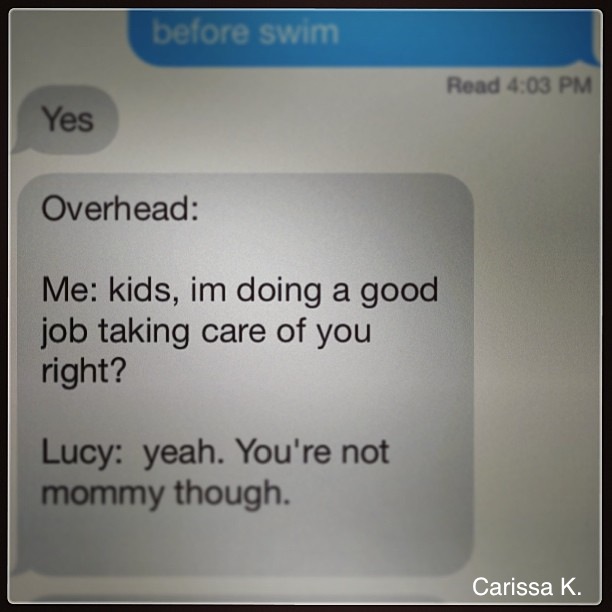 The text made me feel good because it was acknowledgement that I'm doing a good job from one of the little people who I do it all for. And in the midst of my glorious time alone, my heart felt a little pang.
There was a phone call when our daughter was crying about going to school. I offered a few suggestions to my husband about how to work with her on breathing and bravery. I assured her that I'd see her the following day and hung up the phone. The call made me feel sad that my little girl was having a hard time and I wasn't there to hug her. And my heart felt a little pang.
Finally, there was a text from my husband letting me know that our bathtub was out of commission due to a leak and he wasn't sure how he was going to wash our youngest child. I suggested that he put her in the kitchen sink just like when she was a baby. I told him to bring down her rubber ducky and make a big game out of it. He was relieved with the suggestion and responded, "oh good idea! Vivian will love that!" The idea made me feel happy because I knew she would love it. And my heart felt another little pang.
So a bit later, there was this photo. Still lapping up my alone time, I found myself checking the iCloud camera roll on my phone and landed on this snapshot of her special kitchen sink bath time.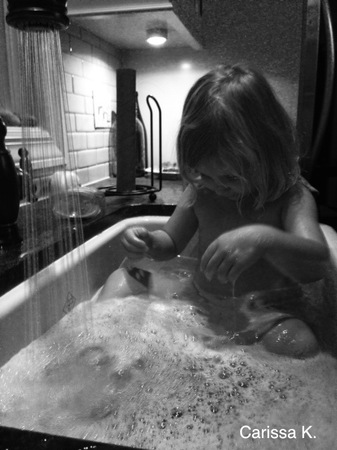 The snapshot made me laugh. She did love it. It was a good idea! And my heart felt yet another little pang.
All of those little pangs in my heart on my Mommy Sabbatical made me realize that the beauty of quiet and nature helps give me the clarity to breathe deeply and discover the old stories deep in my soul. But the beauty of chatter, chaos and children is creating new chapters. My family's story is right here, unfolding in front of me everyday. It's just a matter of being able to see it. So if getting away helped me sharpen my focus to a point that I am more mindful of these moments and stories as they are being presented, then a Mommy Sabbatical was just what I needed.
Popular in the Community