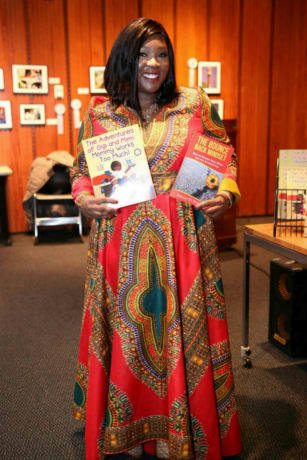 Inspired by the life and work of author, entrepreneur and mother Tiffany N. Stallings, 'Mommy Works Too Much!' is designed to help children understand why mommy works so much and may not always be around. With the pages spurred on by the power of female entrepreneurism and the unwavering gift of family love the book, a volume one in the "The Adventures of Gigi and Mimi" series and a first to cover this vital topic, has been highly acclaimed for its engaging and real life content.
As a successful and formidable entrepreneur Stallings has bucked the trend of what society says a mother should do with her life. But, while Stallings admits that she often isn't there to tuck her children to bed or attend every sports game, her entrepreneurial spirit is an extension of her love and rock-solid belief in providing for her children.
In this new compelling children's book, Stallings tackles the subject of bread-winning women to help young readers understand that even though mommy works, her love for the family is still boundless. 'Mommy Works Too Much!' is volume one in the new 'The Adventures of Gigi and Mimi' series; an upcoming collection of books that perfectly reflects the lives of modern children and provides comfort on subjects often swept under the rug.
The book tells about seven-year-old Gigi wanting to find out why her mother has to work all the time. She wonders why mommy can't tuck her in at night. This adorable tale, suitable for children between 3-9, resonates with every young reader that wants to know.
"In this day and age, millions and millions of women are working harder than at any other time in history to provide for their families and ensure their children get the best start in life," explains Stallings. "Admittedly, this is different to how women and careers have traditionally been perceived, and it does bring with it a shuffle in priorities that mean many women can't always be at home. It's the life I've led but, as I know and millions of other women entrepreneurs do, it doesn't mean you love your children any less. In fact, our sacrifices are an embodiment of our desire to provide for those we love the most."
The writer, who have earned the "Amazon Best Selling Author" tag, has also penned another book themed around personal challenges.
"The Bounce Back Mindset: How To Bounce Back When Life Has Screwed You', covers my journey through losing a business, infidelity, clinical depression and my redemption into a new life more joyful and prosperous than I could have ever imagined. As you can see from the themes of my books for both children and adults, I am so passionate about empowering women to be successful leaders, and helping children support their mothers and recognize their talents."
All these works are available on Amazon and the author's website.
REAL LIFE. REAL NEWS. REAL VOICES.
Help us tell more of the stories that matter from voices that too often remain unheard.
This post was published on the now-closed HuffPost Contributor platform. Contributors control their own work and posted freely to our site. If you need to flag this entry as abusive,
send us an email
.