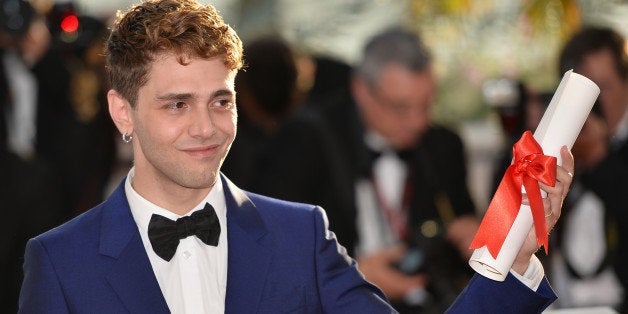 The former boy wonder, Xavier Dolan, who is now 25, sauntered into New York about a week or so ago with a new movie, Mommy -- his fifth -- for which he won the Jury Prize at the 2014 Cannes Film Festival and received a 13-minute standing ovation. Well, truthfully, he shared the prize with Jean-Luc Godard (Goodbye to Language), which is inarguably like winning a second award. After all, having one's name forever linked with a kingpin of La Nouvelle Vague is nothing to sneeze at. (Who will ever forget Streisand and Hepburn sharing a Best Actress Oscar? New guard joining old guard.)
Talking about the Oscars, Mommy was Canada's submission for the Best Foreign Language Film category, and Dolan had been politicking on the West Coast -- to no avail, apparently -- to get it a final nomination. So, this afternoon, the French-Canadian was a bit zonked because, on top of flying over Utah and Iowa after his fruitless campaigning, he had been giving interviews since nine in the morning, and the caliber of the questions from most entertainment journalists make any article in Entertainment Weekly seem like a dissertation on Hegel. Consequently, the director/actor/screenwriter/French-language-dubber for both Taylor Lautner (The Twilight Saga) and Rupert Grint (Harry Potter) was a stone's throw away from vexation.
But, what's there to be vexed about? Each of Dolan's previous efforts (I Killed My Mother, Heartbeats, Laurence Anyways and Tom at the Farm) have received immense critical acclaim. And, now with Mommy, the easy-on-the-eyes filmmaker has been catapulted in to the top ranks of world directors -- up there with Almodovar, François Ozon and Paul Thomas Anderson.
Even the New York Times's A.O. Scott couldn't soft pedal his adjectives in his review:
[Mommy is] a pocket opera of grandiose self-pity, a wild and uncompromising demand for attention, a cri de coeur from the selfie generation.
And that, like Godard's latest effort, Scott continued, is manifest proof "that cinema still has the capacity to surprise, provoke and astonish."
Clearly, Mommy does offers up a rash of extraordinary performances, dialogue and direction as it tells the tale of Diane "Die" Després (Anne Dorval), a hard-living Canadian mother who loves her teenage son, Steve (Antoine Olivier Pilon), who is a rather dysfunctional, at-times charming, intermittently violent, skateboarding typhoon of a challenge to live with. Sometimes, when Steve is having a fit, she even has to lock herself up for protection. Life for the pair is sort of a seesaw of sorts, with an equilibrium seldom reached. Enter Kyla (Suzanne Clément), the next-door, stuttering neighbor, who was a teacher until a tragedy she can't shake struck her household. Here's a threesome where boundaries will be hard to honor.
By the way, it should be noted that Mommy is often extremely funny, always energetic and never less than visually engaging.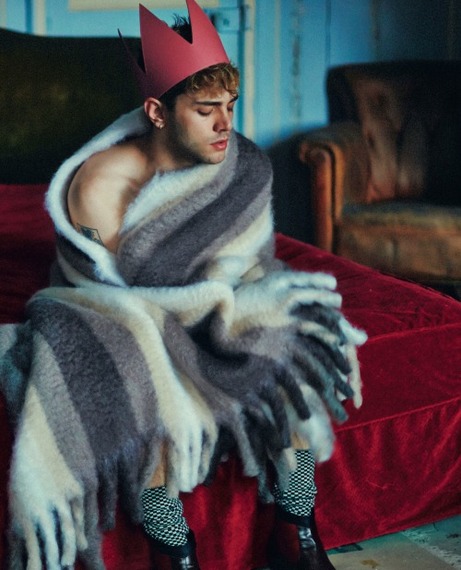 Xavier Delon gets royal for L'Uomo Vogue, December 2014.
Photographed by Shayne Laverdière.
So, after completing Mommy, his first effort devoted totally to the travails of heterosexuals, does the openly gay helmer sense that the recent gains by the gay pride movement and the continual march to equality for the LGBTQ population will have any effect on his future subject matter?
"No," Delon insisted in a roundtable with me and seven other reporters.
The themes that mark you and prey on your mind all of the time, and concern you and touch you, are related to the things that left an imprint on you when you were a child. So being gay, as a child and today, still has brought me moments of being misunderstood. [I've felt] like a misfit, [trying to find] my voice and my path, and trying to define myself in the eyes of others, and in the eyes of mothers, and in the eyes of women and in the eyes of men.
"So that's why," he continued:
I feel that I have a natural inclination towards the characters who are in the exact same sort of position. Women are like gay men, trying to fit into society that is a space that is shaped for [heterosexual] men, whatever we say... I mean, whatever the progress seems like it is... it's still defined by the predominance of males.
After taking a sip of bottled water, Delon added:
So, I think women are trying to fit in and are fighting, and that's why I associate with women characters. It is through women characters that I feel that I can most effectively and efficiently express my claims. Do you understand what I'm saying? I hope it's clear, and it's not lost in translation. What I'm trying to say is that... in my life, I have been watching women fight a lot more than I have been watching men fight.

But, of course, we are not defined by our gender. We are defined by our quests and who we are as individuals. But, as it so happens, in my childhood, I was surrounded by women, and they are the figures who I have seen fighting for who they were and are. So, naturally I do write a lot for women and mothers.
So, has the recent acclaim made Dolan, who now has a Jean Cocteau portrait on his left shoulder, feel more confident?
"I was never insecure," Dolan insists, which might be true. After all, he started acting at age four and directing at 19.
I'm passionate about what I do. I love working with actors, and I love acting and writing these stories -- and nothing has ever made me feel insecure. Some reviews have hurt me, but they have always been educational at least. So, no. The thing that I'm the most satisfied with is when I read the reviews on a movie.

However, I don't see the plethora of influences listed that people have rejoiced in pointing out.... That has always been very tiresome. I don't have a very large culture, so the influences that the people have identified as mine are almost always systematically wrong.
Instead of exploring cinema, Dolan admits that he would rather get some sleep: "There is only so much time that I can spend really binging on films and trying to catch up on a century of filmmaking."
And in the coming months, there will be even less time. His next project, The Death and Life of John F. Donovan, his first English-language project that is already in pre-production, will feature Jessica Chastain as a vicious gossip columnist out to destroy an actor known for his superhero parts (Game of Thrones' Kit Harington). Her weapon: his correspondence with an eleven-year-old fan. Kathy Bates and Susan Sarandon co-star.
As for Dolan's dubbing, did he ever meet Taylor Lautner or Rupert Grint?
"Yes, I met Taylor. He knows."
Did he say you did a good job?
"I don't think he's ever seen [the Twilights with my voice] or ever will."
Are you of the view that it was funny that Taylor was on screen while you were with a microphone, making believe you were the be-muscled teen idol as he hissed at vampires?
"I don't think it was funny. I have been doing this all my life."
I meant the whole difference in your characters, sensibilities and physical attributes. Wasn't it a bit ironic?
Rising from his seat, with his publicist by his side, and a water bottle in hand, Dolan slyly smiled and noted, "We're not so different."
Popular in the Community