Ever thought of crumbling up those leftover Pringles and throwing them into your next batch of chocolate chip cookie dough? Or what about saving the leftover milk from your morning bowl of cereal and making a batch of ice cream with it? No? Well, Christina Tosi has. And boy are we glad she acted on that impulse and began offering her creative concoctions in her New York City Milk Bar; and now she is sharing it with the rest of us in her new cookbook, "Momofuku Milk Bar."
Tosi's recipes are fresh and new, to say the very least (guava sorbet in a cream cheese skin -- need we say more?). She has taken old recipes and reinvented them. She has looked at tried and true techniques, and turned them on their side. As a baker, flipping through the recipes in this book may startle you a bit -- maybe even scare you.
By the time you give this cookbook a thorough look-over, you will certainly put your faith in her without any trouble. It is clear from her instructions that she has considered every step, scrutinized each ingredient and tested her recipes again and again to ensure that the best result is achieved. She very clearly has fun doing it -- and wants the home baker to do the same. On her Black Pepper Brioche recipe she writes, "This is probably the most sacrilegious 'brioche' recipe you will ever find. But stop taking yourself so seriously. Paddle the butter into the dough and bake the damn thing and enjoy." While most of her recipes come from her bakery, she has broken the recipes down to be home-kitchen friendly.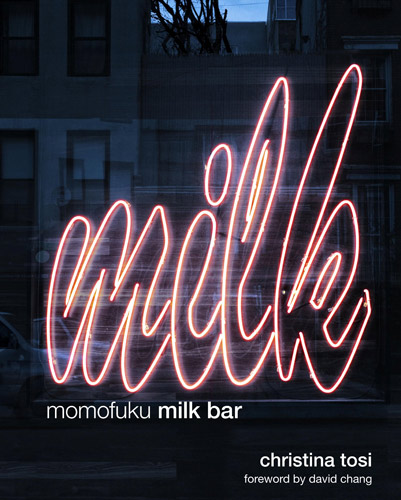 It is clear when looking through this cookbook that much time and care was put into it. No detail was spared, no explanation forgotten ("This recipe uses cream cheese to give an even creamier texture and mouth feel to the ice cream; it works well because the malty pretzel flavor overpowers the flavor of the cream cheese.").
And all of these points above do not even cover the most enjoyable part of this cookbook. The book reads almost like a diary -- an inside look into the life of a self-proclaimed sugar addict/pastry chef. Tosi covers in enjoyable detail the journey she embarked on which eventually led to her Milk Bar, beginning with her childhood experiments in baking. Mixed within the beautifully edgy photos are images of Tosi as a child. She includes entries which explain how she came to discover her unique items which are staples in most of her recipes, such as the milk crumb. By the end of the cookbook, you almost feel like you know Tosi, as though you have just had an intimate conversation with her over a slice of her crack pie. You will certainly be inspired by her creativity.
The book offers both metric and "freedom" measurements for each recipe. Also, the pages upon pages of references in the beginning of the book explain where to find ingredients and equipment, and why they are used.
Recipes We Most Want To Make:
Birthday Cake
Chocolate Chocolate Cookies
Candy Bar Pie
Pear Sorbet Stilton, Cornflake Crunch, Pumpkin Ganache
Kimchi & Blue Cheese Croissants
Apple Pie Layer Cake
Chocolate Chip Layer Cake
Pretzel Ice Cream Pie
Crack Pie
Overall rating, on a scale of 1-5: 4.5! We love everything about this book. Tosi does a great job at making her innovative recipes accessible to the home baker. But the truth of the matter is, some of these recipes are a touch over the top for the average home cook.
Popular in the Community