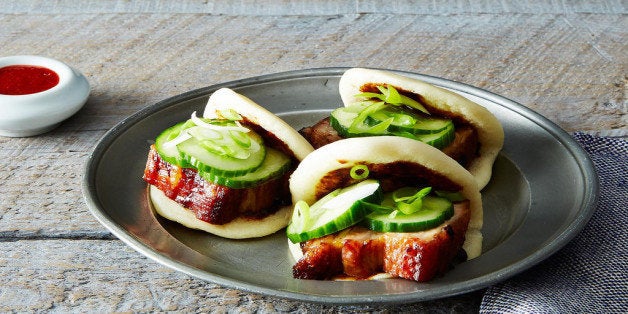 Merrill's daughter Clara has quite the appetite -- and it's all Merrill can do to keep up. Armed with her greenmarket bag, a wooden spoon and a minimal amount of fuss, she steps into the fray.
Today on Food52: Meet the best pork buns you'll ever have.
I know what you're going to say. What parent in her right mind would consider David Chang's iconic pork buns 1: kid food; and 2: something to be undertaken at home when you live in the same city as Momofuku?
I have solid arguments for both.
These buns have all of the characteristics that kids love: they're salty and sweet and texturally interesting, they're fun to look at and eat, and they involve pork belly, a close cousin of bacon. (In Clara's world, there is never not a good time for bacon.)
If your children are old enough, they can make the steamed buns with you. What's more fun than little balls of dough you can smash and roll into funny shapes? And because the recipe makes so many of them, there's lots of room for error.
As for the second point, when it comes down to it, these are just not that difficult. The pork belly is a set-it-and-forget-it situation, requiring more patience than effort. The quick-pickled cucumbers are ready in a flash, and then all that's left are the buns -- both the most active and the most fun part of the recipe: once you get the hang of shaping the buns, it's kind of cathartic to crank out the smooth little envelopes of dough.
Maybe the best thing about the buns is that after you steam them, they freeze like a dream. Which is why the recipe makes twice as many as you'll need -- make 50 (ish), freeze half, and the next time the bulk of your work will be behind you before you begin.
Here's a step-by-step on how to shape the buns:
After the first rise, divide the dough into 50 pieces, roll them into little balls, and let them rise again.
Roll each ball into an oval and brush with oil.
Lay a chopstick across the center and fold the bun in half over it.
Gently remove the chopstick and transfer the bun to a square of parchment for its last rise before steaming.
Adapted from Momofuku by David Chang and Peter Meehan
6 pounds skinless pork belly
1/2 cup plus 4 teaspoons kosher salt
1/2 cup plus 7 tablespoons sugar
2 thick Kirby cucumbers, cut into 1/8-inch-slices
1 tablespoon plus 1 teaspoon active dry yeast
3 tablespoons nonfat dry milk powder
Rounded 1/2 teaspoon baking powder
1/3 cup rendered pork fat, bacon fat or vegetable shortening, at room temperature
1/2 cup thinly sliced scallions (green and white parts)
Food52 is a community for people who love food and cooking. Follow them at Food52.com -- and check out their new kitchen and home shop, Provisions.
Popular in the Community