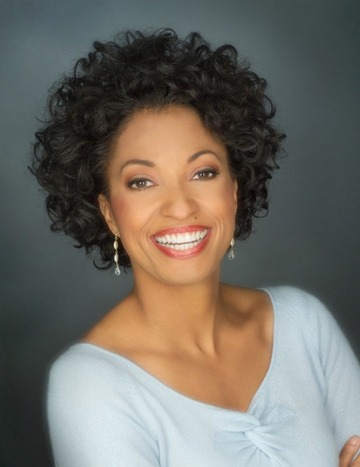 As we get older, it can be very difficult to find or keep a place in the corporate world, especially within the uber-competitive market of broadcast journalism. But now with vast digital platforms, the game has changed.
There are no specific beauty or personality requirements, anything and everything goes in this digital world of broadcasting.
Rene Syler is the perfect example of someone who had success on national television and was fired, hit rock bottom trying to stay in an industry that just didn't fit anymore and then created her own career built around her own unique brand online, offering the security that she had deeply craved since being fired.
"In late 2006, I was fired from my high-profile job as one of the hosts of CBS's The Early Show. Everyone always wants to know why, to which I can only say they gave me the proverbial, 'We're going in a different direction' answer. All I know is it was a direction that didn't include me. As bad as that was, I was also scheduled to have a preventive mastectomy at the beginning of the following month, something I had informed my bosses of a few months earlier. The events were mutually exclusive but the timing sucked pretty bad. Since the decision to leave CBS was not mine, the most critical way it impacted me was that I went from a big gig with a sizable paycheck attached to it to nothing. I was also recovering from life changing surgery. To say it was hard would be an understatement."
To add insult to injury, Rene suffered another major setback.
"As a black woman on camera, I had been using chemicals to straighten my natural curly hair. The final piece of the acceptance puzzle came when I got sick while on my book tour and ended up in the hospital. When I got out I went to hairdresser to have my hair relaxed again and the chemicals counteracted badly with the medication in my system. The result? My hair fell out. It was at that moment, I was at the lowest of the low. But it was also the moment where I began to rally, dig in deep. I stopped trying to fit into a mold and decided to let my naturally curly hair grow. I had even decided then that I would never put another chemical in my hair, even if it mean never having another TV gig. The result was a self-love that had been lacking for many years. The uneasy relationship I had with my hair for the last 30 years turned into a love affair."
These situations would be difficult for anyone to find a light at the end of the tunnel, but Rene realized that she needed to take charge of her life, not rely anymore on agents or third parties to decide her career destiny.
"After a few years of wandering around in the wilderness (and falling into a deep depression) it became clear to me that I was going to have to save myself. In two years I lost my job, my hair and my breasts, but in losing those things, I found myself... and saved myself."
"I guess the thing that kept me going was that I was stubborn and I wasn't going to let anyone dictate the terms of my success. I was and am responsible for that. My motto then and now, 'I can't control what happened to me but I can control how I react to it.' So I worked and I worked and I worked. I learned what I could, I didn't have all the answers but I'm smart and I had YouTube. I sort of just figured it out as I went along."
So, Rene did what felt authentic to her, she wrote a book. "Good Enough Mother, the book, the brand, the website wasn't just a way for me to make money; it truly is who I am. Even before I had kids I understood that perfection was not only over-rated, it was also unattainable."
After the book was published, Rene jumped into the digital world and launched Goodenoughmother.com. "This website/blog was the companion piece to my book titled, Good Enough Mother; The Perfectly Imperfect Book of Parenting, which came out in 2007 (Simon Spotlight). That book was the launch pad for the Good Enough Mother brand. I started getting really serious when nearly everyone (including my TV agent of almost 20 years) stopped returning my calls. I signed on with another talent agency but they didn't get me, instead viewing me as "aging talent" who might only be good for fill in work here and there."
"I couldn't afford a publicist so I fell back on the only thing I had in my arsenal, my ability to write. So that's what I did. I would spend hours on end in my walk-in closet (affectionately called GEM World Headquarters) creating content. Soon I had a backlog of content and my search engine optimization got better and my social media footprint got bigger. Instead of banging on doors to be let in, businesses were coming to me to partner with the GEM brand. Now I have one employee and she and I, along with two other regular writers, write for the site. This year, I added a marketing and PR team to handle the business side."
Like many Mompreneurs, the walk-in closet served as the best possible launching spot, that's the beauty of producing content and building your brand online, the overhead costs are very low; a bit of caffeine and WiFi, creativity being the big commodity. After constantly creating content via blogs and video, her phone began to ring...a few times!
"About a year ago, MORE magazine did a feature on me about my whole firing and reinvention. Until this time I had been quietly writing and creating content and had built a decent social media footprint already. The MORE piece came on the heels of a couple of big speaking engagements, one at Disney Social Media Moms where I told my whole story. Those in attendance live blogged and tweeted me so much that they made me the #5 trending topic on Twitter in the world! After the MORE piece I got a call out of the blue from Peggy Allen, Vice President of programming for Live Well Network asking if I wanted to host a show for them. Well, YEAH!"
The show, called Sweet Retreats, is a docu-reality show that highlights the different vacation options around the country. "It's a very different type of TV from that I'm used to. It's not a studio show, involves travel and a lot of shooting. But we have a good group of people working on it, the show is growing in viewership and above all, it's a good product that I'm proud to be a part of."
Next came an opportunity for yet another show, called Exhale. "Each week, co-hosts Angela Burt-Murray, Erin Jackson, Issa Rae, Malinda Williams and Rene Syler bring you an hour of honesty and entertainment...where nothing is held back! They'll open up about family, relationships, money, faith and everything that African American women are talking about."
A real example of creating success through 'preparation meeting opportunity', Rene is very happy with the fruits of her labor.
Rene's advice for other moms searching for the intersection of passion & career:
"One of the things I wish more moms would do is hang on to that part of them they had before all these people came crashing into their lives. That's not to say being a mother is not awesome, but let's face it, it's not awesome all the time; not much in life is."
"I call myself an inspiration pusher; through my life journey, I want to inspire women to dream big, take risks and understand that they deserve to be happy; that their lives aren't just all about serving others. It's okay to be selfish, especially if it means self-preservation."
Rene has two kids, a daughter Casey, almost 17 and a son Cole, 15 yrs. old. She has been married 19 years and says her husband grounds her. "He's the string and I'm the balloon. I can soar because I'm also grounded."
When life gets chaotic how do you get back into balance?
"I don't have a good answer for that. I'm sure like many women I use the triage method for my life in that I handle the most pressing issues first. Some get shunted to the background until I have a moment to deal with them. It's the way I have always been."
What's the biggest challenge and best reward from GoodEnoughMother.com?
"The biggest challenge is trying to keep all the balls in the air. Along with all the travel and TV shows I'm taping, I have to feed the primary source of all this, which is the website. Then there are other opportunities that I also do to get the word out about GEM and grow the brand. People ask me how much I work. Simple answer.. all the time. When I'm not actively writing, I'm writing in my head, when I'm not writing I'm thinking about partnerships and campaigns, when I'm not doing that.. what am I saying.. I'm never, not doing that!"
"By far the biggest reward is looking back on what I've accomplished. When I got fired from my job, I had a book in the pipeline (not published yet) and little else. I started Good Enough Mother as a way to help women by detailing my experiences with what was then a little blog. Well, no more; my little blog is a full-fledged business that makes money and has led to more opportunity. But the thing that makes me the most proud is knowing it was something I built from scratch and while I have a good team around me now, in the beginning it was just me."
"Never again will I be in a situation like I was back in 2006, sitting across from my boss and having my life upended the way it was when I was fired. I have built equity in my brand and there's security in the knowledge that no one can take it from me. That feels good. Really good."
Rene had the courage to search, learn, work hard and create the right platform for her passion. She hung up her ego in that walk in closet and decided to plow through the challenges and make things happen on her own. The show must go on.
REAL LIFE. REAL NEWS. REAL VOICES.
Help us tell more of the stories that matter from voices that too often remain unheard.