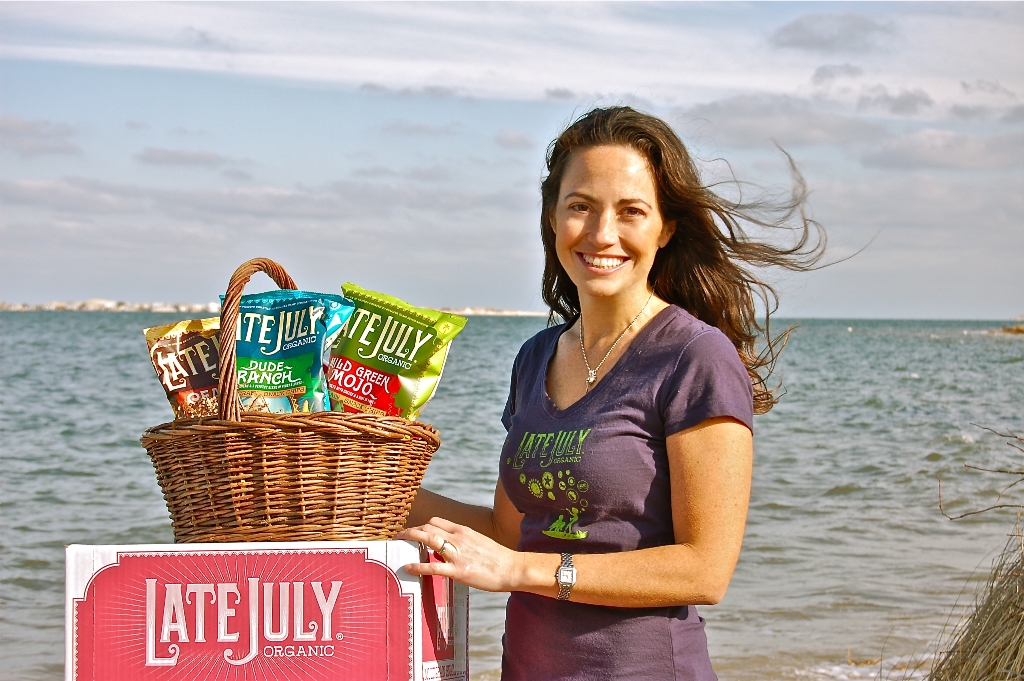 Nicole Dawes, founder of Late July Organics grew up immersed in the health food industry. Her Mom owned a health food store in the '70s and her father built an all natural potato chip company (Cape Cod chips). Even as a kid, Nicole knew that one day she would have her own food business. At 12 years old she started baking all natural cookies and selling them to a local deli. This was just the beginning. Nicole is deeply committed to her larger mission of creating a legacy for the sustainable future of our food system.
Having grown up around her father's potato chip business, it became a huge part of her life and even her identity. Nicole says she has never fully recovered from her father selling Cape Cod chips when she was twelve years old. Not having fully comprehended the incredible hard work and dedication that her father had put into the business, she now understands as an adult that he couldn't pass up that opportunity for financial security.
After college Nicole was working in consulting but wanted to take on a new experience so she took the opportunity to work with her dad, who had actually bought back Cape Cod Chips in 1996. Nicole ran the marketing department and considered it a dream come true... and then he sold it again. It was a different situation this time around, he had other people to answer to and he made the difficult decision to let go again. She wasn't ready this second time either when Cape Cod chips was sold in 1999 but Nicole walked away from this experience with the clarity of knowing that it was time to start her own business.
She got her dad to come out of retirement to help her launch Late July in 2003. They worked together closely, transitioned responsibility but the real shift occurred when he got sick and passed away within couple months of a diagnosis in 2009. Nicole says this was her "wake up call" on so many levels.
After this devastating loss, Nicole had to completely figure out how to move forward. She took her "entrepreneurial optimism" and figured out what needed to be done to keep going forward. She knew she needed to surround herself with a supportive team. One key person that she relies on for advice is Gary Hirshberg. (Co-founder of Stonyfield Farms) He's on her board of directors. His experience of building Stonyfield from very humble beginnings into one of the world's largest organic companies has offered Nicole a true insider's expertise. It had never occured to Nicole that she wouldn't succeed, even in her darkest moments in 2009. She continues to grow and thrive, with business more than doubling since 2009.
But Nicole is building much more than a healthy snack food business. Above and beyond always thinking about the bottom line, she's building a legacy, helping to change the food industry by educating consumers on the long term benefits of organic food. Nicole feels that "It's an honor and privilege to make food that other people feed their families."
Nicole now has two sons, ages 5 and 9. Nicole's husband also works with her at Late July, they juggle running the business with finding ways to spend quality time together as a family. One thing that's non-negotiable is family dinner. Nicole says "We aren't batting a thousand, but working together gives us the closest resemblance to a family life that we've always wanted." Nicole enjoys that her kids are now immersed in her family business, as she was with her dad. "It takes an office to raise your child. Both of our kids come to our office just I did. My nine year old loves business and has great ideas while my younger one wants to be a chef with his own food company."
Late July is continuing to prove that there is a more sustainable path that companies can forge in supermarkets.
"The more people that support and stand up for it, the closer we get to a food system that supports the future we want. Everybody wants a more sustainable food system but the way you get that is supporting it in market. We need to get chemicals out of food.
Consumers have the ultimate power."

Success for Nicole means paving this path in the food industry:
"Entrepreneurs have it hard it enough and then being organic adds a layer of complication that is very difficult to comprehend. Sourcing ingredients is extremely limited. There may be only one viable supplier in world for something and in between crop supply, you can't get more." Nicole feels grateful to be in good company with a very supportive group of fellow organic food business owners. She says "The organic industry is very willing to help each other. We all share the dedication to the mission of organic and changing food the system. It's a responsibility when in the food business to be forward thinking."
Nicole's Tips for Adding Organic to Your Lifestyle:
Take baby steps. Try something new weekly, make one or two good choices and improve a small percentage of your shopping cart each week.
Understand that organic products may cost a little bit more than conventionally grown products, but not more than "all natural" and are held to a much higher and verifiable standard.
Plant an organic garden. It's not only engaging for your children but very cost effective. Start with easy herb garden, not tomatoes. This helps to cut back on food waste too. When grown in garden, you are less inclined to waste.
You CAN take small steps and convert the majority of your diet to organic without changing much financially. In reality, we all want to feed our family the best food possible.
The family's health food mission has come full circle now as Nicole is poised to celebrate Late July's 10th anniversary next year. Organic food and sustainability is now second nature to her kids, they are living the legacy and building a new one of their own.