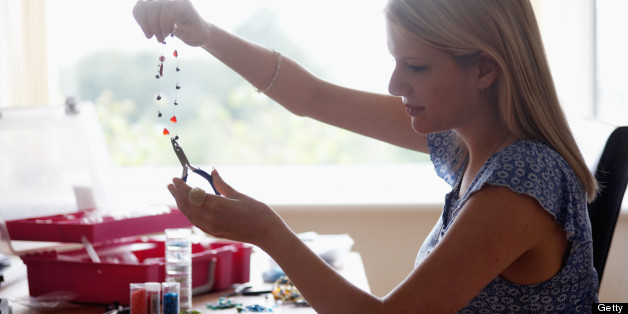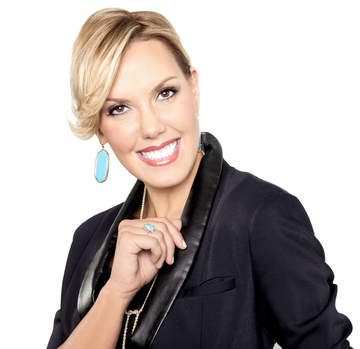 Photo credit David Heisler
Entrepreneurs are known to be risk takers, but in Kendra Scott's case, there seemed to be more risk in not starting her business after her husband was out of work while she was pregnant:

The start of my company, Kendra Scott Jewelry was a mix of fate and my own brazen tenacity. In 2002, I was at home with a baby on the way and my family was facing difficult times. Rather than panicking about our situation, I took it as an opportunity to turn my passion for jewelry into a business Rather than panicking about our situation, I took it as an opportunity to turn my passion for jewelry into a business. I took $500 out of our savings and created a mini jewelry collection in the spare bedroom of our home, promising my husband that I'd double the money. With my newborn son in a Baby Bjorn and my jewelry in a tea box, I went door to door to local Austin boutiques and sold out of my first-ever collection. Months later, I received a call from a Dallas buyer who wanted to represent me. With her help, I landed my jewelry in a renowned New York City showroom and the brand took off from there.
I founded my company at the same time a new bundle of joy was entering my life, my oldest son. I have always dreamed of a career that allowed me to put my family first, so I created my company around that. Having my own business allows me to be a mom first and a business woman second. I get to do what I love, making jewelry, while being the best mom I can be. My family was also my biggest motivator for success because providing for them became my number one priority. My advice for other business-minded moms is to take care of your own families first, that's the standard I set for myself from the beginning of my business. It is important for me to be present in my children's lives, even if that means staying up working until 1:00 am after they've gone to sleep. Being a mother to my two precious boys is undoubtedly my most important job, and it has always been my pledge to be an involved mother.
Eleven years after launching, Kendra Scott Jewelry is an Austin, Texas-based multi-million dollar brand sold at high-end retailers and over a thousand specialty boutiques worldwide along with seven free-standing stores and plans for additional locations.
There was a lot of hard work put into this business in the past decade to make it the successful brand that it is today. Many people would have passed on the idea of thinking they can build a business with only $500, but determination and savvy paid off for Kendra.
Do you think it's still possible in today's marketplace to start a small biz with just $500?
I think if I had to do it all over again, I would have acquired more money before I started my business, but that simply wasn't an option at that point in my life. While having more funds is always helpful, I think anything is possible if you have perseverance, dedication and are resourceful and smart about how and where you're putting your money. Starting out with small funds is definitely not easy, so if you do have the opportunity to gain some backing and support prior to starting your business, that's definitely the way to go. If I could go back in time and have secured better finances before starting my company, I could have grown and scaled the business at a much faster pace. Nonetheless, I'm grateful for the things I learned from those challenges.
Kendra's Advice For Others With A Great Idea:
Number one is to seek out a great mentor who's been successful and reach out to him or her for guidance. The second thing is to really research the industry you're in. Find whatever the white space is in that market and make sure that what you're bringing to the table is unique and has its own fingerprint. This is so important because in a small business, you really have to be doing something against the grain...something that stands out on its own. You won't be able to compete against big name brands at first, so you have to do something really special that will bring attention and focus to what you're doing. Last, you need to have a really strong, well thought out business plan that lays out how you're going to make your product or service succeed.
The Importance of Having/Being A Mentor:
I absolutely love seeing people turn a good idea into a successful business, and to be a part of that process is such a gift. Even if I help only one or two small businesses a year make that dream come true, that is unbelievably satisfying for me because I've been there. Both having a mentor and being a mentor is something I've done throughout my career from the very beginning. Since that first year, I've had so many amazing mentors who have helped me get my business to where it is today, and it has always been my goal to keep passing that torch. Everyday I wake up and I'm running a company that's bigger than it was the day before, and there is always someone out there who has faced the challenges that are in front of me at any moment. Having a mentor in business is such a great thing. I'm hopeful that I can take what I've learned from my experiences to help other businesses avoid some of the pitfalls and mistakes I faced early on to be there as a resource to help them be successful.
Advice for Managing Early Stage Inventory/Cash Flow:
You have to be really careful, because it requires a lot of work and attention. I brought in QuickBooks in the early stages to help me in monitoring everything that I was spending, being thoughtful about cost analysis, and trying to stay on top of my budget. Fortunately, early on, I got some great orders that allowed me to get a line of credit, nothing big, but enough to help me float some of the costs for my inventory. Once you get your business going and have the ability to show strong purchase orders or whatever it might be to show your growth, finding a good banking partner is the next important step. Finding someone who will work with you and grow with you was key in helping build a business.
Is Now a Good Time to Launch A Small Biz?
While we are still coming out of the recession, I think now is a great time for small business start-ups. We're definitely seeing an upswing in the economy in many areas, and there are a lot of opportunities out there. In fact, because of the more difficult economic times we've recently faced, communities are more receptive to small businesses than ever. Banks are starting to loan money more and more frequently and there are especially a lot of funds available for women and minority-owned businesses. All it takes is a great idea and a strong commitment.
How to Utilize Tech & Social Media to Save Time & Money:
Social media is an incredible way to send a message and really gain like-minded individuals who may be interested in your products or services. If done properly, a strong media strategy (public relations and social media) can be a powerful game changer for your business. It's not just about selling your product, but it's also about creating valuable content that will become a resource for your fan base to see what you're doing. It's about showing them that you're not just pushing sales but that you trust in your followers, because they're interested in what you have to say. Sometimes businesses just focus on the "sell, sell, sell" aspect, and people get turned off by that. In social media today, you have to do more. You have to be focused on building relationships with your followers, and you do that by being real and genuine and providing valuable content.
Kendra's Philosophy: Family, Fashion, Philanthropy:
"Family, Fashion and Philanthropy" is the backbone of my company, and I have looked to this philosophy to run my business from the start. In a sense, it has become my business plan, because I have relied on these three values since the opening of my first business, Hat Box, when I was 19. It was a hat boutique whose proceeds benefitted cancer research, inspired by my stepfather's battle with cancer. Not long after that, I discovered my passion for creating jewelry, started taking classes in jewelry design, and got a degree from the MIT Entrepreneurial Masters Program. I used my passion, creativity and work ethic to start a business of my own, and these three values have always been my central focus.
Managing Growth:
We grew from 8 to 126 employees in three years, so with that kind of growth you really have to understand the type of individuals that you're looking for. Bringing in a great support team is absolutely critical to having a successful business. The first step in doing that is having a clear understanding of your company's core values so you know exactly the kind of individuals you want on your team. They can bring in different skill sets, but in order to have a really great company culture, they should all share the same core values. Another key is seeking out people who are smarter than you and really understand certain facets of the business better than you. Many entrepreneurs make the mistake of thinking they can do everything. The ones who end up being truly successful, however, are those who focus on their own strengths and bring in people who are better skilled in other areas. A strong business team is composed of people who have the same values, share the vision for the company and are passionate about what they're doing. Once you have that stellar team, it allows you to be able to completely trust them and be able to focus on the things that make the business the most productive. One of the reasons my company is so successful now is because I get to focus on the things that I'm truly great at and I trust my team members to do the things they're really great at. Together we've made an incredible team.
The biggest challenge was finding the right people, and it didn't happen immediately. It took some time to fully understand our culture and realize what the right profile was based on that. Being really thoughtful about who you're hiring and who you bring on board takes time, and that can also be difficult with a start-up company. It is so important not to fill a position just because you're growing and need to have someone quickly alleviate some of the workload. It's easy to hire someone for the temporary help, but what I've realized is that it's so crucial to take the time necessary to hire the right person. Even if that means more stress from the workload, it is always worth the wait to make sure you bring in the absolute right candidate that is the right fit for brand and for your culture.
Kendra & Co-hosting CNBC's Crowd Rules:
I was only interested in doing something on TV that was going to be inspiring to people and make a difference, and I felt like the show was able to do that. It puts the spotlight on the small businesses that make this country great, and that are really the driving force in job creation right now. I wanted to be a part of something that focused on that part of business rather than just big corporations, and I felt that show was the right fit for me. It's a lot of fun, but at the same time it allows me to contribute and make an impact. It is very inspiring for the start-ups competing in the show and it also leaves behind information for other people who are running small, start-up businesses and helps them to run their companies better and smarter.
Secrets to Finding Calm:
My happiest times and my most calm times are when I'm home with my family. I have a "family first" motto and I spend as much time as I possibly can with my family. We love being outside and staying active, whether it's going on bike rides, cruising on the lake or going wakeboarding -- one of my kids' favorite activities. We also love the days where we can curl up and watch a movie together and just enjoy each others' company. As long as I'm with my family, I'm in my happy place no matter what it is that we're doing.
The bottom line is that entrepreneurs have all different levels of risk aversion and sometimes it's more risky to ignore your gut instinct and assume that you just don't have enough money. As Jim Rohm once said, "If you really want to do something, you'll find a way. If you don't, you'll find an excuse.
REAL LIFE. REAL NEWS. REAL VOICES.
Help us tell more of the stories that matter from voices that too often remain unheard.