As Mothers Day approaches, I wanted to salute the amazing progress that "Mompreneurs" have made over the past decade. Moms have earned a respected spot in the marketplace, being acknowledged now not only by large brands as the powerful household purse strings but within the business world as well, as women owned businesses (many of those women are moms) continue to contribute jobs to the economy.
When retail buyers and customers know there's a mom behind a product, especially in the baby market, it adds a level of credibility and relatability that can translate to big bucks and loyal, long term customers.
While using products designed to help make life easier, moms have little tolerance for things that don't work as well as they should. Many of us then find ourselves making the improvement and "giving birth" to an entirely new version of a product. We set out to do these things just to help ourselves and show fellow moms our solutions. Yet, the positive reaction often turns into an a-ha moment, the decision to actually turn this idea into a biz and bring it to the marketplace.
The three Mompreneurs featured here (Lauren Lang, founder of Imagine Baby, Manasi Gangan, Founder of Nested Bean & Debbie Blacher, Co-founder of Wholesome Tummies) all had those a-ha moments and couldn't ignore them.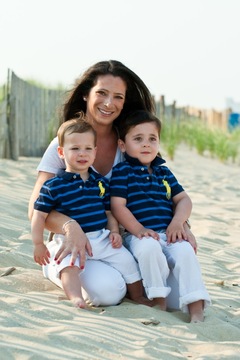 Lauren Lang, founder of Imagine Baby developed The Shade, a protective covering that goes over infant car seats.
Lauren's decision to design The Shade:
"I decided to develop The Shade out of a pure need I had when my children were babies. I was always on the go with them -- to the park, mall, grocery store, doctors office, friends houses, etc... and I wanted an easy way to protect my babies when in an infant car seat from the outside elements and most importantly... germs! I ended up draping a cumbersome blanket over my infant car seat, as most parents do, and found that it always fell off, got in the way and didn't provide the protection or coverage I was so desperately seeking.

Most importantly, every time I went to check on my baby I had to lift up the blanket exposing them to the sunlight and outside elements. As a parent we know that when a baby is sleeping the last thing you want to do is wake them, which happened every time I lifted up the blanket! So I set out to create my own solution, The Shade -- with a mesh window that makes checking on baby (uninterrupted) a breeze!"

Experience or Business Newbie? Lauren Lang says:
I do have a business background, however not in the baby world. I came from a family of entrepreneurs, graduated college with a degree in business marketing and spent 10 years in commercial real estate. This gave me a strong work ethic and desire to succeed as it was a commission only job. It instilled that work ethic into my veins, which I bring to Imagine Baby every day. I have no fear of seeking out opportunities, picking up the phone, making calls, getting no's and turning them into a yes! That, coupled with the encouragement and support of my husband, made me feel like I could successfully start and grow my business.
What was the initial reaction from friends once you had made your prototype?
The initial reaction from my friends was that they loved the product. With many of my friends having babies and struggling to find the best solution to protect their babies when in an infant car seat they were excited to not only be able to use The Shade but support Imagine Baby in its growth. My friends that have used the product have given me valuable feedback that has helped shape modifications to The Shade, its packaging and marketing strategy. Additionally, those friends that don't personally have a need for The Shade are buying it as their go-to baby shower or new baby gift.
Lauren's advice for other moms who find the need to improve on a product:

My advice for those moms who find the need to improve on a product or make a new one would be to start by talking with other mompreneurers (or entrepreneurs) to establish a path to success. There are many ways to get a business started that can cost a lot of money and time, however, if you start by talking with others that have created their own business then they can help guide you. When I started Imagine Baby I was fortunate enough to be able to sit down with a good friend of mine who had recently started her own successful activewear company. She was crucial in helping me get in contact with established and reputable pattern makers, fabric providers and manufactures. Without her expertise it would have taken me much longer (and probably more money) to get where I am today. I am grateful everyday for her advice, support and friendship. Also, if you have a product that is potentially patentable I suggest getting in touch with a law firm to assist with the steps associated with patenting the product. Patent protection is key if you can get it!

Stick with it! If you have an idea or a product that you are passionate about and believe in then don't give up. Starting any business is a long and sometimes difficult path to go down but there is light at the end of the tunnel. Stay true to what you believe in and passionate about your business and success will follow. Oh, and keep a stress ball nearby for squeezing!!
How do you balance having a lifestyle biz that allows you to juggle biz & family?
This is where I am very lucky. I have an office in my house that allows me to work from home while my children are at school. I work smart and use my time wisely so that when my kids are done with school I can spend time with them each day. Additionally, having an IPhone and IPad doesn't hurt either - it keeps me connected to my business while on the go! I love what I do and since my business revolves around babies and kids I feel like wherever I am, whatever I'm doing...I am always researching for my next big product idea!
Manasi Gangan, Founder and President of Nested Bean and developer of the Zen Swaddle.
How was the Zen Swaddle born?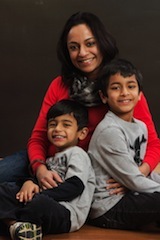 My second son did not sleep without being in my arms and woke up within minutes of being put down. Being an experienced mom, I knew there was something different about his sleep patterns, his need to be held and feel my secure touch. I was sleep deprived and I also was desperate to help my baby get a sound and restful sleep. Guided by a mother's instinct and a problem-solving bend, I started improvising with lightly weighted accessories such as beanie toys to simulate the gentle touch of my hands. Seeing improvements in his sleep patter, I tested this concept on several other babies and found similar results. All babies fell asleep easier and slept longer.

Later I found that there is medical research behind the benefits and self-soothing properties of simulated touch. These benefits have been used by hospitals for more than a decade to soothe infants under stress. It has even been documented to promote development. Interviews with psycho-physiologists, product designers, childcare experts and safety experts followed. The product idea of an infant sleep-aid, which would simulate a mother's gentle touch had taken root and was taking a form. I knew I had found a secret, which needed to be shared. This was the inspiration behind the Zen Swaddle.
Do you have a business background/experience? If not, what made you feel like you could do this?
I felt very comfortable starting this venture due to many years of experience in IT business development and management. Having an engineering degree yields itself very well in developing products that solve problems in simple and unique ways.
Manasi's advice for other Mompreneurs:
If you have no prior background in developing a product then I would say to follow your instinct and intuition. Create a focus group that can provide feedback from varying perspectives that are critical for a successful product launch. Make continuous improvements until most critical feedback is met. Then don't look back.
The initial years are extremely tough and demanding. However I have made it a rule to not work when my children are at home from school. When they are around me I give them all my attention; which means long hours when they are asleep.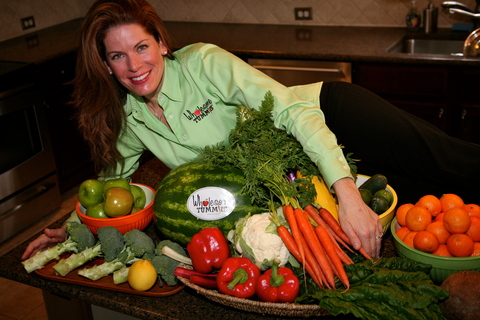 Debbie Blacher, co-founder of Wholesome Tummies:
The Start Up Story Behind Wholesome Tummies:
Pregnant with a third child will make any mom go a little crazy! That was exactly my predicament when the subject of lackluster lunches came up at a neighborhood pool party over Fourth of July. Too tired to cook but too angry to settle, I decided to do something about it. Although my business degree gave me the academic know-how to start a business, it was my real-world experience of being part of the executive team of a rapid growth software company that gave me the confidence to know I could do it. Being a mom motivated to help my own kids make healthy choices was the icing on the cake!
Receiving Support From Other Moms:
They were very supportive and we would be nowhere today without their support. I still remember some of our very first customers -- I got to know those moms so well from all the school events. So many moms really appreciate being able to take a break from lunch making, and love that we were doing something to change the misguided priorities in so many school cafeterias today.
Take Your Idea and...:
"I say go for it! It's the best piece of advice I can give a mompreneur. You have nothing to lose, and everything to gain. Your kids and family will see you in a whole new light and everyone will be better for it. I think when you make the world a better place, you become a better person in the process!"
I wish I could say that is was easy, but it is not. I do believe it's a trade off either way - either you stay home and miss work or you work and miss staying home. The part I love is that my schedule is flexible so I can chaperon a field trip just as easily as I can make a board meeting.

I'm a big believer in having big goals and daring dreams. It motivates me every day to know how much good there is still to be created in the world and how much healthier we can help future generations to be. It's one of the most rewarding feelings ever to know our company is in some small part contributing to that.
Every Mompreneur's story can spark inspiration in someone else to see that they are also qualified in their own unique way to become a Mompreneur. If you have the passion, you can find a way to bring your idea to life. Having a business and raising a child can be very similar, you nurture both until they take on a life of their own and they both always remain your 'babies.'