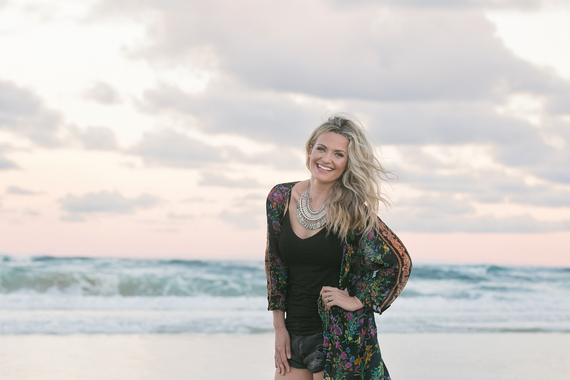 As a life coach who works exclusively with mothers, I've noticed nearly all of my clients come to me with the same desire: to experience more pleasure amid the busyness of family life.
Remember, just because you're a parent doesn't mean you're not entitled to prioritize the things that bring you joy! Here are three strategies to fill your days with more fun, beauty and sensuality:
How much of your life is dedicated purely to play? Two percent? Ten? Life becomes burdensome when it's serious all the time. Give yourself permission to engage in activities that light you up! Unleash your self-expression!
Maybe you'd like to rekindle a creative spark from years ago, or perhaps there's a special something you've always wanted to try, like surfing, or trapeze, or a place you're dying to visit. If you feel like you've forgotten how to have fun - at times, I know I have - heed author Elizabeth Gilbert's advice and follow your curiosity. In her New York Times bestseller, Big Magic: Creative living beyond fear, Liz writes:
"Curiosity only ever asks one simple question: 'Is there anything you're interested in?' Anything? Even a tiny bit? No matter how mundane or small? ... It might seem like nothing, but it's a clue. Follow that clue. Trust it. See where curiosity will lead you next."
When you've discovered some ways you want to let loose, try to organize your schedule so you have at least one activity to look forward to every week.
Sometimes the logistics of parenting are so consuming you forget how fulfilling it is to just be in each other's company. Creating family traditions helps you structure more togetherness into your days and promotes a sense of belonging between loved ones.
These regular rituals can be simple or elaborate, frequent or only every-now-and-then, and the ones that are crazy and unique are usually most cherished. You could establish a tradition to celebrate a special occasion or existing cultural holiday, or to bring more presence and meaning to everyday moments.
Family traditions also give everyone something to look forward to, and your kids may love them so much they recreate them in adulthood. For example, every year until I was 21, my Mom would stay up late on the eve of my birthday to cover the house with balloons and streamers. The next morning I'd wake to a sea of decorations, gifts and cake. Mom's effort always made me feel so important, so loved, that I've continued the tradition with my daughter (now I'm the one staying up till the early hours of her birthday to blow up balloons!).
What traditions could you create with your family to cultivate closeness and connection?
Your surroundings have a huge impact on your state of being, and mamas with littlies are housebound more than most. If your home feels like a sanctuary, you'll be oh-so-happier to be there.
The good news is you don't need designer architecture or magazine-worthy décor to transform your digs into a private oasis. It doesn't matter whether you rent or own your own place. Whatever your living situation, you can make your home into a haven with these three steps:
1. Clarify
Which three words most encapsulate how you'd like your family home to feel? Refer to them, often.
2. Cleanse
Examine each room in your house. Are you holding on to items you don't even use? Sell, gift or throw away the excess. When you free yourself of extraneous 'stuff', you have more mental energy and physical space to welcome the things you desire.
3. Ignite your senses
A sensual home is a constant source of pleasure. Some easy ideas to get you started:
Smell
Scented candles; essential oils; herbs; fragrant flowers; freshly laundered linen and clothes; the aroma of a hearty dinner or homemade treats baking in the oven.
Touch
Textures - velvety-smooth, soft, furry, bumpy, rough, hard, wet, dry; temperature - warm and cozy, burning hot, refreshingly cool.
Taste
A fridge full of nutritious food; a bowl stacked high with your favorite fruits; delicious snacks at the ready.
Sight
Colors - vibrant, subdued, monochrome; patterns; lighting - dark, bright, natural or artificial; plants and flowers.
Hear
Music to suit (or change!) your mood / water features / wind chimes / singing bowls / silence.
Tammy Warner-Wilson is an Australian lifestyle journalist and life coach for mothers who want to live wholeheartedly. This is an edited excerpt from her new e-book, Wild Mother: Be Whole, Be Free, available now at www.tammywarner-wilson.com/e-book. Find Tammy on Instagram at @tamwarnerwilson.