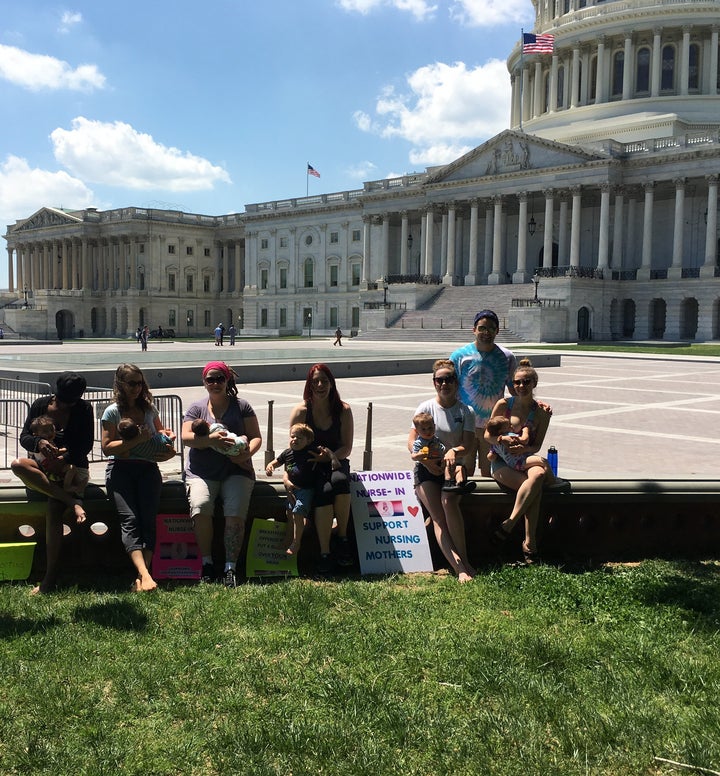 Clusters of women in more than 20 states across the country staged nurse-ins on Friday to draw attention to the lack of state-level breastfeeding laws, and to protest the possible repeal of the Affordable Care Act by Republican lawmakers.
"Currently, the ACA provides a private area and time at work to pump for moms. Women can receive free breast pumps and lactation support," said Chrissy Fleishman, 31, organizer of the third-ever "Nationwide Nurse-In" and one of the co-hosts of the Washington D.C. event.
"That is what is under threat," she continued, "and it seems more than likely that there are not going to be any of those protections provided in a replacement [bill]."
Fleishman, who works as an office manager, has been nursing her son for 19 months. He was born via gestational surrogacy, and Fleishman induced lactation—a demanding process that required medication and round-the-clock pumping, and that sparked her interest in supporting other breastfeeding moms.
Though Fleishman said she is typically "not political at all," she has been troubled to learn that nearly half of states in this country do not have workplace pumping laws to support women, and worries about what will happen to women living in states with no protections should the Affordable Care Act be repealed. So on Friday, Fleishman joined four other moms at the Capitol where they held signs urging legislators to support breastfeeding moms, and snacked on bagel sandwiches.
"The Women's March definitely brought out women who thought they weren't political," she said. "This is on a much smaller scale, and maybe it's a little easier to get your toes wet [this way] in the protesting world."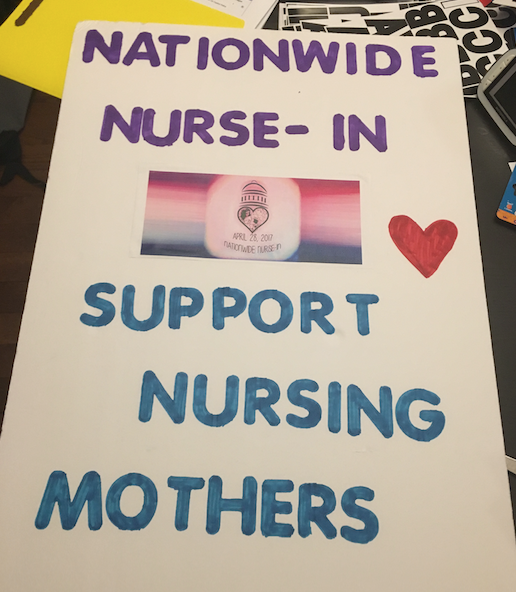 "Personally, and definitely from a lot of other moms I've spoken with, the election and the possibility of repealing the ACA has been a huge motivator to participate," echoed Laura Dove, 32, the co-host of the nurse-in in Boston, MA. "In Massachusetts if the federal mandate to provide pumping accommodations is repealed, there's no state law to protect mothers...women shouldn't have to choose earning a living and providing breast milk for their baby."
And Dove said she has a personal understanding of why protections for breastfeeding mothers are important. She did not return to work after giving birth specifically because she worked at a company with fewer than 50 employees that was therefore exempt from federal pumping laws and would not accommodate her. Dove's family struggled financially as a result.
But not all of the mothers who participated in the nurse-in on Friday were motivated by politics.
"I'm doing this to help stop the stigma around breastfeeding," said Breana Lefebvre, 21, co-host of the Rhode Island nurse-in at the state house in Providence. "In Rhode Island, we actually have good laws supporting working moms and breastfeeding moms, so my purpose is to draw attention to the fact that moms should not be scared to feed their babies in public, and we shouldn't feel ashamed. We need the public to get onboard with that."