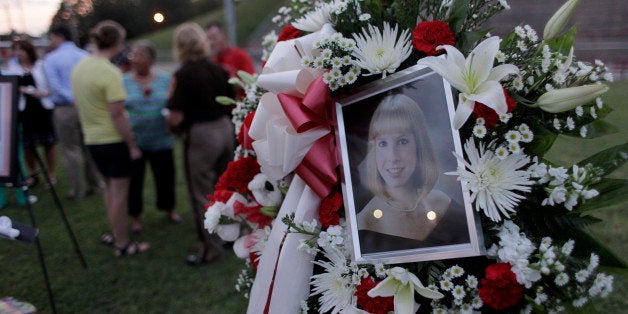 Just hours after his daughter Alison, a Virginia reporter, was shot and killed on live television, Andy Parker passionately spoke out against the gun lobby and our nation's lax gun laws. And he is determined to fight until we see change in this country. In today's Washington Post, Parker asks all of us, "What do we need to do to stop this insanity? In my case, the answer is: 'Whatever it takes.'"
"Whatever it takes" -- such brave and profound words from a man enduring a kind of pain and anguish I cannot even imagine.
To the Parker family, to the family of cameraman Adam Ward, who was also fatally shot that day, to the families of the 88 Americans who die daily from gun violence, as well as the hundreds of others injured, I am here to say that Moms are committed to doing "whatever it takes" to end this scourge that threatens our families and communities by passing commonsense gun laws.
We are wrapping up a long, cruel summer of senseless, preventable gun violence. Americans are being gunned down in our churches, schools, movie theaters, military recruitment centers, workplaces, and homes. Which is why we're turning September 10 -- the week Congress returns from its summer recess -- into a national day of action to make good on our pledge to do "whatever it takes."
Despite many wins for gun sense on the state level, I know many Americans are livid and dispirited that Congress has done nothing to make America safer from gun violence. I've heard it said too often: If Congress didn't take action after twenty children and six teachers were killed at Sandy Hook Elementary ... after six people were murdered in Isla Vista, California ... after 12 people were slaughtered at a movie theater in Aurora, Colorado ... it never will.
But something DID happen after Sandy Hook: Moms Demand Action happened. And now, in conjunction with Everytown for Gun Safety, we are the largest grassroots movement fighting for gun sense in America. And our 3 million members refuse to buy into the media's fatalistic predictions and the gun lobby's empty rhetoric.
We're building momentum building in the states and in boardrooms and sending a strong signal to Congress that they'd better get in line with the rest of the country. It's not a matter of whether Congress will act -- it's a question of when.

But it's time to make the "when" sooner than later. Given that more than 30,000 Americans are shot and killed every year, we don't have time to wait. We're done asking politely -- we're now demanding for Congress to act.
Here's one way we can work together to turn tragedy, anger and despair into action:
On September 10, Moms, survivors, and supporters will descend upon Washington, D.C., to #DemandAVote and tell our leaders and lawmakers that they must take action to end this crisis. We're also planning gatherings in communities across the country to reclaim our everyday spaces -- like houses of worship, movie theaters, workplaces and in their homes -- from the grip of gun violence.
I think I speak for many American moms and dads when I say the unceasing gun violence this summer has left me angry and scared. Every day, I shed tears because I'm worried about the safety of my children. My husband, John, tells me the gun violence prevention work I do clouds my judgment -- that we're safe and our five children will be okay.

But what I know all too well from my work with Moms is that we're all just one degree of separation from a gun violence tragedy. None of us are truly safe given our culture of guns for anyone, anywhere, anytime -- no questions asked. Andy Parker knows that now, as do all of the heroic survivors I work with every day.
That doesn't mean we pack up and leave the country or lock ourselves inside our homes. It means that if Americans want to be safe -- as safe as other developed nations -- we must fight. I don't mean post about a shooting on Facebook. I mean kick and scream and work and yell. Do "whatever it takes," every single day.
Do it for Alison and Adam. Do it for your own friends and loved ones who could be the next victims of senseless and preventable gun violence. Together, we must do "whatever it takes" to stop the violence. You can start by following our #WhateverItTakes campaign on Facebook and Twitter to learn more about our September 10 events across the country and other ways you can become involved.
My friend Richard Martinez whose only son, Christopher, was shot and killed picking up a sandwich at a deli in Isla Vista, always says, "If only I'd acted after Sandy Hook, maybe my son would be alive today." Please join the fight so you never have to ask yourself that question.
Popular in the Community