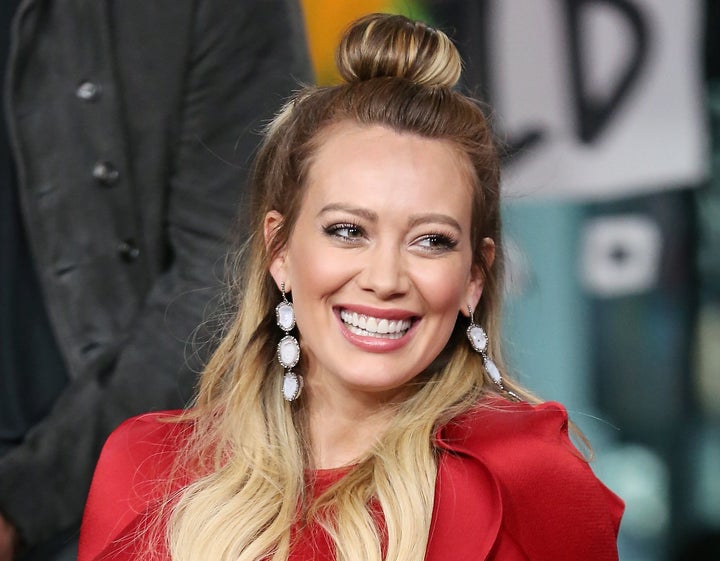 Hilary Duff's recent update on her pregnancy is a love letter to moms everywhere.
Duff, who shares 6-year-old son Luca with ex-husband Mike Comrie, is expecting a baby girl with her boyfriend, Matthew Koma. On Wednesday, the "Younger" star shared a photo on Instagram for her more than 9 million followers that shows her baring her pregnant belly.
She captioned it with a too-real description of how tough pregnancy can be.
"Giving love to all mamas who make it look effortless... this journey is hard as hell and also incredibly special," she wrote. "Lovely to have a little life inside and to day dream of all the new adventures to come buuuut [sic] almost impossible to get my own shoes on ... sick of getting up 9 times a night to pee and looking at this weird body in the mirror that is not my own at the moment."
In 12 hours, the post had racked up more than 840,000 likes as well as comments from moms saying how much they could relate.
One commenter wrote that she was pregnant and thanked Duff for the post because she "really needed and appreciated this message." Another wrote that she recently welcomed a girl and that she "couldn't have said it better" than the way Duff expressed "how hard and wonderful this time is."
The actress wrote that "women are so bad ass" and that she wrote the post to remind herself and other mothers that "we got this!"
Last August, Duff empowered women with another post that showed her in a swimsuit while vacationing with her son.
"Since websites and magazines love to share 'celeb flaws' - well I have them!" she wrote. "My body has given me the greatest gift of my life: Luca, 5 years ago. I'm turning 30 in September and my body is healthy and gets me where I need to go. Ladies, let's be proud of what we've got and stop wasting precious time in the day wishing we were different, better, and unflawed."
Almost a year later, that post has more than 1.3 million likes. She ended the caption with the seemingly fitting hashtag "#kissmyass" and a shoutout to the sites and magazines that love to share so-called "celeb flaws."
"You guys (you know who you are!) already know how to ruin a good time, and now you are body shamers as well," she wrote.
Related