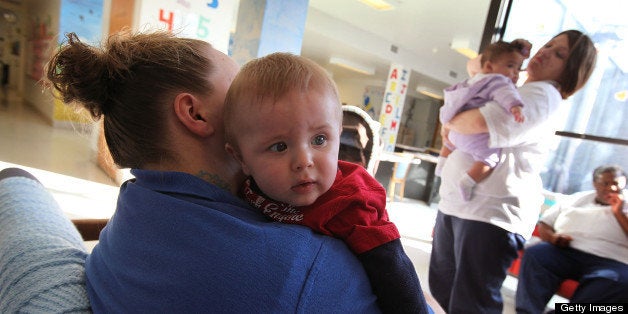 With the recent release of a new report by the Pew Research Center, the working mother has come under increased scrutiny in the public eye. Media outlets and public forums alike are buzzing with discussion about Pew's latest findings, and the topic of interest is one for the books: 40% of all households with children under the age of 18 include mothers who are the sole or primary income provider for the family. Even bigger news, 63% of these breadwinner moms are single mothers.
At Dress for Success, nearly 80 percent of our clients are single mothers. Providing our women with the professional attire, network of support and career development tools they need to achieve their professional best, I've come to know and love the inspiring advancements of the single working mom firsthand. But our work is far from done, and the single mother's adversity is far from over.
According to Pew, there's still a significant gap between the family income of married and single moms, with the married mother's family bringing in a median of $80,000, nearly four times that of the $23,000 for families led by the single mother. So, if the vast majority of breadwinner moms are, in fact, single mothers who are barely making enough to provide for their families and stay above the poverty line, why isn't that making headlines? It is time to start discussing the discrepancy in income between the married and single mother--and building a support system to close the gap.
Before the single mom can climb her way up the professional ladder, she must first find employment. Compared to their married counterparts, many more single mothers are struggling to even find work. Just last year, the single mom faced a startling 14.1% unemployment rate. Meanwhile, public opinion polls from Pew's latest report show that 64% of Americans still believe the growing number of single mothers in the U.S. is a big problem.
It seems the bigger problem, however, is the lack of support for these hardworking women. Vacation days, affordable day care services and flexible work hours are all limited for the newly hired professional, but all of these "benefits" are more than just a perk for the working mom--they are imperative--but how does the single working mother elevate herself to the wage-garnering level of her married counterparts?
To assist women in adapting to--and succeeding in-- a professional setting, Dress for Success created the Professional Woman's Group (PWG). For the newly working woman, this program gets to the bottom of such challenges that our mostly single mother demographic faces, creating a safe and supportive space for these women to discuss how they can propel themselves passed any professional problems that they may be encountering and achieve the same economic independence as those women who also have familial financial support to supplement their own income.
Adjusting to office culture, finding a work-life balance, and breaking through the glass ceiling is difficult for any woman who has struggled to maintain professional stability throughout her life, but it is especially complicated for the single working mother. Every single mom must be a breadwinner mom for the sake of herself and her children, as well as even for her greater community. For the mother without a partner to provide additional income to the household, working is not about living comfortably, but rather living adequately. At Dress for Success, we work everyday to shift these statistics and make a positive impact on the lives of women throughout the world, but to truly raise the median income for working single mothers--for a true change to come--it takes work from everyone else, too. (Yes, even you!) What have you learned throughout your career? What obstacles have you faced and how did you overcome them? What knowledge or skills do you possess that could be taught to someone else? Reach out to a single mother in your neighborhood. Talk to her. Teach her. Become a mentor to her. By providing just a piece of yourself to one of these single mothers, you are helping to shape a whole new future--one where all women are the breadwinners, bringing home the same sized loaves.
Calling all HuffPost superfans!
Sign up for membership to become a founding member and help shape HuffPost's next chapter