Raquel and Crissel Guerra-Luna were already connected to each other, before they even met. When they did, it only reaffirmed their wishes of how they wanted to create their family. In this special RaiseAChild.US Huffington Post Gay Voices "Let Love Define Family®" series installment, contributing writer Beth Hallstrom tells the story of these two women and the life experiences that have brought their family together.
Some call it "paying it forward" or observing the Golden Rule, but Raquel and Crissel Guerra-Luna of Chino Hills, California, prefer to describe their life's passion as "returning the blessing" by becoming ardent ambassadors for fostering and adoption.
Raquel, 32, is a stay at home mom and 31-year old Crissel is a full-time student who recently retired from the U.S. Army with the rank of sergeant. She is majoring in justice administration with a specialty in homeland security, which dovetails with her military intelligence training. They have been fostering a little boy, three and a half years old, with dark eyes and a sweet smile, since October. Following a court date this month they will begin the process to adopt him. 
"He's a little bundle of energy! He keeps us hopping all day long. He gets us up at 6:30 a.m. to play," Raquel said. "And to think, in the beginning, we were adamant about adopting a sibling set."
Their original plan for the children they wanted in their life dates back to Crissel's childhood, which was spent in an orphanage in Mexico.
"I was lucky enough to have my two brothers with me. I saw other children at the orphanage who were alone and I vowed that when I became a parent, I would try to keep brothers and sisters together if I had the chance," Crissel said.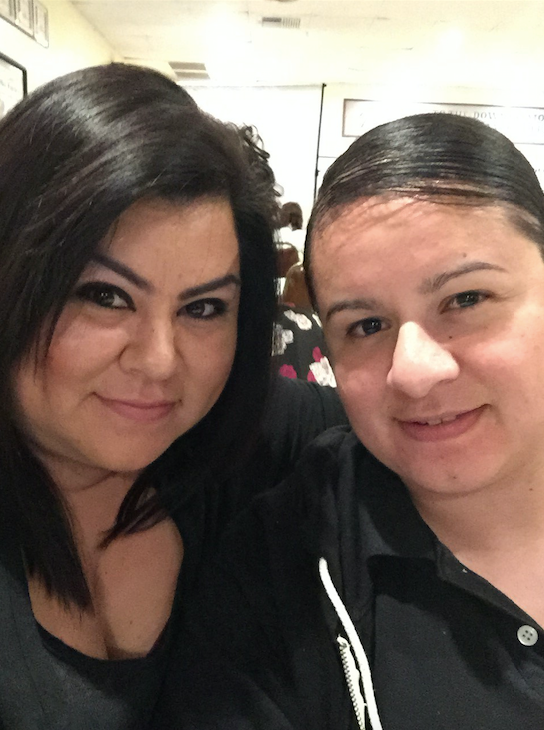 Crissel said her promise was strengthened when, at 15, she was adopted by an American family who volunteered at the orphanage. While her brothers remained in Mexico, she kept in touch with them and maintains close relationships with them today.
"I met my adoptive family when I was nine years old and they've been wonderful to me. I never thought I would live with them. If a family that already had six kids could open its home to me, I knew that, someday, I could return the blessing. God has given us so much -- we are so grateful," Crissel said.
"By amazing coincidence, relatives of mine volunteered in the same orphanage. It's as if Crissel and I have been connected forever," Raquel noted.
Fast forward to 2010, when a friend of Raquel's said she wanted to introduce her to someone new, an active duty U.S. army officer.
"I like a woman in uniform, so I wanted to meet her. Crissel was stationed in Germany at the time and we emailed and Skyped and finally met in person just before she was deployed to Afghanistan. We continued to keep in touch; I sent her care packages full of her favorite snacks and coffee and she sent me cards and flowers. We did what we needed to do to keep things going," Raquel remembered.
Then, in 2012, Crissel received two weeks R&R and the pair went on a road trip, camping the length of California. A vacation in Hawaii soon followed and they returned home engaged to be married.
"It was so romantic. We went to a luau and then for a walk on the beach in the moonlight and, beneath a lighthouse, Crissel got down on one knee and proposed," Raquel said.
With Crissel about to be reassigned to Fort Sam Houston in San Antonio, Texas, she and Raquel flew home to California in October, 2013 for a quick wedding ceremony at the Fullerton courthouse.
"That summer, gay marriage became legal in California and federal benefits were extended to same sex couples. The Army gave everyone who wanted it a four-day leave to get married. It was a small wedding, but it was beautiful. Crissel wore her uniform and it was amazing," Raquel said.
"It's been so wonderful to be married and receive the same benefits, like a housing allowance and health insurance as other married couples. We got to attend the Military Ball together, which was such a special night. We finally received equality on all platforms in the military," Raquel said.
Raquel said parenthood was a topic of conversation early on in their relationship, along with family values, religion and, as she described them, "all the biggies." 
"We both had tough childhoods and previous relationships that weren't great, so when we met, we decided to just be honest about everything. We both had always wanted to build a family through fostering and adoption. That made everything even that much more special because we both always knew that's how we wanted to become parents," Raquel said.
Once Crissel was medically retired from the Army and they returned home to California, they began researching the adoption process and, last December, attended a RaiseAChild panel discussion to learn more. They returned the blessing this past December when they spoke as panelists at a similar event. 
"It was our first time hearing people actually talk about their experiences and it helped us a lot. That was when we learned about Five Acres (adoption agency) and how we got started on our way to being moms," Raquel explained. 
Adamant about adopting a sibling set because of Crissel's long-ago promise, they were matched with five different sets and, each time, the placement never took place. 
"It was one reason or another, but none of them worked out. Then our caseworker told us about this little three-year old boy. We asked the advice of all of our family and friends. We thought about it all night and we decided it was the right thing to do. Then, the next day, we met him and we knew right away he would be our son," Raquel said.
The child was being fostered by a family member at the time and moving to Raquel and Crissel's house would be his eighth placement. They spent two weeks visiting with him, taking him to the park and inviting him to their home for meals. Still, Raquel said, he was fearful and anxious that first night with them. 
"We sat with him and reassured him, hugged him and told him everything would be ok. We were really glad we spent those two weeks getting to know him so we weren't complete strangers to him.
"That first night, Crissel slept on the couch with him because he didn't want to be alone in his room. Then, one of us slept on the floor in his room and then, we sat on his bed until he fell asleep. Now, we have our good night ritual of hugs and kisses and reading a story and he's fine. He's come so far in the short time he's been with us," Raquel said.
A budding athlete, the boy just finished the season with his toddler basketball league and is now taking tennis lessons. He loves all things Spider-Man and Marvel Comics and is, as Crissel described him, "a very happy, busy energetic boy who is very much loved."
Once the first adoption is finalized, Raquel and Crissel plan to add another child -- possibly two -- to their family, but one at a time, they said, laughing.
They also want to continue to be strong supporters of foster care and adopting by encouraging everyone, not just those in the LGBT community, to build their families this way.
"We are excited to promote fostering and adoption, to make it clear that it is so possible to create the family you want. We want people to know the process is accessible, not complicated and certainly not expensive. We want them to know it isn't a scary or intimidating process, either.
"We definitely want to be advocates and share what we've learned because there is a big difference between what we went into the process thinking and what we know now. There are a lot of misconceptions and events like the RaiseAChild panel are the perfect way for prospective parents to learn the truth about fostering and adoption," Raquel said.
Added Crissel, "What we want people to know the most is how happy we are and how much our life has changed for the better because of our son. To see him blossom, to see his little smile and know that he knows he is safe and loved, we want people to know it is so worth it."
Have you ever thought of building a family through fostering, adopting, or weekend hosting? RaiseAChild.US is the nationwide leader in the recruitment and support of LGBT and all prospective parents interested in building families through fostering and adoption to meet the needs of the 415,000 children in the foster care system of the United States. RaiseAChild.US recruits, educates and nurtures supportive relationships equally with all prospective foster and adoptive parents while partnering with agencies to improve the process of advancing foster children to safe, loving and permanent homes. Take the next step to parenthood at www.RaiseAChild.US or call us at (323) 417-1440.
Calling all HuffPost superfans!
Sign up for membership to become a founding member and help shape HuffPost's next chapter