In a heartbreaking video about her son, a mom in Minnesota has stressed the importance of autism awareness.
On March 31, Kate Swenson posted a video titled "My Message on the Eve of Autism Awareness Month" on her Facebook page Finding Cooper's Voice. Cooper is Swenson's 6-year-old son, who has severe autism and is nonverbal. In the video, Swenson said that during a visit to a park that is accessible for kids with disabilities in Woodbury, Minnesota, a family confronted her and Cooper after the 6-year-old bumped a girl who was playing near him.
"This is the first time that Cooper and I have been made to feel like we were not truly welcome somewhere," she said in the video.
Swenson told The Huffington Post that her son was on a slide platform when the incident happened and that she was next to him.
"As a mom to a boy with severe autism, I am always one step ahead of him," she said. "He flexed his body and bumped a little girl who slid down the slide. Instead of checking on his daughter, the father immediately stood over Cooper and yelled at him. Cooper didn't understand what he did and ran off laughing and smiling. I immediately apologized to the family and explained that my son had nonverbal, severe autism and didn't even see their daughter. I asked if she was OK even though it was obvious that she was."
Swenson said she apologized multiple times for what happened, but the family insisted that she and her son should not be at the park. As Swenson noted in her video, the park is one of the few places she is comfortable visiting with Cooper.
"They refused to acknowledge autism as a reason their daughter got bumped," she told HuffPost. "And for the first time I saw the hard road that my son is going to have ahead of him. I saw how easily he can be misunderstood. I cried the whole drive home and honestly felt that we weren't going to be able to leave our house again."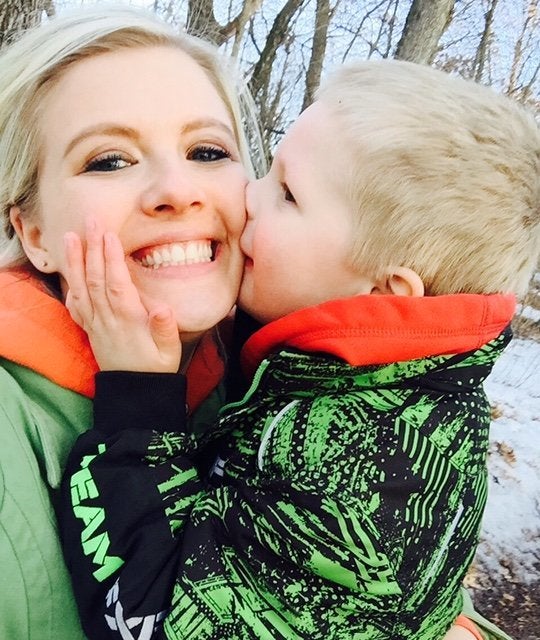 In her video, Swenson explained that what happened at the park left her discouraged about how people who might not know much about autism interact with people who have it. She apologized numerous times for what her son did.
Swenson also asked that people learn more about autism and what it means to have it. Then, she said, they will understand that her son has severe sensory issues and is obsessive about certain things like trains, but that he also loves jumping and being tickled and "wakes up every single day like it's the best day of his life."
"I want people to take time to get to know him and see all the joy that he brings to the world," she told HuffPost. "His disability does not define him. He is so much more than autism. He is Cooper."
Related