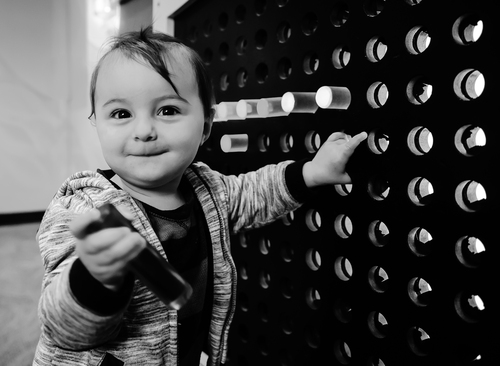 If you were lucky enough to get that new DSLR you have been wanting for the holidays you may have used it straight out of the box and wondered why your photos were only slightly better than the ones you took of your kids with your old point-and-shoot camera.
The answer is simple -- although your DSLR has the power to get you significantly better photos you need to know how to unlock that power to get images you will want to hang on your wall and keep as a record of your family's history.
It wasn't all that long ago that I was in the same place -- wanting better pictures of my children but not sure where to start. Now, a few years later, I have been able to identify the best places to learn about photography. Keep in mind that the best place for you will depending on many factors, including budget, schedules, knowledge you hope to gain, and the time you have to commit to learning a new skill.
Forums: Forums where you can ask questions of other photographers and get an answer quickly are very helpful when you are starting out. If you need to log-in while you baby is napping or while you are up for a late night feeding session chances are someone is online and willing to critique your photo or help you troubleshoot why your son's eyes aren't in focus. One of the most active forum sites is through Clickn' Moms, specifically designed for women in photograhy. You can sign up for a free trial to see if it is a good fit then join for a modest fee. Everyone has to start somewhere and online forums are full of other Mom photographers who are willing to help.
Self-Paced Online Classes: Online classes are great for those who want to be able to learn on their own time and may need to spread out their learning over weeks or even months. CreativeLive has the best quality and selection I have found for online, self-paced classes and offers classes on just about any topic you can imagine. Classes are offered completely free when they air live, and viewers have the ability to submit questions. The presenters at CreativeLive are all leaders in the industry these classes provide an excellent opportunity to learn from the best. After classes air for free, they are available for purchase and you can view them anytime at your own pace. The Photography Starter Kit for Beginners is a good self-paced class to get you started or if you already know the basics dive into one of Tamara Lackey's courses on family photography if that is your area of interest or a class on landscape photography, food photography, macro. Wherever your interests lie you will find a class -- and it very may well be free!
E-Workshops: If you don't want to commit to a class, there is a lot of good information available through in-depth e-workshops. Clickin' Moms offers several Breakout Sessions workshops around the $25.00 range on a wide variety of topics ranging from finding places in your home to get good images in Sunlight and Shadow: Exploring the Depths of Your Home with Stacey Haslem to Images From the Heart by Kyla Ewert focusing on creating "love letters" to your children through images, to Life + Style by Danielle Hatcher focusing on shooting in real homes. If you are focusing on getting better pictures of a blog or online store the Life Created eWorkshop Guide Simple and Styled by Stephanie Studer is a good starting point. If you are interested in food photography, the Tasty Food Photography ebook by Pinch of Yum's Lindsey Ostrom is full of information to get you started. There are many other photographers offering eWorkbooks that are very good but be sure to read reviews before making a purchase!
Live, In-Person Classes: If you need a jump-start to get off of auto and need someone to show you what the dials do, look for a class in your area. Many photographers offer classes or mentoring sessions where for a few hours you will get intensive instruction and be able to ask questions. If you have a family photographer or there is a photographer in your area whose work you just love ask if they offer any classes or mentoring sessions. If they don't they will probably be able to point you to someone who does. Many classes are geared just towards Moms!
Interactive Classes: Online interactive classes can be a great way to learn how to use your camera or learn how to use it better. The best classes are offered over a period of a few weeks and provide a format where the instructor gives individualized feedback. Clickn' Moms University offers classes designed to get you using you camera quickly, including mastering Manual Exposure to Flash and Continuous Light. From there, classes increase in complexity and specialization. A big advantage of this format is the ability to ask an instructor questions over a period of several weeks and practice as the class is ongoing. However, these types of classes do require a time commitment during the run of the class and may be more expensive than other options. Many such classes offer a lower-cost option to take the class as a "silent" study along participant where you have the ability to see the answers to questions asked by other students and get feedback from other silent students in the class on your work.
Blogs: There are many photography blogs that give lots of tips. These have the benefit of being completely free but it can take a while to move your learning forward while you search for answers to your questions. A couple of the best photography blogs for Moms are Click It Up A Notch and Me Ra Koh: The Photo Mom. Also be sure to follow photographers you like for inspiration and tips they may share.
If you are reaching the point where you are disappointed in the photos you are getting with your new camera don't give up yet! Figure out a budget and how much time you have to figuring out how your new camera works and you will likely be surprised at how much you can improve in a short period of time. With so many different ways available to learn there is no excuse to not start getting the pictures of your family that led you to ask for (or buy) new camera in the first place!