A newborn photo shoot that did not go as planned wound up producing a magical image of sibling love.
Photographer Juliet Cannici and her wife Nikki welcomed twin girls named Gia and Gemma on Jan. 26. The couple were already parents to a twin son and daughter, Nico and Siena, who will turn 3 at the end of April.
"Nico and Siena have been so excited for their baby sisters to arrive," Cannici told The Huffington Post. "They spent months snuggled with mama's pregnant belly, talking and singing to the unborn babies. Now that they are here, they are incredibly gentle with them, and love holding and feeding them. It is so amazing to see."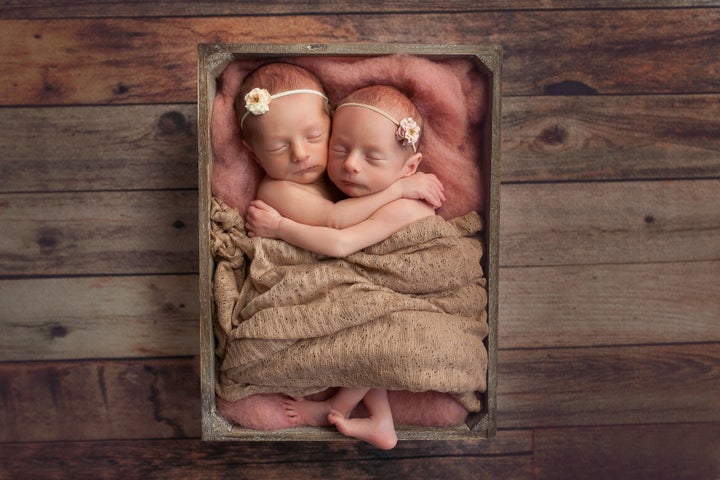 When the babies were 11 days old, Cannici set out to take sibling photos of both sets of twins together. The mom rented cute outfits from a children's clothing boutique and set up her home studio for a fun photo shoot.
"I was so set on capturing Nico and Siena holding the babies in the outfits I had rented," she said. "But Nico and Siena were SO bored with me, the photos looked terrible. I was disappointed."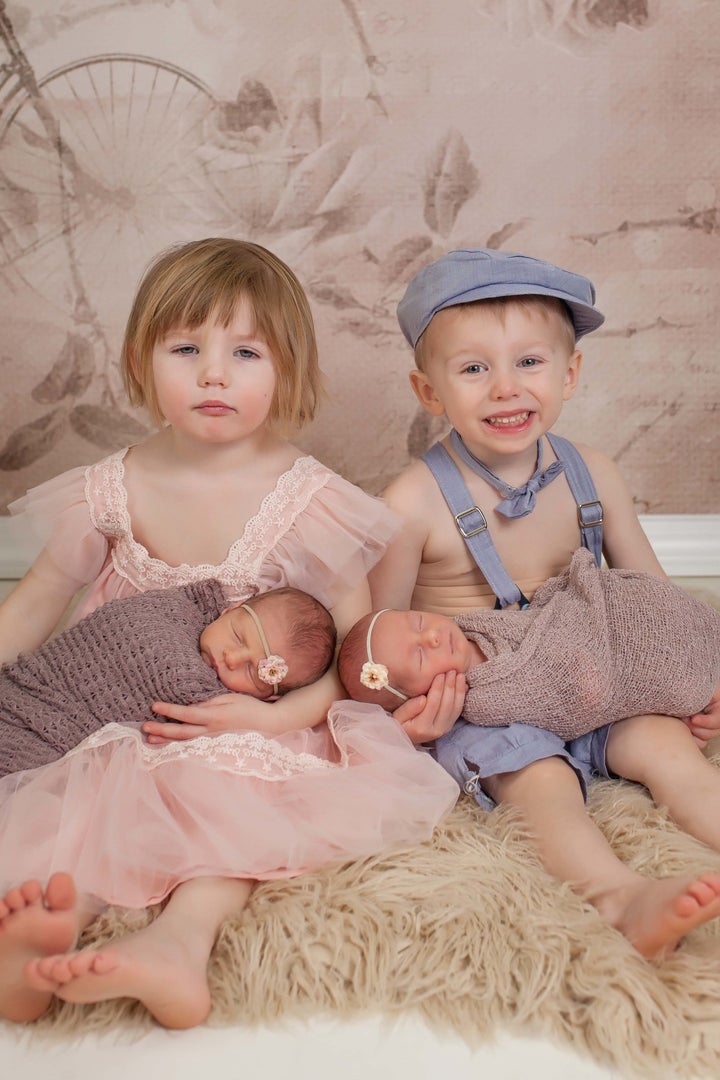 Cannici took Nico and Siena out of their fancy rental clothes and let them play for a bit. After playtime, they came back into the studio to take more photos. The mom laid them down and snuggled with their siblings
"They immediately held hands and wrapped the other arm around their baby sisters," Cannici recalled. "I got them to smile by asking them to 'act goofy,' which they recently decided is just a hilarious saying."
That's when she captured this adorable skin-to-skin bonding photo.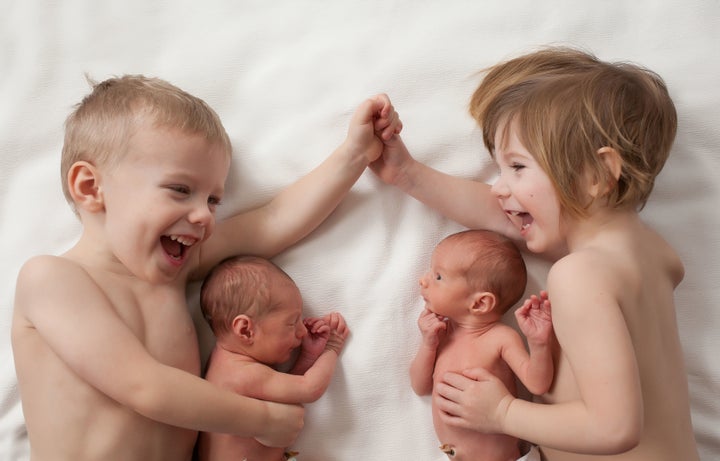 Cannici posted the photo on the Facebook page for her photography business, West on Jade Photography, where it received positive feedback.
The mom believes this photo captures her children's bond with each other. "Several times a day Nico and Siena each say 'I just love my baby sisters. I will keep them safe forever,'" she said. "We are taken aback by how seamless a transition it has been for all of us."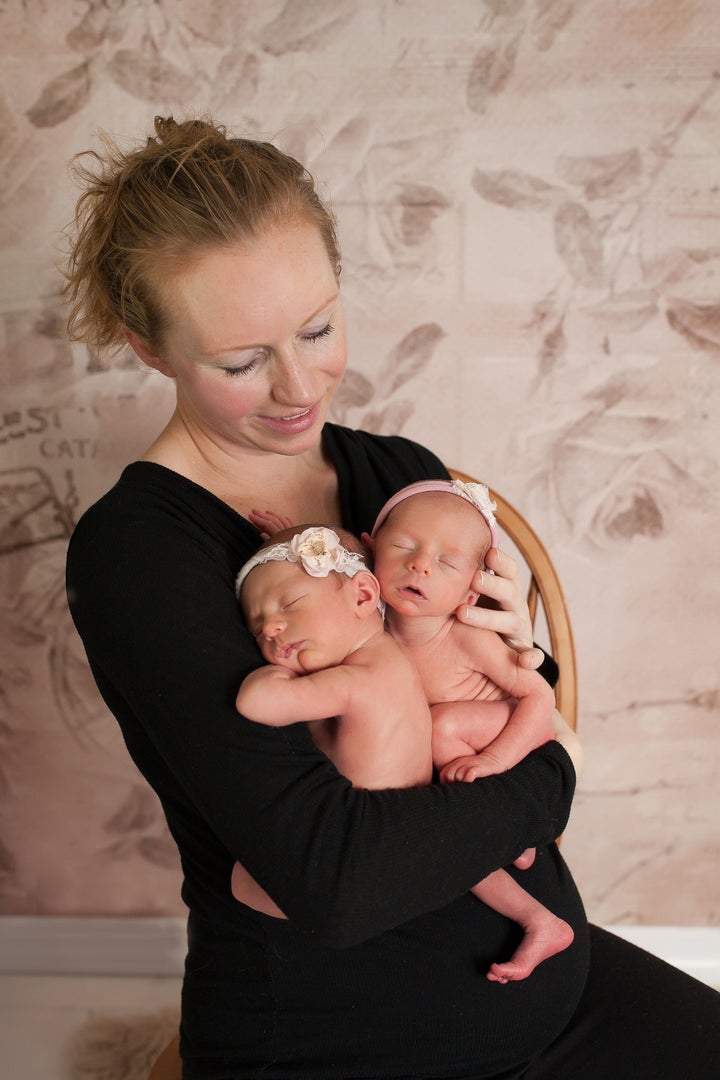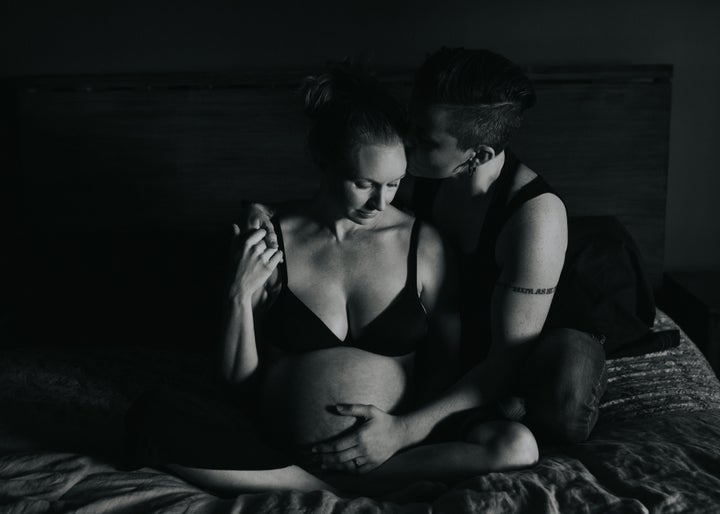 Cannici and her wife, Nikki, have been married for almost 11 years. The photographer told HuffPost they struggled for years to get pregnant through IVF before welcoming Nico and Siena. "We struggled, in different ways, again with Gia and Gemma," she added.
"I hope when people look at that photo they can see the true joy," Cannici said of her viral image. "To see our babies all together makes me feel such happiness and accomplishment. The joy you see on Nico and Siena's faces is entirely genuine."
Keep scrolling and visit Cannici's Facebook page to see more adorable photos of the family.