Parents are sending virtual kudos to Target this week after a photo of the company's breastfeeding policy started circulating across Facebook.
Guests may openly breastfeed in our stores or ask where they can go to breastfeed their child. When this happens, remember these points:

Target's policy supports breastfeeding in any area of our stores

, including our fitting rooms, even if others are waiting

If you see a guest breastfeeding in our stores, do not approach her

If she approaches and asks you for a location to breastfeed, offer the fitting room (do not offer the restroom as an option)

If you have any questions, partner with your leader.
Nursing support group Breastfeeding Mama Talk posted the image on its Facebook page, where it received nearly 40,000 likes and was shared over 15,000 times. "This is why I love Target!!!" mom Laci Crawford commented. "Good work to them for getting it right and training their staff properly on this," added Hazel Ip.
A representative from Target confirmed to The Huffington Post that this is, in fact, the company's official policy. "At Target, we want all of our guests to feel comfortable shopping with us," she wrote in an email, adding, "Our breastfeeding policy, which applies to all stores, is just one of the ways in which we support our guests."
Target has received criticism in the past for the way its employees treated breastfeeding mothers. In 2011, a Texas mom organized a large-scale nurse-in at a local Target after she says she was "harassed" and humiliated" for breastfeeding her in baby in the store.
This public dissemination of the corporate policy serves as a reminder of how to treat nursing mothers in public and sets an example for other companies.
As Breastfeeding Mama Talk states in the photo caption: "Other businesses should take note."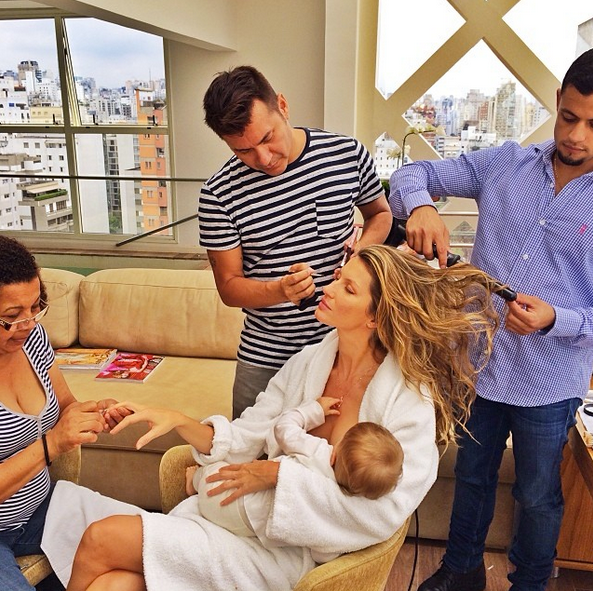 Memorable Breastfeeding Moments In Hollywood
Related