An intimate Instagram photo highlights one way to feed newborn babies that doesn't typically receive much attention.
McKeever told The Huffington Post that the photo was taken about 17 hours after Andromeda was born. The baby girl was very sleepy and having trouble latching.
"A lactation consultant came to our hospital room to ask if we needed help," McKeever recalled. "She saw that I was expressing colostrum but that Andromeda wasn't latching, so she brought in little cups and syringes so we could get some food in her. I expressed some colostrum into a cup, then put it into the syringe and fed her little drops at a time."
The mom said the experience was "incredible" and that Andromeda seemed to love it. "She smiled and melted with each drop," McKeever said. "Then, a few minutes after getting that nourishment, she woke up a bit more and actually tried the breast! We had to do a mix of syringe feeding and breastfeeding for the first week."
Now 3 weeks old, Andromeda is exclusively breastfeeding and doing very well, McKeever added. The mom said she is grateful for the lactation consultant's guidance during her early struggles.
"I was familiar with syringe-feeding because I am a birth and postpartum doula, but in the moment I really needed someone to suggest it to me!" McKeever said.
"It's amazing how much we all need help and reminding, even when we know things," she continued. "Support is key."
McKeever added that cup-feeding is a slightly more common method when moms need to feed their babies but don't want to use a bottle and aren't able to nurse with their breasts.
The syringe-feeding photo that Carriage House Birth shared received nearly 2,000 likes on Instagram.
"In that moment, I felt so empowered and happy to be able to feed my baby," McKeever told HuffPost. "Even if it wasn't in the 'traditional' way, it didn't matter to me! I knew it might take some time."
The mom said she hopes her photo will serve as a source of encouragement to other parents. She said she wants moms "to recognize that things might not always go as planned in a perfect picture, to be encouraged to go with the flow and let go of expectations, to meet their baby where they are at with no judgement but just with compassion and love."
Best of luck to all the new mamas!
Related
Before You Go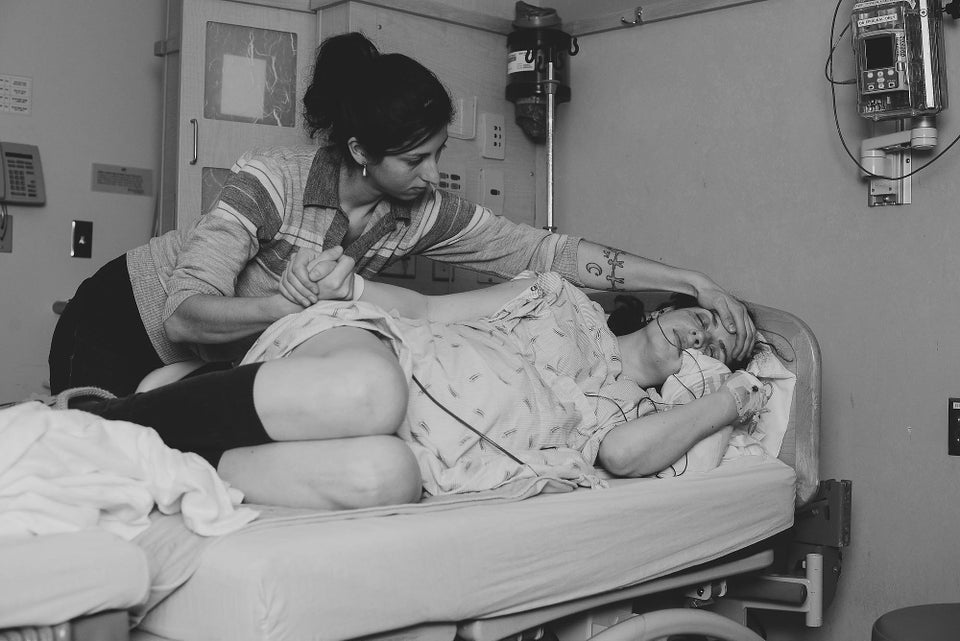 Gorgeous Birth Photos That Celebrate Doulas