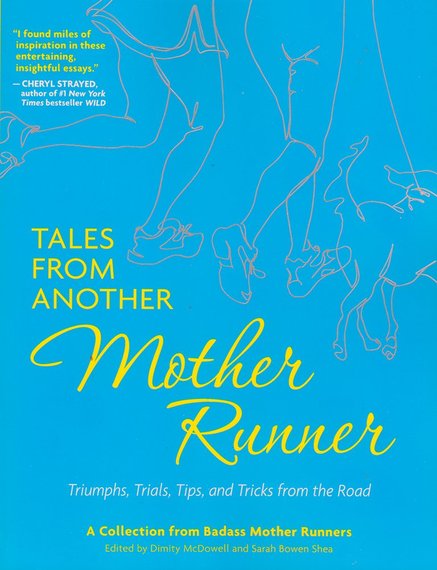 The first days of spring are right around the corner, hopefully melting snow and ice covered pavement and trails, and finally opening up the way for you to run out your winter cabin fever blues. With this new season also comes the release of a new crop of how-to running books, training manuals, even running devotionals. In a genre of inspirational running books that may often intimidate, one new release stands out above the rest, because of its genuineness and relatability to the average woman. It's the latest from the duo at Another Mother Runner, and they have crafted a literary runner's bible for women that is not to be missed.
"No disclaimers allowed: You run; you are a runner." -- excerpt
Tales from Another Mother Runner: Triumphs, Trials, Tips, and Tricks From the Road ($10, Amazon) is a collection of personal essays from a variety of women, all interwoven with the common denominator of how running has not only shaped their lives, but continues to be play a vital role in it. This gem is 200 pages of both belly laughing and heart tugging inspiration that will undoubtedly get you to take your first step, or ten thousandth step, out the door.
"I vividly recall my first mile I ever ran: age thirty-nine, I was unhealthy, unfit, tired, and too young to feel that was an acceptable way to enter another decade of my life. I arrived at a stop sign, my one-mile marer, feeling like I had just run 10 miles. But I also felt like I may actually be able to run for an entire 10 miles one day. Euphoria." - excerpt
All of the essayists unselfishly share with humor, passion, refreshing honesty, and often stark frankness, topics such as; their humble running beginnings, narratives of running to overcome loss, depression, disease, divorce, as well as aging fitfully and gracefully just to name a few. Intertwined with the essays are pages of earnest quotes and sharp anecdotes from mother runners on everything from the spiritual side of running, to the TMI side (think female personal body issues) to the joyful and challenging side of running.
"I had been running for about a year, and I was training for my first half-marathon. I had to do a hot, hilly eight-miler by myself. Nobody was home when I slogged up the hill to my house. When I stopped at my driveway, I cried tears of joy and relief. I couldn't believe I had just done that all by myself." - excerpt
This comprehensive and highly approachable compilation of running stories, instructive quotes, and entertaining morsels all about moms on the run will undoubtedly move you to get moving. Dubbed by Runner's World as the "marathoning moms," authors of Tales Sarah Bowen Shea and Dimity McDowell have curated an amazing online community of 'mother runners,' where the support and camaraderie is second to none. Women of all shapes, sizes, ages, and speeds are welcomed, encouraged, lifted up, and nearly revered by each other. Among the moving essays in the book are several vignettes of advice and experiences from among the community of those mother runners. You will find yourself in these women and their stories, whether you are a beginner runner, someone who has been running since her youth, or someone, who even after crossing many finish lines, still denies calling herself a 'real runner.' (You are by the way!) This high-fiving, highly heartening, authentically inspiring, and butt kicking book will have you grabbing your running shoes and hitting the pavement.