A mom known for her videos on YouTube has given her viewers an interesting look at the difference between expecting twins and expecting just one baby.
Natalie Bennett, the "Nat" behind the Nat and Wes and the Rest YouTube channel, posted a video on her personal channel in which she discusses her pregnancies. On August 30, 2014, Bennett gave birth to twin boys. She is now pregnant with a girl who is due on April 19. As her video shows, her pregnancies have been different in more ways than one.
Bennett told The Huffington Post that not having kids around while pregnant with her twin boys obviously made a huge difference and allowed her to be her "big ol' pregnant self in whatever capacity."
However, this time around she's felt more comfortable and has enjoyed going to fewer appointments with doctors and specialists. In her video, which has been viewed more than 77,000 times as of Thursday, she explained that when she was pregnant with her twins, she visited doctors and specialists twice as often.
Bennett also documented how her body changed during both pregnancies and shared side-by-side footage.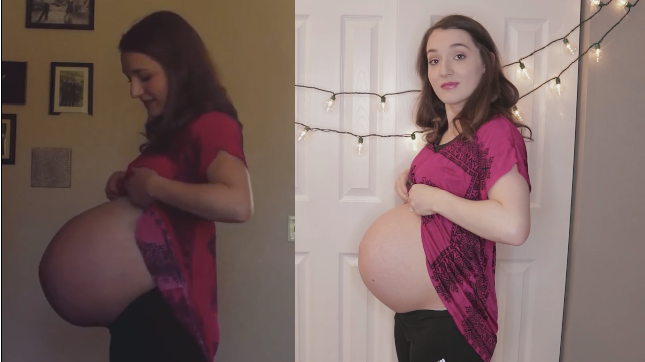 In the video, she noted that her belly during her pregnancy with twins was "so ridiculously large."
"I had a huge torpedo belly sticking out like a stinking shelf," she said. "It was so heavy. My skin was so stretched."
So what's remained constant between Bennett's two pregnancies? Her "active babies."
"I have loved seeing and feeling my babies move around inside me," she told HuffPost. "I always loved feeling the twins roll and kick (each other most of the time) and now I get to watch them play together as toddlers. They love putting their hands on my tummy and feeling their little sister move!"
No matter how unpredictable her pregnancies have been, Bennett has enjoyed sharing her journey with her viewers and is happy to have this documentation for her family.
"The design of bringing life into the world is miraculous and I feel so privileged to be able to experience it with both of these pregnancies, even though the two experiences have been so different!"