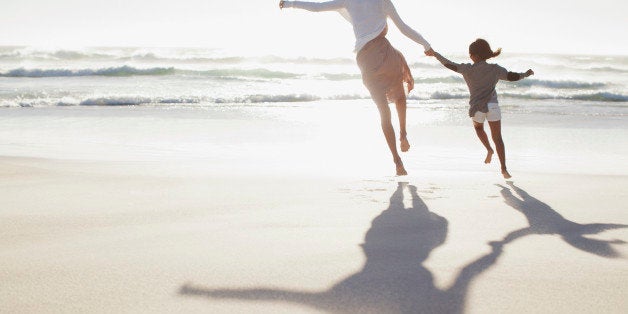 I don't normally read much fantasy or science fiction, so I was pleasantly surprised by Wishful Thinking, Kamy Wicoff's debut novel, which contains a bit of both. And while I certainly know what it is to be way too busy, and to wish you could be in two places at one time, I'm not a mother and I don't even own a smart phone.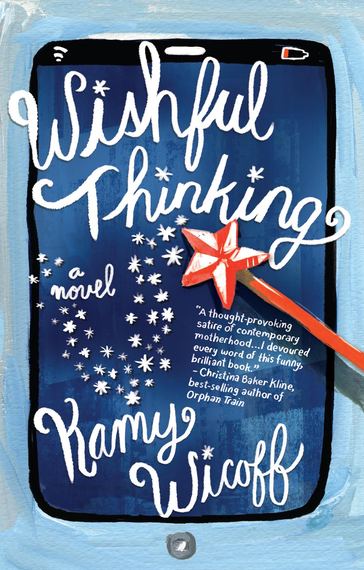 This story begins with busy single mom, Jennifer, losing her phone. Without its calendar feature, she's left to wonder: "Did the boys have play dates? What was her first meeting at work? ...and what time was the spin class she wanted to at least pretend to intend to attend?" (Love that sequence: "pretend, intend, attend;" the book is full of such smart writing.) When Jennifer's phone is returned, it has a mysterious new app on it, designated by a magic wand icon. The Wishful Thinking app allows her to be two places at once--to stay late at work and attend her son's recital. She becomes the most dedicated employee, and a super-mom for her kids.
Wicoff makes time travel through a smartphone believable:
"Hand on her phone, Jennifer felt a jolt. And in an instant, a flash of heat emanated from where her fingertips touched her phone. For a moment her skin seemed to adhere to the surface of the now-superheated screen, as though the pads of her fingertips were welded there... She was melting. Watching as her phone gave rise to a portal, a whirling tunnel materializing before her eyes like the narrow end of a tornado, Jennifer wanted to scream... Her hand and her phone were one now... It was as though she were being collapsed and drawn into a tiny point, sucked into a hole that was expanding, opening to take her in..."
Called by one reviewer " a modern-day fairy tale," Wishful Thinking has the requisite villain, a fairy Godmother, a compelling plot with a little bit of mystery, and an Oz-like sense by the end that there really is "no place like home"--home as defined by the clock on the wall--real time.
"Somewhere beyond the clouds, she thought, lay a kind of order... in these past months using the app, she had felt like a superhero, but, like every superhero, she had also felt terribly alone."
Well-crafted, original, and perfectly-paced, Wishful Thinking is more than just a clever story of time travel. Wicoff examines the hectic nature of 21st century life, the difficulty of love, marriage, kids and divorce, and the reverse effect of technology aimed at making our lives more efficient. When you can do anything all the time, she thought, what does anything you do mean anymore?
This debut novel screams screenplay. (Hollywood, are you listening?)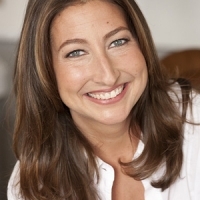 Kamy Wicoff is the bestselling author of the nonfiction book I Do But I Don't: Why the Way We Marry Matters, and founder of one of the world's largest communities for women writers, SheWrites. She is also founder, with Brooke Warner, of She Writes Press. She lives with her family in Brooklyn, New York. Follow her on Twitter @Kwicoff
Related
Popular in the Community