As the mother of a 5-year-old and 8-year-old, Amy Camber is well-versed in the highs and lows of parenthood. When she isn't busy taking care of her kids and working as a teacher, she likes to draw comics based on her everyday parenting experiences.
Camber told HuffPost she started creating comics shortly after her first child was born. "He was a terrible sleeper but would nap for hours when held. So, most days I'd teach in the morning, then come home and spend the afternoon holding a sleeping baby with my left arm and drawing comics with my right," she explained.
As her kids have gotten older "and life has become increasingly bonkers," Camber has continued writing down her daily adventures and turning them into art.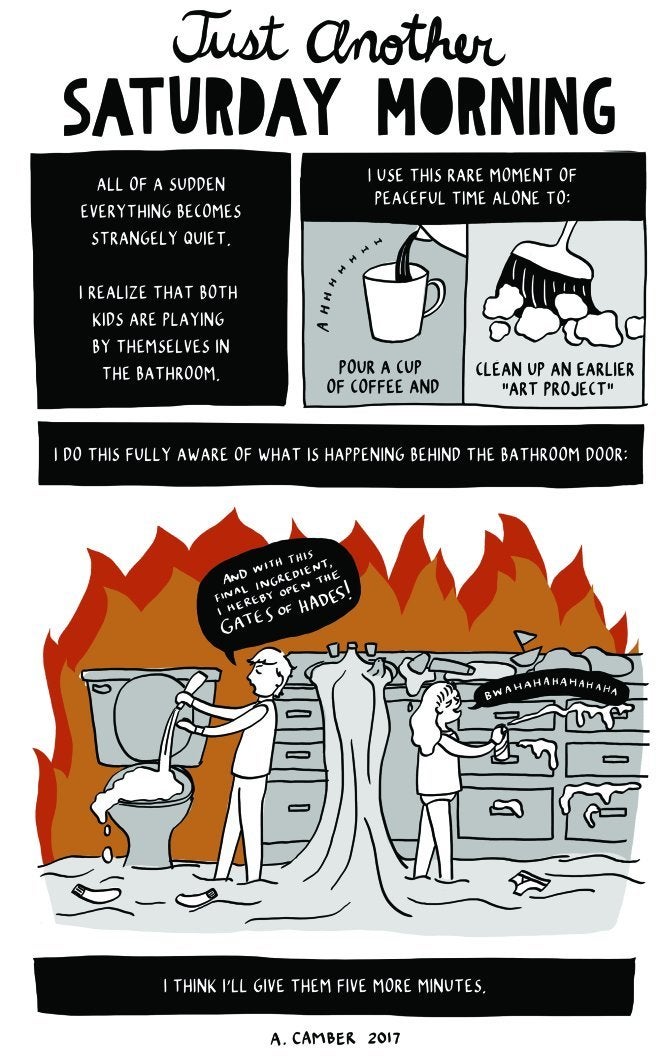 "Making comics about life with my kids is partly about record keeping and partly about preserving my sanity ― laughing definitely keeps me from crying!" the Seattle-based artist said.
Camber believes her comics push back against harmful perceptions about parenthood.
"Parenting is hands down the hardest work I've ever done ― and I've had some tough jobs," she said, adding that society still seems to push a "taking care of kids is easy" and "parenting isn't 'real work'" narrative.
"Just look at how poorly we pay child care workers and teachers or how dismissive people are of stay-at-home parents," she lamented.
Ultimately, the artist hopes her work can comfort her fellow parents.
"My hope is that some bleary-eyed, un-showered parent covered in someone else's snot and pee finds my comics, chuckles, knows they aren't alone and that someone understands," Camber said.