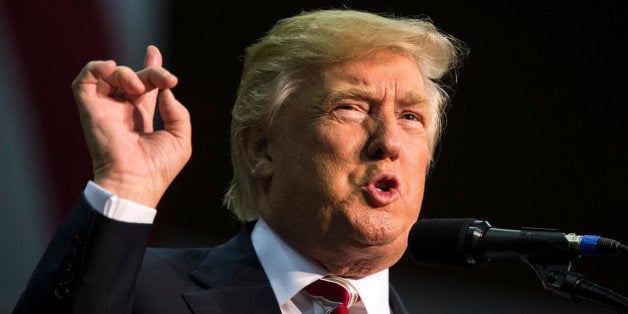 Moms certainly won't forget that it's only when the race is close, and the polls show that paid family leave and childcare are what brings women voters out, that Trump decided to reposition and parrot popular talking points that don't accurately reflect how he has conducted himself or his businesses throughout his career. Mr. Trump's repositioned in similar ways in the past, so his current repositioning shouldn't be a shock given that, for example, a recent poll conducted by Lake Research for the National Partnership for Women & Families found that four in five 2016 voters want elected leaders to advance paid family leave.
To be clear: Child care and paid family leave are critically important policy areas that must be taken seriously. That's what makes Trump's flippant treatment of these policy areas all the more egregious.
The wages of moms fuel our economy. Yet lack of adequate paid family leave and affordable child care are part of the reason women and mothers experience wage gaps, which, in turn, lower their consumer spending and hurts the economy. New Census numbers out this week show that women still earn only 80 cents to a man's dollar, moms earn only 73 cents to a dad's dollar, and women of color experience even greater wage hits.
Solutions are necessary. Unfortunately, Mr. Trump's proposal for only six weeks of paid maternity leave falls far short. To start, he provides no new funding to run the program, it's limited to only new birth mothers, which could reinforce the wage gap since dads are caregivers too. Moreover, Mr. Trump is proposing to raid an already underfunded unemployment insurance system with the intent of using funds from "fraud" to cover the program. Simply put, the math doesn't work on Mr. Trump's proposal.
By comparison, Hillary Clinton's widely applauded and more comprehensive paid family leave plan covers twelve weeks for all workers in our nation, including dads, and allows coverage for a person's own serious medical issue, that of a spouse, or aging parent. Secretary Clinton's plan also has a viable funding stream.
Mr. Trump's other policy plan on the table, child care, is also untenable. In fact, Trump's proposal for child care would force families, whose budgets are already breaking from the high cost of care, to pay costs upfront. This means that Mr. Trump's plan does nothing to make child care affordable. You cannot deduct something you cannot pay for to begin with. Millions of working families -- families for whom the investment in childcare would bring the most critical returns to our economy -- would be left out in the cold.
By way of comparison, Secretary Clinton's comprehensive child care plan, released several months ago, has a specific focus on opening doors to allow middle- and low-income children to thrive by capping child care expenses for families by a percentage of their income through tax credits and subsidized child care; as well as boosting pay for child care workers and other improvements in quality of care.
Studies show that high quality child care policies like the one proposed by Secretary Clinton -- which involves strengthening the quality of early education and care, affordability, and access -- brings an 8:1 return on investment because of fewer later grade repetitions, less future involvement in the criminal justice system, and reduced later need for government support. Mr. Trump's regressive child care proposal doesn't even meet the standard of increasing access and improving quality to bring the return on investment we all need for our children and economy to thrive.
With a large percentage of families struggling to make ends meet, we need solutions that boost working families and our economy; solutions that put an end to maternal status being a greater predictor of wage inequality than gender; solutions like paid family and medical leave, high quality affordable child care, fair pay, earned paid sick days, and more. We do NOT need misguided and regressive plans that continue to leave working families behind as Mr. Trump has proposed.
Last night the nation watched as Donald Trump attempted to serve up an empty child care policy proposal that largely helps the wealthy, moved forward a maternity leave policy that could reinforce the wage gap and would be paid for by phantom funds, misrepresented Hillary Clinton's long years of work and policy advancement in these areas, and expected us to buy his smoke and mirrors.
This blatant grab for votes won't fool moms.
REAL LIFE. REAL NEWS. REAL VOICES.
Help us tell more of the stories that matter from voices that too often remain unheard.