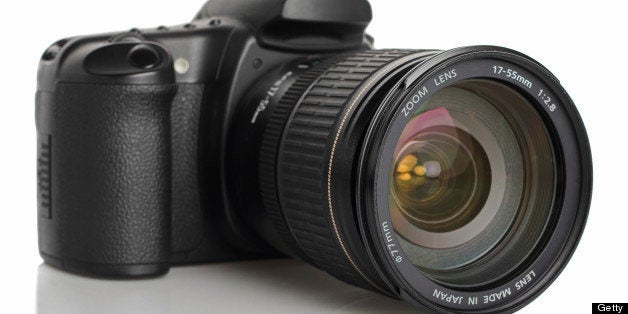 Many moms and hobbyist photographers soon find out the "fancy" new DSLR camera they just spent a small fortune on only minimally improves the quality of their photos unless they know what makes it tick and practice, practice, practice. There are some amazing tools available for you to get into the nuts-and-bolts of making your camera work for you and making it easier to use. Some are free and some require an investment of time or money, but all make your ultimate goal of getting great photos easier to reach. Of course, some gear also makes the life of the Momtographer a little easier. Many of these recommendations come from the top Momtographer bloggers with years of experience getting great photos of kids. I scoured the top blogs, asked experienced Momtographers for advice, and threw in a couple of my own finds and favorites some of my Momtographer friends swear by. Lucky for us so many Momtographers are willing to share what they know so we don't have to use trial and error to get it right! As a bonus, some of the items are made by Moms who had their ah-ha moment while photographing their own kids and it's always good to support innovative Moms.

Get Schooled: So, wondering what all of those letters on your camera mean and how you can get your camera out of auto? There are many great blogs available for Momtographers that will give you great advice on how to use your camera and how to get great photos of your kids. While these blogs and many books are well-worth reading, it can be a time consuming process of trial and error trying to figure it all out on your own. Given how much DSLRs cost, it's only a small additional investment to take a class that will help you learn the craft of Momtography more quickly. There are online classes, such as Momtographie Online, that are designed with just the Momtographer in mind. For those just hoping for a manual they can understand, the UnManual from Mom*Tog, is a great starting point.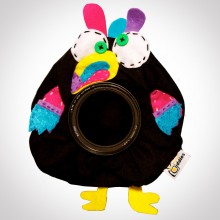 The Toucan that got my kids to look at the camera
Hello? Over Here!: There are lots of things that can make a good photo of a kid great, but one thing that will universally improve any Mom's photos is to get her kids to actually look at the camera. And to do it without asking them to say cheese. Not surprisingly, it took a Mom to come up with the idea of getting cute animals, complete with squeakers, onto the camera. Once her idea worked for getting eye contact out of her own four kids, the Mom behind ShutterBuddies made them available to the world. Now, instead of asking my kids to look at the camera I ask them to look at Toucan Ben. Our Buddy has his own personality and can almost always get my kids to look my way so he hasn't left my camera since the day he joined our family. The Mom who started ShutterBuddies still runs the company out of her home and each Buddy is handmade.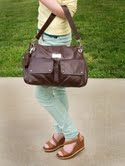 Shutterbag, the Cadillac of Camera Bags
You Can Take it With You: The first step to getting great photos is to have your camera with you whenever possible and this means getting a bag you love. The first bag I purchased for my camera was hideously boxy. I knew there had to be an alternative that wouldn't make me cringe. Enter my gorgeous Shutterbag which is so nice I reach for it every day. One reason I choose Shutterbag is because it's one of the few camera bags made out of real leather and I wanted something that would last through years of running after children. As a bonus, the company is a small, locally-owned, Mom-owned business with amazingly prompt and personal customer service that includes a personal note. Many top Momtogtaphers also highly recommend Epiphanie camera bags. The Lyric is especially well-suited for Momtographers who might find themselves running after little ones on the fly, with three exterior pockets good for snacks or a cell phone and plenty of padding inside. Both Shutterbags and Epiphine bags are so cute they easily pass for real purses so there is no excuse for not looking good while you click. Of course, whichever "good" camera bag you choose you won't want to ruin it during your outings involving lots of water or dust, like trips to the beach or hikes. For times when your camera needs protection against the elements, or when you need to carry a camera and not much else, I've found the Lowepro Shoulder is a good choice for a non-bulky, non-boxy bag. It was my recent choice on a trip to the beach and kept my camera safe and sound after I got my images and went to play in the ocean.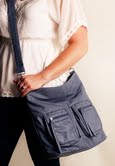 The Lyric by Epiphine
Save Your Own Neck: I mean this one literally. Not only do most cameras come with an ugly, branded strap but they are not designed to be comfortable to carry -- which is essential if you are trying to capture shots of active kids without fear of your camera crashing to the ground. It was a while before I discovered longer hipster straps that allow you to safely wear your camera across your body. Once you try one you will never go back. Not only are they more comfortable, but the longer strap allows your camera to hang straight down rather than out, which means no more banging your little ones on the head. One highly recommended strap is the gorgeous hand-made, well-padded, extremely comfortable straps from Sew Tamz, which you can even get with a cell phone/lens cap pocket for those times you don't want to carry a bag. Mom*Tog Drew makes her living chasing after kids and she recommends the Joby strap for Women. This one has a really unique feature that allow you to have your camera close to you then stretch it out to snap photos. This prevents your camera from swinging wildly when chasing after a kid but still allows you to get the shot you want quickly. If you really can't stand anything around your neck (and this happens to everyone on really hot days) you could consider a wrist strap that allows you some protection from drops while holding your camera in your hands -- and it can be gorgeous if you check out one of these from Sew Tamz.
She Looks a Little Green: Sure they're cute -- they're your kids! But, if you're like me, you often wonder why their skin looks so green. Or yellow. Or orange. Or red. If you are an expert at editing, his can be corrected but it can be frustrating and time consuming even for the pros. It's possible to use a gray card to set white balance, but these can be difficult and time consuming to use. One recommendation I received several times was for an Expodisc that can help you get the right skin tone and color tone (by ensuring the right white balance and exposure) every time. I was a little intimated at first, but taking the advice of Momtographers far more experienced than me I decided to take the plunge. It literally takes about 30 seconds to use and my straight-out-of-camera shots never looked better. For the shots I edit, there's no more wasting time fiddling around to get the white balance right.
Own it: Everyone has their own style, and no matter what yours is a little editing can help you find it. If your style is true-to-life and clean, a cropping or color pop can still do wonders for your photos. If you love vintage or black and white you can easily get great looking photos with those look you love as well. Using an editing program can do wonders. PicMonkey is a great online editing program that is incredibly easy to use and best of all most of the content is free. If you want to now how to make the most of it, check out Radiate, a class that shows you how to make the most of editing using free resources. For those with a little more time and interest programs such as Lightroom and Photoshop Elements are available at a fraction of the cost of the full version of Photoshop and have far more tools than the average Momtographer is likely to need. If you make the investment in one of these programs it's well worth taking a class, such as those offered by Texas Chicks Blogs and Pics, to find out how to get the most out of the programs to make your photos really pop or reflect your own style with personal feedback. Damien Symonds, who has been described as a Photoshop legend, offers access to self-paced instructional PowerPoints and videos for a year through facebook for a very modest cost. If you are already a Photoshop user you can learn a ton by joining his free Ask Damien page on facebook.
Get Ready for Your Close-Up: Many of the Momtography blogs I follow stress the importance of putting yourself back in the picture. Most Momtographers want to get good photos of their kids, but one day the children will grow up and want to see what their Mom was like when they were growing up. I want to have some photos of myself with my children and set to find how I could get them. Most cameras have a self-timer, but you won't look your best after rushing back to get in the photo - and you only get one chance to make it work. Once of the best pieces of advice I got was to get a remote control for my camera for around $10.00. With a remote you can set-up your camera and engage in some activity with your child while snapping away -- kids love having control over the remote too. To really make this work you will need a tripod, and as I have learned, with kids involved you really need a tripod that is sturdy and easy to set-up. The GorillaPod is like nothing I've ever seen before. It has legendary status among some photographers who need to get tough shots and interesting angles. But, those adventure guys don't have anything on us Momtographers. Who can be tougher to shoot than active kids? Who could need to get more complicated angles? This tripod helps you get the shot you want by easily turning and twisting to get you in the shot wherever and whatever your kids are doing and it's light enough to bring out on outings. It's priced lower than most standard tripods and fits into your camera bag for those times you want to set it up during an outing with the tykes. And, if you want to get in your iPhone photos as well, you can download a free self-timer for iphone and a smaller Gorillapod or tiny stand that fits right on your keychain to make sure you can put yourself back in the picture anytime. Priced at around $20.00, there's no excuse for you not be a part of your own memory making. Your kids won't care about your messy hair or lack of make-up so jump right in there!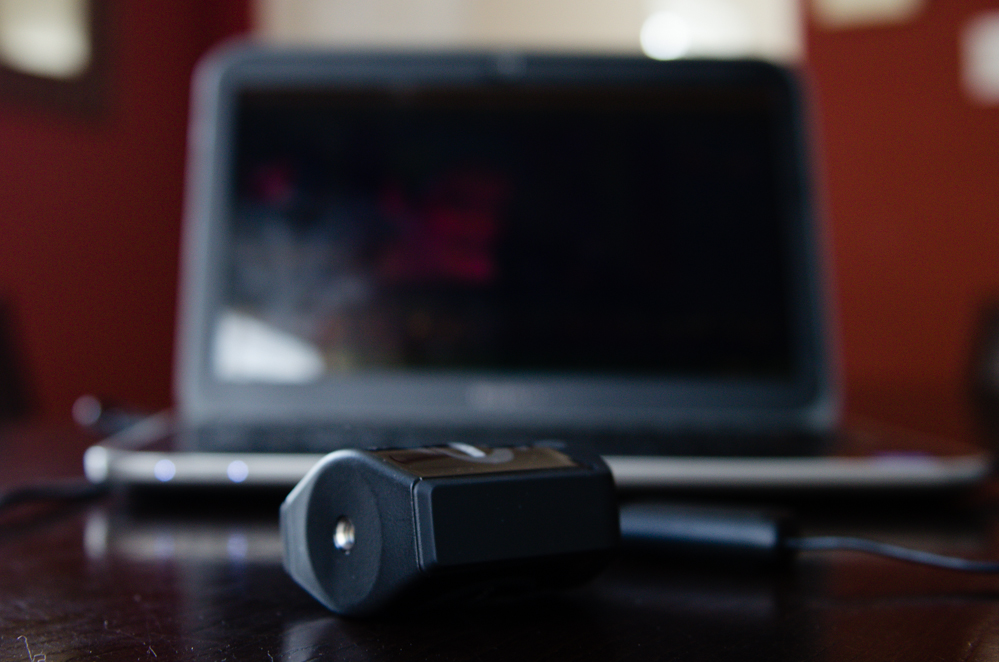 The Colormunki Display -- a little device that ensure your images print well
Be a Wallflower: I love sharing my photos online, but, I also want to great prints I can display on my wall and in memory books. My local drugstore and the well-known online printing sites delivered okay prints from my point-and-shoot but, when I upgraded to my DSLR the compression in the files was noticeable. One place that does consumer printing stands out among the expert Momtographers is Mpix.com. Prints are just few cents more than at your local drugstore but the quality is amazing. They also have frequent sales and no registration or fees are required to order prints so it pays to get on their mailing list. Free templates from The Coffee Shop Blog can also help you tell your story with storyboard templates, digital frames, and other goodies. If you print out your photos and find the colors are off, which is a common problem, it may be time to invest in a color calibration system to make sure what you see on the screen will match what you get back from the printer. One of the lowest cost and easiest to use systems is ColorMunki Display.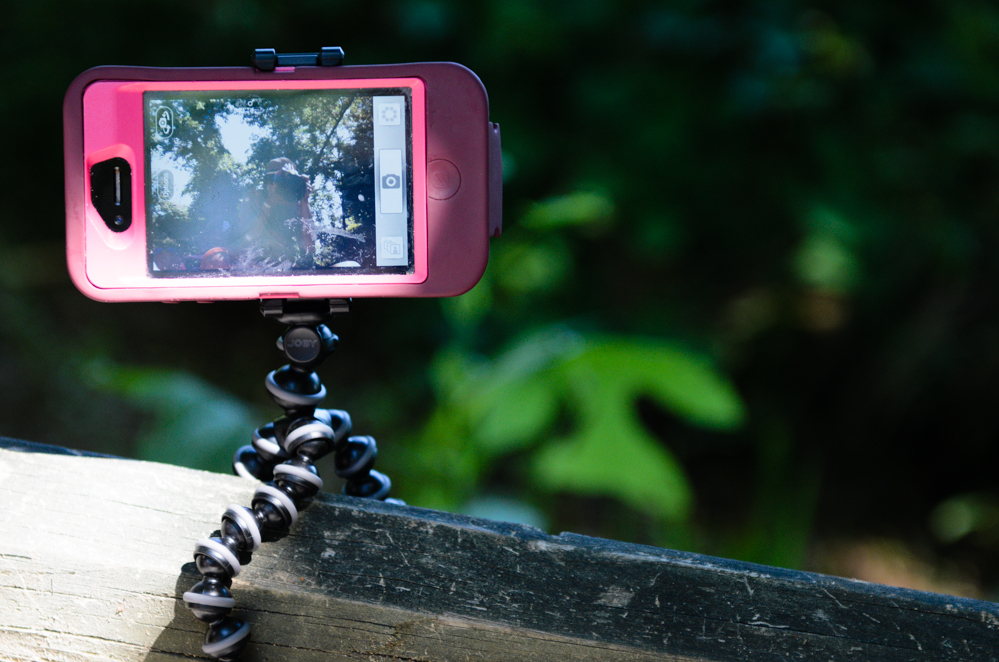 The iPhone Gorillapod in action. DSLR and Point and shoot versions work the same way.
Now that you know the ins-and-outs of the great to making getting the shot there are no excuses. Get out there and click!